by Tom Gaylord, a.k.a. B.B. Pelletier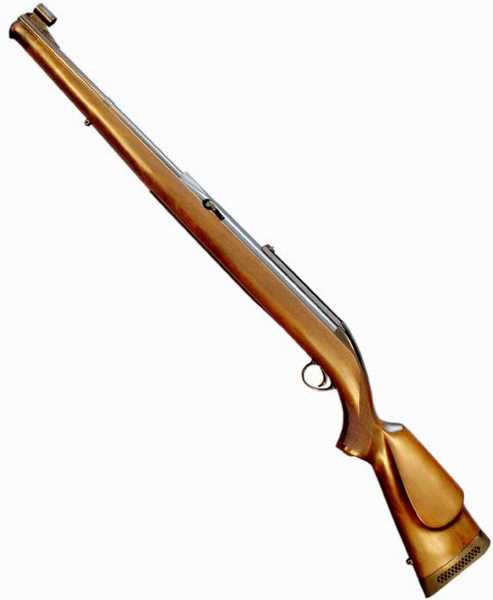 BSA Airsporter Stutzen was the final version of the Airsporter to have a tap.
This report covers:
• What's a stutzen?
• My first encounter
• Parallel development
• Fast-forward to 2010
• BSA Airsporter
• Underlever spring-piston air rifle
• Open sights
• Overall evaluation
Today, I'll start a report on an airgun that's tantalized me for over 20 years. It has done so in multiple ways and has caused me to learn more about this hobby of ours: The BSA Airsporter Stutzen.
What's a stutzen?
First, let's discuss the name. A stutzen is a style of rifle, not a specific model made by just one manufacturer. There are stutzen air rifles and stutzen firearm rifles. So, what is it?
The German word stutzen means to crop, dock or prune, so a stutzen rifle is one that looks cropped. Fundamentally, it's a slang term give to a rifle that's mounted in a stock that goes all the way to the end of the muzzle. The rifle barrel may be full length, but it appears cropped because the forearm is just as long.
A stutzen is not necessarily a carbine, though it can be. The stutzen name doesn't refer to the length of the barrel, but rather to where and how the stock ends in relation to the barrel. You see, Mannlicher stocks also go to the end of the muzzle. Does that mean that all rifles with Mannlicher stocks are stutzens? Yes, I suppose it does, but there are subtle differences. Classic Mannlicher stocks have distinctive steel nose caps that enclose the end of the barrel. However, in the past 30 years, people have blurred the distinction between a classic Mannlicher-style stock and a stutzen, and today the terms are used interchangeably.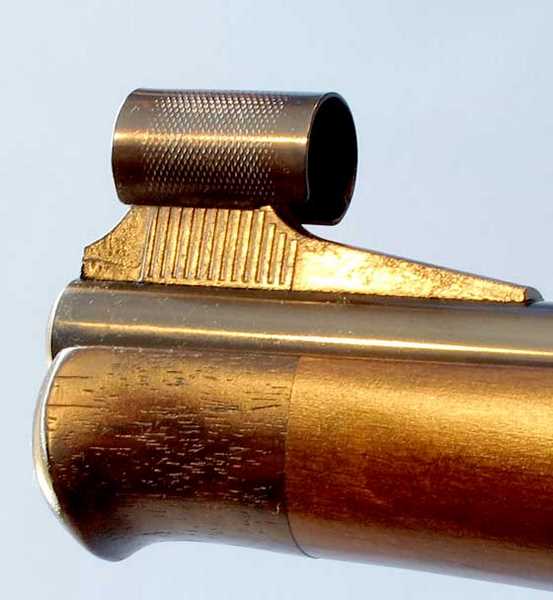 The BSA Stutzen's stock ends in a schnabel of dark wood. There's no metal end cap that a true Mannlicher stock would have.
My first encounter
The first stutzen I tested was for The Airgun Letter. It happened in the 1990s, at a time when I was very much into spring-piston airguns. The rifle I tested was a Gamo Stutzen that was a less-expensive version of the BSA Stutzen that had either just been discontinued or was soon to be. At the time, both the Gamo and BSA rifles had rotary breeches. I'd never seen a BSA Stutzen, so the Gamo Stutzen I tested represented all stutzen air rifles to me. That was a shame because the Gamo rifle was hard to cock, harsh-firing and not very powerful. As I recall, it wasn't that accurate.The hard cocking and harsh firing cooled me to the rifle. I was shooting and playing with TX200s in those days, and any spring rifle that I tested suffered by comparison.
Parallel development
At the same this was happening, I was also deep into Hakim air rifles. I'd already owned about 10 of them and tuned them for others as well as for myself. The Hakim is also an underlever spring rifle, just like the BSA and Gamo Stutzens, but it's lower-powered, making it easier to cock; after a tune, it shoots quite smoothly. Why, I wondered, couldn't these stutzens be more like the Hakims? They were actually a lot more like them than I knew!
Fast-forward to 2010
I was at the 2010 Roanoke Airgun Expo, only because my buddy Mac drove out to Texas from Maryland and drove me back East (and then back home to Texas, again). I still had a drain tube coming out of my pancreas from a failed operation five months before, and I was barely able to walk. Another friend at this airgun show, Marv Freund, insisted I buy a strange German underlever rifle from him that turned out to be the Falke model 90 I've written so much about. If you don't remember our first look at the gun, perhaps you'll remember that it had the stock that I'd restored and reported on in a second 4-part report.
During both those reports, I remarked how much the Falke 90 action resembled the Hakim action. On closer inspection and after more research, I discovered that both rifles had their heritage in the BSA Airsporter of 1948. The title of this report is the BSA Airsporter Stutzen. Is this starting to make sense?
BSA Airsporter
The BSA Airsporter is the underlever that started all of my fascination with these rifles, yet I'd never actually owned one. I've had bundles of Hakims and even the super-rare Falke 90, but somehow the BSA Airsporter eluded me all those years. Well, not entirely. I did actually own an Airsporter that was just a junk rifle I picked up at a local gun show. The stock was broken off at the triggerguard, and you could see the insides of the action. My thought was just to rescue it for airgunners, so I was happy to sell it to collector Larry Hannusch at Roanoke for what I'd paid. A year later, Larry had installed another stock on it, and I almost bought the rifle back from him before realizing it was the same gun. Other than that, I've never owned an Airsporter.
Then, several weeks ago, I was at another local gun show — in fact a show that was held at the very place that the 2014
Ft. Worth Airgun Show will be held. The guys out there know that I'm into airguns. When they have something, they sometimes bring it to me. At this show, there was a very familiar rifle laying on one of the tables. It looked like either a BSA or Gamo Stutzen, and it turned out to be a BSA. But this one was different from the one I'd tested back in the '90s.
Instead of Gamo's rotary breech, this one was a true taploader, which I knew made it older. It's in like-new condition, and the seller knew that I was the only airgun guy in the room — or in the state, as far as he knew — so he offered it to me in a trade deal I couldn't refuse. It was basically anything to get this airgun off his table because he doesn't do airguns. By the way, if you do come to the Ft. Worth show this September, you'll meet a bunch of members of this gun club who are very excited to sell all their old airguns. The club is giving them a communal table so they won't have to pay to display and sell all their old airguns — and remember — they've been asking me for the past 2 years to have this show!

The loading tap is opened manually after cocking. Drop the pellet in nose-first.
Anyhow, I got this Stutzen in trade, even though I didn't want it because of my experience with the Gamo years before. It's so beautiful that I knew someone else would want it for sure. When I got it home and looked in the latest Blue Book of Airguns, though, imagine my surprise to discover that this isn't just a stutzen. Its full title is BSA Airsporter Stutzen. That's right — this is the Airsporter that I've been hunting for over the past 15+ years!
Underlever spring-piston air rifle
The Airsporter Stutzen is an underlever spring-piston rifle whose lever is concealed in the forearm. From the side, there isn't a clue that the lever's there. Despite what I said earlier about stutzens not necessarily being carbines, this one is — at just 39.25 inches long. The barrel makes up almost 14 inches of that length. The length of pull is 13.50 inches, which includes a one-inch black rubber buttpad at the back. So, this rifle is compact.
The stock is beech wood, but it's from an earlier era and is far more attractive than the beech stocks of today. The taploading Airsporter Stutzen was made from 1985 to 1992, making it the final version of the Airsporter to have a tap. After that, the Gamo rotary breech was used on all BSA Stutzens. The wood is stained an even dark brown color, and the pistol grip is checkered. The forearm ends in a darker wood schnabel, which is German for beak or bill, and goes hand-in-hand with the stutzen style. The cheekpiece is nicely formed and stands apart from the butt, unlike the Gamo stocks that would follow. They all appear to have been melted, as their cheekpieces are blended into the butt with little transition. The comb has a classic Monte Carlo profile.
There are quick-detachable sling swivel studs on the stock, front and rear. But I must say that a sling on an underlever rifle can easily get in the way during cocking.
The metal parts are all an even dark black with a medium polish. It's midway between a hunter matte and the deep shine of a TX200.
This rifle is .177 caliber; and although they were also made in .22 caliber, I suspect there are many more in this caliber, owing to the times and where they were made. The rifle is loaded through the tap, which must be manually opened after cocking. Don't open it before cocking or the piston will create a partial vacuum when it withdraws. The tap is an extension of the air transfer port and must be aligned with the transfer port and bore (in its closed position) for air to flow though.


This is how far down and back the lever comes.
The rifle weighs 8 lbs. on the nose. The 2-stage trigger is crisp right now, but I see one and possibly 2 screws that might allow some adjustment. There's very little information about these guns on the internet, but I did read that an owner had tried to adjust his trigger with little result. Both screws are headless Allen screws, so they aren't there to secure anything.
I've shot the rifle a few times and can tell you the trigger is crisp, and the firing cycle is smooth and quick. Cocking is a bit on the stiff side, but not as bad as I remember. I think the Gamo Stutzen's cocking linkage was rougher than this one.
Open sights
There are open sights front and rear and not a fiberoptic tube to be seen! It'll be fun to shoot. The rear sight adjusts in both directions, plus it sits at the front of an 11mm scope base. BSA scope bases on rifles of this time are the largest ever produced and actually approach 14mm wide, so care must be taken when choosing mounts. I don't know if I will scope the rifle or not at this time — I just want to test it for you.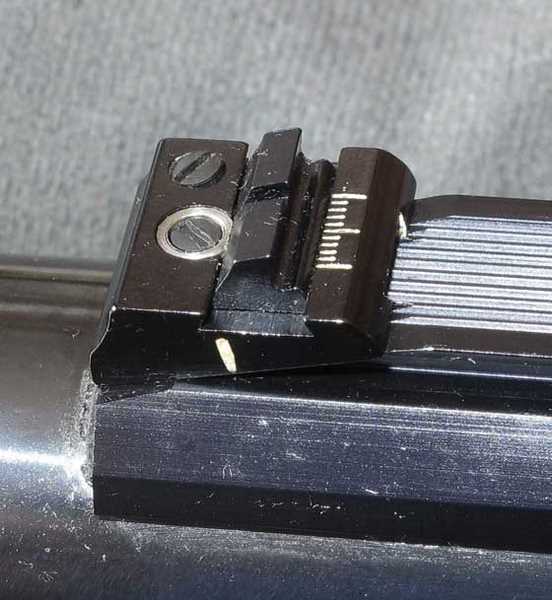 The rear sight is mounted on an inclined plane for elevation and a dovetail for sideways adjustment.
The front sight is a post that sits on a ramp. It's very square and matches the rear sight notch well. A removable sheet metal hood covers the post.
Overall evaluation
I originally did the trade deal for this air rifle because it was a good one. But after examining the rifle more closely and after learning that it's actually the Airsporter I have been searching for, I'm very glad I got it. I don't know if I'll keep it or sell it after testing, but at least I will have had the opportunity to closely examine an Airsporter after all these years. This will be a fun test!