by Tom Gaylord, a.k.a. B.B. Pelletier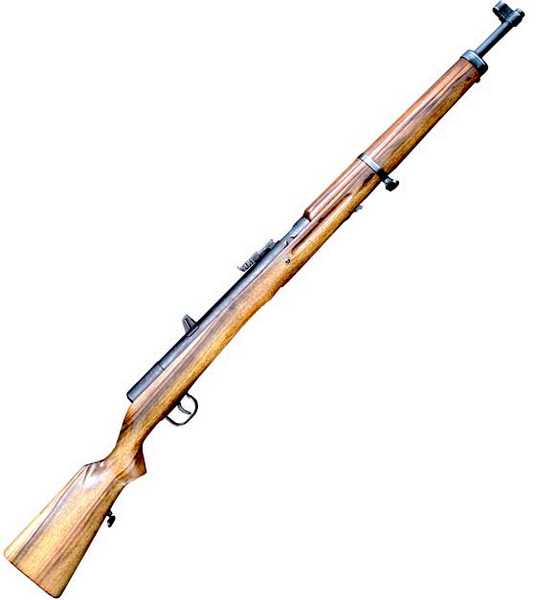 Hakim is a large, heavy military trainer made in the 1950s by Anschütz.
This report covers:
• You can never go home
• RWS Superpoint pellets
• Firing cycle
• JSB Exact Jumbo RS pellets
• RWS Hobby pellets
• Eley Wasp pellets
• Evaluation so far
• Tech Force 90 dot sight
You can never go home
Today, I'll shoot the Hakim trainer for accuracy. This is like returning home for me. Of course, you can never go home, again, because things have changed — and this Hakim is different from all the others I've owned and worked on. But just like your old neighborhood, there are always some things that never change. Things that remind you of the good things from the past. This Hakim has those, too.
You saw in the velocity testing that this isn't a powerful air rifle. And it doesn't have to be. That's not its charm. Its charm comes from the rifle's rugged build and heavy weight of wood and steel. And, in the case of this particular Hakim, the wood is a striking piece of walnut that shows lots of contrasting grain.
Hakim trainers are also quite accurate at short range. Let's see if this one is, as well.
In the past, I've shot only 5-shot groups, but these days I shoot 10-shot groups. So, I expect to see the groups increase in size by about 40 percent. That's what happens when you shoot those 5 additional shots, and only if you maintain correct shooting discipline.
RWS Superpoint pellets
As I explained in Part 2, I've found RWS Superpoint pellets to be the best in this rifle because their thin skirts flare out in the loading tap when hit with the piston's air blast. At least, that's always been my theory.
I had no idea where this rifle was sighted, so this was like shooting a new gun right out of the box. The only thing going for it is the excellent condition and the care with which the wood stock parts were fashioned. That tells me the former owner cared about his rifle — so I expected it to be pretty close to the mark from the start. And it was!
The first pellet struck the bullseye a little to the right of center and at about the right elevation at 10 meters. Because I know Hakims are accurate, I stopped looking and just fired the remaining 9 shots. That gave me 10 rounds in a group measuring 0.524 inches between centers. True to expectations, that's about 30-40 percent larger than my 5-shot groups used to be. This Hakim is exactly like the rest of them!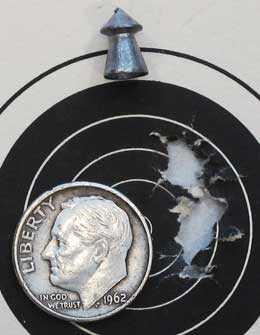 Yep, RWS Superpoints are as accurate as I remember in Hakims. These 10 shots measure 0.524 inches between centers, where 5 shots would probably be 0.35 inches.
Firing cycle
This rifle really buzzes when it fires. It distracts from an otherwise nice experience. I want to find out what's causing the buzz and do something about it.
JSB Exact Jumbo RS pellets
Blog reader Kevin suggested I try JSB Exact Jumbo RS pellets and Air Arms Falcons because their skirts are also thin. I don't have any .22-caliber Falcons on hand, but I did try the JSBs next. Because the rifle was hitting slightly to the right, I adjusted the rear sight notch to the left just a bit.
Same drill this time. One shot to check where it went. This time it was just above the center of the bull, so I stopped looking through the spotting scope and fired the remaining 9 rounds. They gave me a nice 0.495-inch group that also had a bit of verticality to it.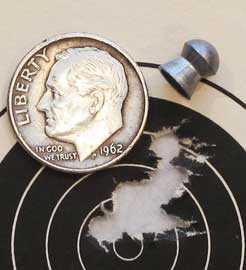 Ten JSB Exact Jumbo RS pellets went into 0.495 inches at 10 meters.
Because the shot group is now relatively centered in the black, I decided not to adjust the sights further. So the next 2 groups were made with this same sight setting. One last note. The RS pellets were so small that they fell to the bottom of the tap. No other pellet did that.
RWS Hobby pellets
The next pellet I tried was the lightweight RWS Hobby wadcutter. These have a thicker skirt than the first two pellets, but their light weight makes them a good match for this low-powered rifle.
Ten Hobbys made a very round 0.426-inch group. Because they're wadcutters, they make a group appear larger.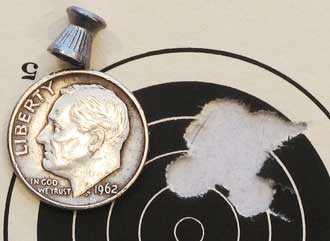 Ten RWS Hobbys made this round group, which measures 0.426 inches between centers.
Eley Wasp pellets
The last pellet I tried was the 14.5-grain 5.56mm Eley Wasp. It's a larger pellet, yet it still enters the loading tap deep enough to be used in this rifle. The Wasp has a thick skirt, so I'm relying on the overall size of the pellet rather than any flaring of the skirt to seal the air. Wasps put 10 into 0.349 inches at 10 meters, which was the best group of the session!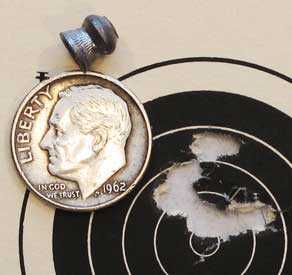 Ten Eley Wasps gave the best group of the session, going into 0.349 inches between centers. This is a wonderful group of 10 shots. If it were just 5, it would be around a quarter-inch.
Eley Wasps are supposedly obsolete, but I laid in a large supply for my Webley Senior pistol many years ago and have enough to use in this Hakim, as well. [Editor's note: Eley Wasps are still being made and sold, but I've been told by at least one UK blog reader that the pellets available today are not of the same quality as those made 20 years ago when I bought mine. If this is incorrect, I apologize. I also see Eley Wasps available on eBay, but those appear to be vintage tins.]
Evaluation so far
This Hakim performs just like all the others, plus it looks much better. I discovered that it's dirty inside when I adjusted the trigger, so I'll be taking the rifle apart to clean it and also get rid of some of the vibration upon firing. Before I do that, though, I want to try one thing.
You asked me if this rifle can be scoped. I used to mount a Beeman SS2 scope on my Hakims, and it worked wonderfully. Well, that scope is still available, though no longer made by the same people — but it's very pricey. I've decided to try something different.
TF 90 dot sight
Right now, Pyramyd Air is blowing out an older Tech Force 90 dot sight that I used to use on a lot of airguns years ago. They have a large number of them, and they're priced to sell at just $19.99. I watched the development of this dot sight by Compasseco in the late 1990s, and I know that it's extremely good. It was made in a plant that makes sights for the military. And, now, it's available at a price that can't be beat. So, I'll mount one on the Hakim and try the rifle again at 10 meters — and perhaps at 25 yards, as well.