by Tom Gaylord, a.k.a. B.B. Pelletier
Today's report is a guest blog from Tyler Patner, a Pyramyd Air customer sales and service representative and enthusiastic field target shooter. He's going to tell us about a BSA PCP pellet rifle. This is a complete report with the description, velocities and test targets, so I am breaking it into two sections.
If you'd like to write a guest post for this blog, please email me.
Over to you, Tyler.
by Tyler Patner
This report covers:
• Changes from BSA
• Let's shoot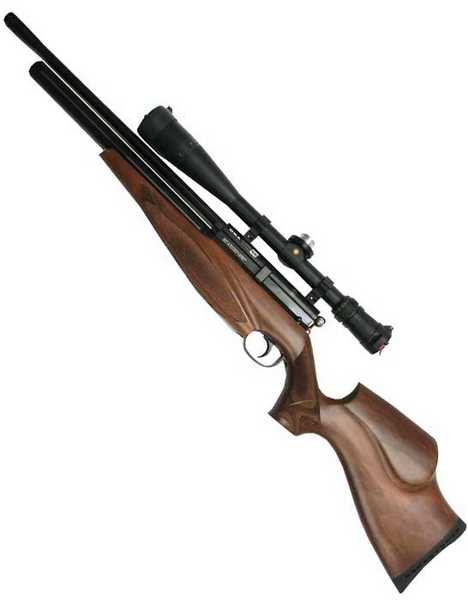 BSA Scorpion with beech stock.
Before getting to the review, I want to preface this by saying that I'm a BSA fan boy (self-proclaimed, of course). When I found out that BSA was officially making their return to the U.S. market, I was ecstatic. And no gun was more present in my mind than the BSA Scorpion SE. I already had the BSA R-10 in my arsenal and had owned an Ultra as well as a SuperTEN (predecessor to the R10). The one gun I had yet to own of the BSA PCP line was the Scorpion SE. With the new look to the stock and the various glowing reviews from the UK sub-12-foot-pound crowd, I was chomping at the bit for the Scorpion SE.
Traditionally, I'm a .177 and .22 pellet shooter. I've never owned a .25; and, quite frankly, I had little desire for one. It's nothing against the caliber, I just don't have too much use for it, as most of my hunting and long-distance shooting can be easily accomplished with a .22. But as most folks will tell you, it never hurts bringing more gun than you need. If there was one thing I knew going into this review, it was that the accuracy should be nothing short of stellar. BSA barrels are widely known and highly regarded for their amazing consistency and accuracy. Many worldwide field target and benchrest shooters choose their barrels for that exact reason. So, expectations were very high; but to my surprise, my expectations could not have possibly been set this high.
Changes from BSA
The introduction of the SE (which stands for Special Edition, even though all of the current models are "SE" models) saw a few new features brought to the BSA line that many had yet to experience. The addition of a pressure gauge that reads in bar was a welcome feature I was very happy to see. The R-10 was the first BSA gun to employ it, and BSA has since added it to their entire PCP range.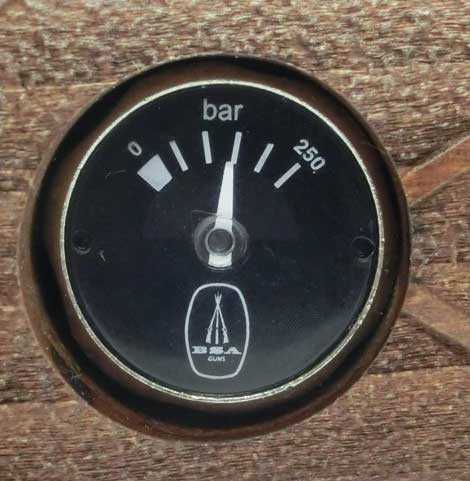 BSA Scorpion SE pressure gauge reads in bar.
The Scorpion SE also uses BSA's new self-indexing magazines. Prior to these mags, BSA went through two other styles that used an indexing pin within the breech. This is a common method of indexing a magazine but comes with its own set of problems. A common complaint was that the indexing pin would actually break, leaving the gun unusable. BSA has solved this issue by creating a magazine that seamlessly rotates under spring tension once the bolt is retracted from the magazine.
I've used these magazines in both old-style BSA rifles and the new-style guns. To this day, I've never had a hangup with the new-style mags. Loading the magazines does take a certain technique, but it's very easy to figure out and do quickly. I simply hold the drum of the magazine with my left hand and load pellets with the right, rotating with my thumb and index finger.
The drums are color-coded blue and red for .177 and .22, respectively. Each holds 10 pellets. The .25 is slightly different, with cutouts to allow for the larger spacing the bigger quarter-inch bore pellets need. It's black and holds only 8 shots. I'd like to see BSA not leave any portion of the pellet exposed in the magazine.  If I were to drop the magazine in the dirt or mud, it's possible for debris to find its way into the internals of the mag and potentially jam it.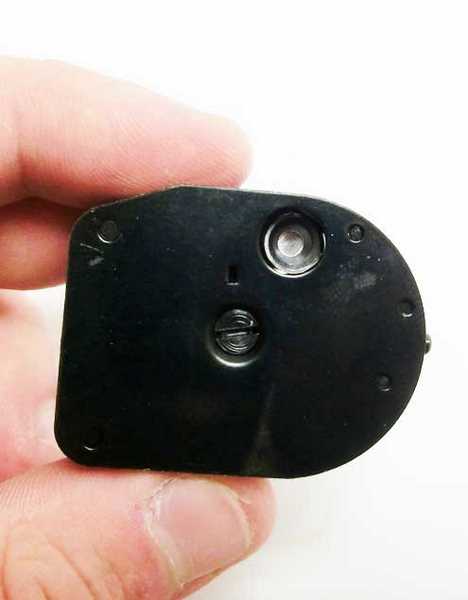 My thumb and index finger hold the magazine drum against spring tension.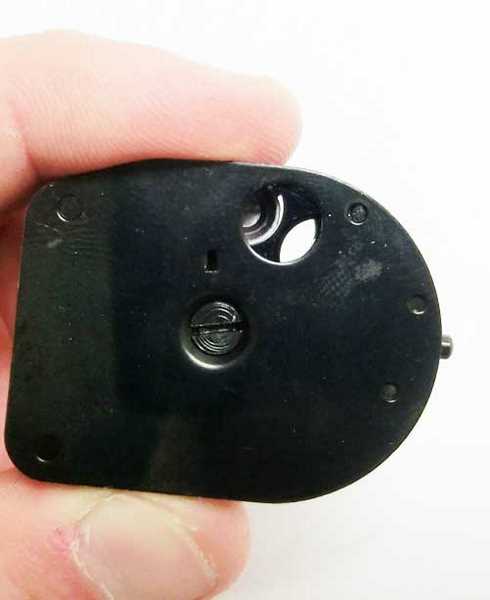 Here I show the drum not indexed. It takes only a little finger pressure for this control.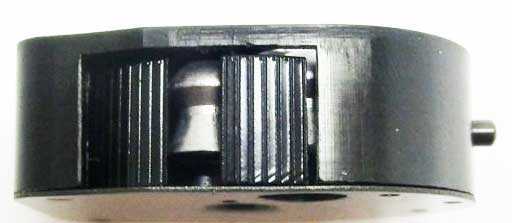 The mag drum is open on the side to allow the big .25-caliber pellets to fit.
The final change was the stock. The new stocks are being made by Minelli in Italy. For standard beech, the one I had was very impressive. It had great character and a very comfortable shape. The stock also had a very interesting reverse stippling in some areas. I'm not really sure if reverse stippling is the correct term for it, but that's the best I could come up with! It's almost as if Minelli removed a layer or two of wood and left things rough on the surface to give you more positive feedback when held. This definitely made an impact, as the areas of the stock where this was present were very tacky and really solid in my hand. The forearm is not too wide, and the relatively light overall weight of around 7 lbs. makes this gun an excellent choice for those walking the woods.

The rifle holds steady in the offhand position. It's lighter than it looks!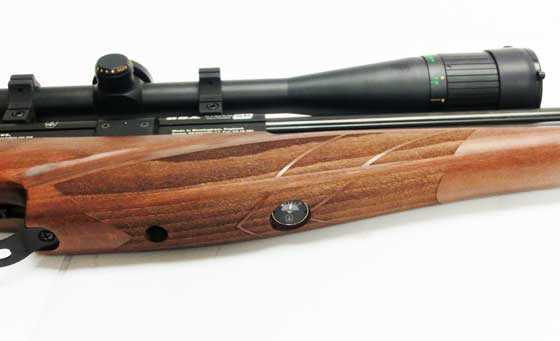 The wood stock is shaped well, and the odd stippling is very grippy.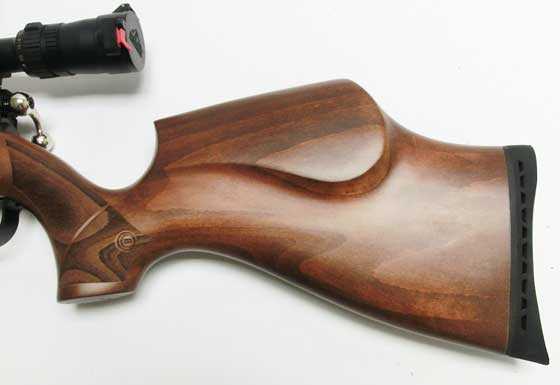 The butt is nicely shaped, and the wood is attractive.
Let's shoot
I chose to mount a scope that most would think is major overkill for a gun like the Scorpion SE. I went with a Bushnell Elite 8-32X40AO. This is a big scope that adds a lot of weight; but since I was shooting only benched groups, that was fine with me. It was also the only scope available at the time that I was comfortable with. All my good hunting optics were on guns and in use. That said, a gun like the Scorpion SE certainly warrants a nicer scope such as the Bushnell, and the extra magnification really gave me the ability to be as precise as possible when shooting my groups. Before we get to the group shots, though, let's have a look at some velocity numbers.
I shot eight different pellets for the test but decided to chronograph only three of them. BSA touts their new SE models as having a "self-regulated valve." There isn't an actual regulator in the gun, so I wasn't sure why they would refer to the valve design as self-regulated when that's normally how PCPs function. With an unregulated gun, you usually get more of a curve when you graph out your velocities, while a regulated gun gives you a very flat string until the gun falls off the reg. While the shot count was relatively low, it was extremely tight — maybe one of the tightest spreads from an unregulated gun I've seen. And that wasn't just from one pellet. Hunters could probably milk 20-25 shots from the relatively small air cylinder on the Scorpion SE.
The first pellet I ran over the chrony was the H&N Field Target Trophy which weighs in at 20.06 grains. [Editor's note: Depending on how you search for this pellet in Pyramyd Air's listings, one product name will state that it weighs 20.06 grains, and another will say it's 19.91 grains. However, on the actual product page, the name and description say it weighs 19.91 grains (which is correct). However, I left the weight at 20.06 grains for this report since all of Tyler's calculations are based on that number.] Filling the gun to 3000 psi delivered 17 good, consistent shots. We had a high velocity of 819 f.p.s., a low of 792 f.p.s. and an average velocity of 807 f.p.s. The extreme spread was 27 f.p.s., and the standard deviation was 8.4 f.p.s. Again, the low shot count is due to the smaller air cylinder, but it's much more consistent than most unregulated PCP guns I've shot. The Field Target Trophy pellets put out about 28.7 foot-pounds at the muzzle. For a .25-cal. PCP, this is very underpowered, and my only real beef with the gun. More power would sacrifice shot count further, and BSA opted to go for a moderate power level with a higher shot count.
Next up were the 25.4 grain JSB King pellets. These are widely considered the best .25-caliber pellets on the market — and for good reason. They preformed extremely well and also proved to be the most accurate pellet tested, but more on that in part 2. We got 15 good shots on a full 3000 psi fill with a high of 738 f.p.s., a low of 723 and an average of 731 f.p.s. The extreme spread was only 15 f.p.s., and the standard deviation was a mere 2.7 f.p.s. When you see a standard deviation that low, you often find accuracy follows closely behind.
That works out to 30 foot-pounds of energy at the muzzle for this pellet. It's more than enough for small game but very underpowered for that caliber. A 25-grain pellet moving in the low 700s in a gun sighted in at 25 yards has just under 3 inches of drop when stretching out to 50 yards. That's quite a trajectory curve, and it really shows just how under-used the caliber is in the Scorpion SE platform.
The final pellet I chronographed was the Beeman Kodiak at 31 grains. On a full fill, the gun produced 19 very consistent shots. The high was 672 f.p.s. and a low of 655 f.p.s., which averaged out to 664 f.p.s. We really see how going heavier eventually reaches a point of diminishing returns. I wouldn't consider the slight bump in muzzle energy to be worth it, as it only topped out at 30.3 foot-pounds. I'd rather run the slightly flatter-shooting JSB Kings and give up the measly 0.2 foot-pounds. But with only a 17 f.p.s. extreme spread and a standard deviation of 5.9 f.p.s., things looked promising for the accuracy testing.
We'll stop here and return in part 2 with Tyler's accuracy testing. There are some good groups coming!