by Tom Gaylord, a.k.a. B.B. Pelletier
This report covers:
• Here we go, again
• Out of the box
• Cocking
• Barrel bushings
• Scope base welds
• Pillar bedding!
• Good to go
• Crosman Premiers
• Beeman Kodiaks
• Crosman SSP
• Trigger
• Evaluation thus far
• Reminder from PyramydAir.com
Here we go, again
Today, I'm starting our look at the second Benjamin Trail Nitro Piston 2. This rifle was sent from Crosman to Pyramyd Air especially for me to test, so we know that it's the absolute best that they can do with the NP2 design. I'm not being sarcastic when I say that. I'm telling all the Crosman ankle-biters that I do acknowledge that this rifle has been thoroughly examined by Crosman before sending it to me — just to stop them from saying it. This is the same thing I recently did with the Daisy 880.
The first NP2 I tested came straight from the factory and was completely random. And you saw how well it turned out. You also saw that it needed a little time to break in before the cocking effort dropped to where we thought it should be. You also saw how I had to learn to hold the rifle for best accuracy. That shouldn't happen with this one because I know how to hold it now.
I do plan on installing the scope that comes packed with the rifle for my test. We had one negative reader comment about me switching the scope on the other rifle, and doing it this way should end that complaint.
Out of the box
Several of you asked me to go over the second rifle thoroughly to see how it differs from the first rifle I tested. This rifle is also a .22-caliber model in a wood stock; so from the outside, it appears very much the same. But one curious thing I noted is that this rifle does have a wood screw holding the front of the triggerguard to the stock. You may remember I showed you the other rifle didn't have the screw, even though the triggerguard has a hole for it.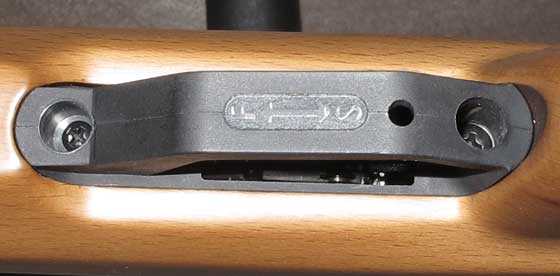 This photo shows both screws in the triggerguard.
I went over the entire rifle, looking for differences, but none came to light. I shined a tactical flashlight down the muzzle and noted that the baffles are not obstructing the muzzle. So, the rifle seems good to go.
Cocking
I cocked it, just to see how that felt, and I was transported back to the SHOT Show! This rifle cocks with between 25-27 lbs. of effort. I found the barrel pivot joint was too loose for the barrel to remain in place after the rifle has been cocked. You normally want it to stay in one place, but I say that advisedly, because this NP2 might teach us a thing of two. Crosman designed this rifle with a pivot bolt instead of just a plain pin, so the pivot joint can be tightened whenever necessary. I took the action out of the stock to do this, and that's when I noticed a number of things.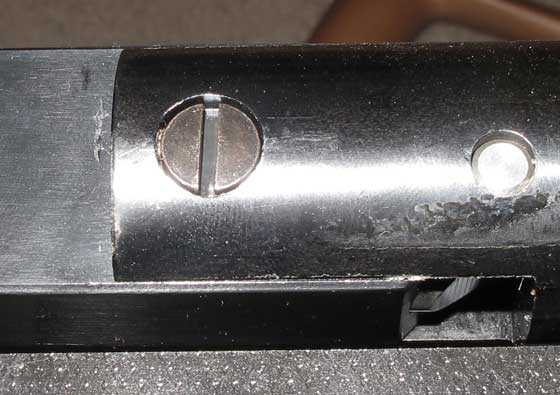 The NP2 barrel pivot bolt is slotted so it can be tightened. That wasn't necessary on the rifle I'm testing.
Barrel bushings
First, the barrel does indeed have a screw, but it was already tight on this gun. Then, I shined a flashlight through the action forks and the breech joint and noticed that there are probably bearings (what some would call shims) at the pivot joint. So, the barrel can be tight and yet still flop up and down after it's cocked. We need to learn from this; because if this rifle is accurate, Crosman has done something new. Their barrel may be looser than other breakbarrels of the past and yet still be accurate.
Scope base welds
The welds on the scope base are much more visible on this second test rifle. I know that Crosman did take action on this issue right away after the first guns were launched.


The scope base welds are much more visible on this new rifle. They're the bright lines under each foot on the base.
Pillar bedding!
Second, I found a u-shaped piece of steel on the floor after removing the stock. When I examined the stock, I found out what it is — pillar bedding! We've recently discussed this on this blog, and Crosman has apparently gone and done it. The interesting thing is that they didn't mention it in their advertising! How could they have missed announcing an important feature like this? Shooters are paying hundreds of dollars to have their rifles pillar bedded, and Crosman has gone and done it for free and kept it a secret!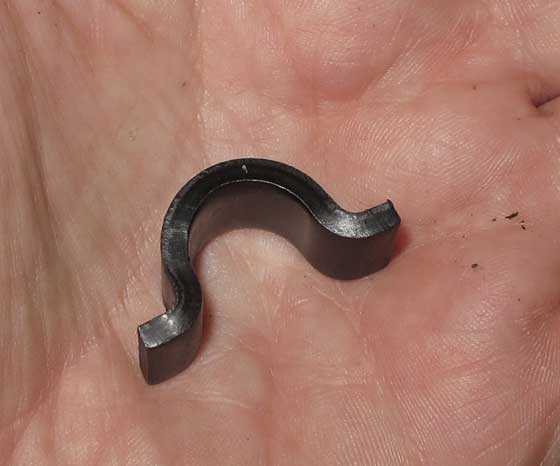 This u-shaped bushing or spacer serves as a pillar to separate the triggerguard screw from the action. This is pillar bedding on an airgun!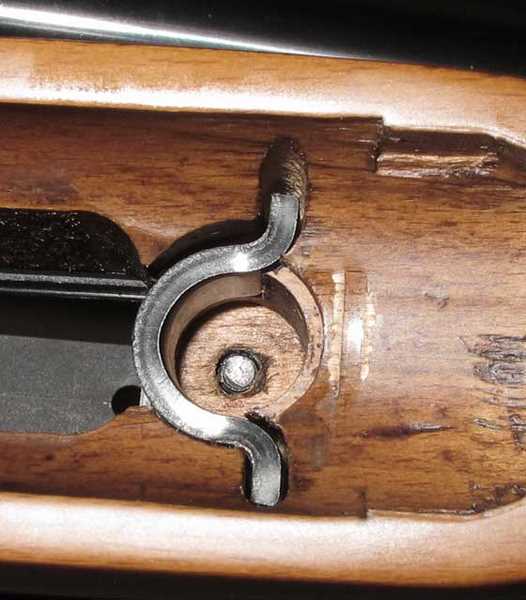 When the steel bushing is in the stock, it's impossible to over-tighten the rear stock screw. This is how pillar bedding works. It keeps the wood from being crushed.
The 2 forward stock screw heads bear directly against the wood of the stock, so they'll need washers to spread their load; but the NP2 is bedded better than 80 percent of the top-end spring rifles on the market.
Good to go
I assembled the rifle and found the barrel does not wobble side to side, yet it still flops after it's cocked. This means the barrel pivot joint is adding very little resistance to the cocking effort. Now, it was time to start the velocity test.
Crosman Premiers
The first pellet up was the 14.3-grain Crosman Premier that I believe will be one of the most accurate pellets for this rifle. Ten of them averaged 823 f.p.s. — a whopping 78 f.p.s. gain over the broken-in velocity of the first test rifle. And the cocking effort is still 5-7 lbs. lighter!
Best of all, Premiers varied by only 5 f.p.s. over the 10-shot spread — from 821 to 826 f.p.s. That's phenomenal! It's in PCP territory, and I'm talking about a regulated gun. At the average velocity, this pellet generates 21.51 foot-pounds of energy at the muzzle.
Beeman Kodiaks
Next, I tried 21.1-grain Beeman Kodiaks. As powerful as this rifle is, it should handle them okay. They averaged 646 f.p.s., which means a muzzle energy of 19.46 foot-pounds. The spread for this heavyweight pellet was 12 f.p.s., ranging from 639 to 651 f.p.s.
You might wonder why I didn't test the JSB Exact RS dome in this rifle since I did test it in the first rifle. The reason was the poor performance we saw in that first velocity test. I decided to switch to the Kodiaks rather than test a pellet that might not be suited to this powerplant.
Crosman SSP
The last pellet I tested was the 9.5-grain lead-free Crosman SSP pointed pellet. They averaged 1023 f.p.s. from the NP2, with a 55 f.p.s. spread that ranged from 992 f.p.s. to 1047 f.p.s. This is getting up close to the 1100 f.p.s. velocity that's printed on the outside of the NP2 box. At the average velocity, this pellet generates 22.08 foot-pounds of energy.
Trigger
The trigger on this new test rifle feels very similar to the one I tested on the first rifle. The first stage is long and heavy, measuring 3 lbs., 6 oz. to stage 2. Stage 2 was breaking at over 6 lbs. out of the box, but I adjusted it to 4 lbs., 4 oz., which is exactly the same as the first trigger. This is a very good trigger for a sporting airgun — especially considering the price!
Evaluation thus far
This is more like the rifle I shot back in January. I think anyone would be happy with this one; and if they aren't, then they should reconsider getting a gas-spring air rifle altogether. I sure hope this rifle is at least as accurate as the first one turned out to be.
Reminder from PyramydAir.com
Pyramyd Air's marketing department wants to remind our blog readers that today (Mon. 6/30/14) is the last day you can enter their
Son of a Gun Giveaway for the June prize, which is the Benjamin NP Limited rifle!
They've now started their 4th of July countdown of deals! There's a special coupon that lets you combine a discount with their free shipping promotion and you'll get double Bullseye Bucks. Plus, more deals are going to coming via email. If you're not signed up to receive their email promos, go to Pyramyd Air's home page and enter your email address in the space to the left of the word SUBSCRIBE.