by Tom Gaylord, a.k.a. B.B. Pelletier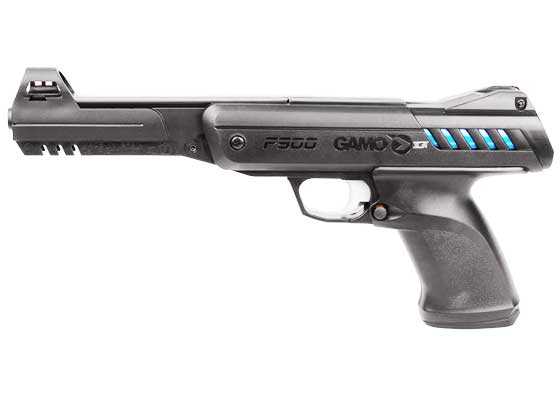 Gamo P900 IGT pistol
This report covers:
• Velocity
• RWS Hobby pellets
• Gamo Match pellets
• Gamo Raptor PBA pellets
• Trigger
• 2014 Ft. Worth airgun show update
Velocity
Let's get right into the report. Today, we'll look at the velocity of this Gamo P900 IGT air pistol. A number of comments were made about how underpowered this air pistol is, but I disagree. They're condemning it without testing it — from just reading the numbers. We'll set that straight today.
RWS Hobby pellets
The first pellet I tested was the 7-grain RWS Hobby wadcutter. This pure lead pellet is probably just right for the P900 powerplant. Gamo advertises the P900 as getting 400 f.p.s. with lead-free alloy pellets, so we expect the Hobbys to be slower because they're heavier. And slower they are! When I seated them flush with the breech, Hobbys averaged 332 f.p.s. with a range from 321 to 340 — a spread of 19 f.p.s. They developed 1.71 foot-pounds, on average.
Because this pistol is lower powered, I decided to see what effect deep-seating the pellet would have. I used the Air Venturi Pellet Pen and Seater to seat the Hobby pellets deep in the breech. This time, the pellet averaged 365 f.p.s. — a gain of 38 f.p.s. The low velocity was 358 and the high was 373, so the spread was 15 f.p.s. Seated this way, they developed 2.07 foot-pounds, on average. I think it's clear this pistol likes the pellets to be seated deep, so that's how I will proceed with the test.
Gamo Match pellets
The next pellet I tested was the 7.56-grain Gamo Match wadcutter. I didn't even try them seated flush. Seated deep, they averaged 360 f.p.s. with a spread from 358 to 363 f.p.s., so this time just 5 f.p.s. separated the slowest from the fastest pellet. At the average velocity, this pellet generated 2.18 foot-pounds of energy at the muzzle.
Gamo Raptor PBA pellets
The last pellet I tested was the Gamo Raptor PBA. This lead-free domed pellet weighs just 5.4 grains and is used to extract high velocity from airguns. Remember — Gamo advertises the P900 as getting up to 400 f.p.s. Well, that turns out to be quite conservative! This pistol I'm testing averaged 490 f.p.s. The range was from a low of 457 f.p.s. to a high of 508 f.p.s. So the spread was 51 f.p.s. At the average velocity this pellet generates 2.88 foot-pounds of muzzle energy.
Just to see what the differences are, I also shot 4 Raptor pellets loaded flush with the breech. They ranged from a low of 439 f.p.s. to a high of 455 f.p.s.; so even loaded normally, this pistol still exceeds its advertised velocity. I may have an example that's on the hot side, and maybe you won't get quite as much velocity as you see here, but I think they should all get at least 400 when shooting PBA pellets.
You naysayers can revise your arguments, now. This pistol exceeds its advertised expectations by a lot. I still like the firing behavior and the trigger, though I'm sure there will be critics.
Trigger
The non-adjustable 2-stage trigger on the test pistol breaks crisply at 3 lbs., 15 oz. to 4 lbs., 1 oz. It's a fine trigger and just what I need to shoot this pistol accurately.
2014 Ft. Worth airgun show update
This report was short, so I'll use the space to update you on the 2014 Ft. Worth airgun show that will be held on Saturday, September 6.
The following dealers and manufacturers are expected to have tables:
Pyramyd Air
Umarex USA
AirForce Airguns
Dennis Quackenbush
Flying Dragon Air Rifles (Mike Melick)
Hatsan USA
The following dealers and manufacturers are considering attending or have indicated they may attend:
Airgun Depot
Daisy
Crosman
Scott Pilkington
Neal Stepp
Also attending will be:
American Airgunner TV
Steve Criner — TV's Dog Soldier
Eric Henderson — big bore airgun hunter and guide
Jim Chapman — writer for Predator Extreme magazine and airgun hunter
I'm making a big push to get the smaller private dealers now. These are the guys who have vintage airguns for sale. The club has a communal table for members to display and sell their airguns. This club is where I recently purchased the BSA Airsporter Stutzen I've been reporting on, a BSA Scorpion pistol and a Schimel gas pistol from the 1950s.
I am going to really shake the trees, because I know there are many airgunners who will come to this one-day show. The sheer volume of people though the door will make it worth their while to attend. Who knows what unusual airguns are going to walk through the doors?
If you have some unusual airguns to sell, this show is the place to sell them! We should get a number of advanced collectors who are attracted to this brand new airgun show because of the curious guns they may find. We're also attracting those who are new to airguning and are looking for the vintage guns they've read about but never seen.
Don't forget our door prize and the three major raffle prizes that have been donated:
Air Venturi Bronco
AirForce Condor SS
Hatsan AT44-10 Long QE
Walther LGV Master Ultra
Other drawings and freebies are also in the works. Lots of guns, lots of freebies, lots of fun!
Mark September 6 on your calendar. You'll want to be at the Ft. Worth airgun show in Poolville, Texas.