by Tom Gaylord, The Godfather of Airguns™
Writing as B.B. Pelletier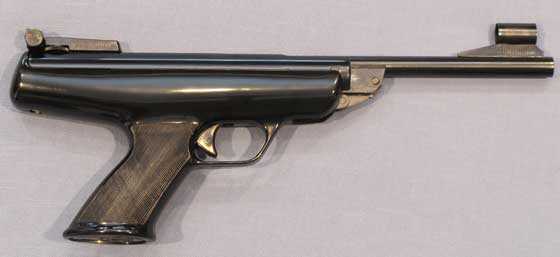 BSA Scorpion
This report covers:
• Powerful air pistol!
• How the test was conducted
• The trigger
• Crosman Premier lite pellets
• The next big test
• RWS Hobby pellets
• RWS Superdome pellets
• Overall evaluation
Today, we'll look at the accuracy of the BSA Scorpion. In a moment, I'll tell you what this test has inspired me to do. But first, let's look at the Scorpion's performance downrange.
Powerful air pistol!
We saw in Parts 1 & 2 that the Scorpion is a very powerful spring-piston air pistol. It pushed pellets out the spout at the same speed as my Beeman P1, which is another powerful spring-piston airgun.
We saw this Scorpion dominate my vintage BSF S20 Target pistol, which is probably in need of some TLC, and it also bested my Webley Hurricane, which was another contemporary during the day. The legend says the first Scorpions shot faster than 600 f.p.s. and exceeded the UK legal power limit for unlicensed air pistols (6 foot-pounds at the time).
How the test was conducted
I shot the Scorpion from a rested two-hand hold at 10 meters. I used the open sights as they were set when I got the gun. I shot at a 10-meter pistol target whose large bullseye gave me a good aim point.
The Scorpion sights are sharp and crisp. All I could ask for is a taller front blade and a wider rear notch; but as you'll see, I was able to do pretty well.
The trigger
The trigger is single-stage and breaks at 3 lbs., 12 oz. While that sounds heavy, it's actually not. This trigger is so crisp that the let-off feels like a full pound less than it is.
Crosman Premier lite pellets
The first pellet I shot was the Crosman Premier lite 7.9-grain dome. They fell deep into the breech. But from shot No. 2, I knew they were going to shoot!
I was holding at 6 o'clock on the bull and the pellet was hitting the paper about 2.6 inches high, which is above the top of the bull. Ten Premier lites went into 0.699 inches. For an air pistol this powerful, that's very good!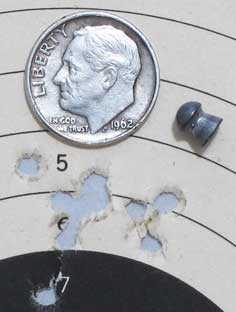 Wow! Ten Crosman Premier lites went into this 0.699-inch group at 10 meters.
I was stunned by this first group. I hadn't expected this big powerful pistol to be so accurate. This is rivaling what a Beeman P1 can do! And it inspired me to want to know more.
The next big test
I find myself wondering how accurate the BSF S20 Target and Webley Hurricane are. Now that I have this test to use as a basis for comparison, I think I'll test both of those pistols under similar conditions. I don't know about you, but I'm fascinated to see how the other 2 air pistols will do in comparison.
RWS Hobby pellets
Okay, back to the report. Next up were RWS Hobby pellets. We learned in the velocity test that although Hobbys are very light, they did not increase the Scorpion's velocity at all. Perhaps that's because they're very large compared to many other pellets.
The Scorpion put 10 Hobbys into a group that measures 1.016 inches between centers. It's certainly much larger than the first group of Premiers, making Hobbys a poor choice for this pistol.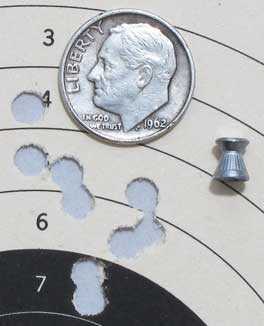 Ten Hobbys went into 1.016 inches at 10 meters. Not the best pellet for the Scorpion.
RWS Superdome pellets
The most tantalizing target was shot with 10 RWS Superdome pellets. Ten of them landed in a 0.877-inch group, but 9 of them are in one hole that measures 0.592 inches between centers. That's tight!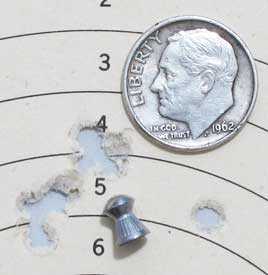 What a tease! Nine of 10 Superdome pellets went into 0.592 inches!
Overall evaluation
This is pretty fabulous shooting for any spring-piston air pistol that isn't a full-blown 10-meter target gun! It's like discovering a Corvette that can corner, or a rock star who's really a musician! You don't expect it; and when it happens, you wonder why you never tried one before.
I compare this experience with some of the current crop of mega-magnum spring-piston air pistols that can't hit a barn wall when shot from inside the barn, and I'm amazed by the difference. If I hadn't done this test myself, I would have found it difficult to believe anyone else reporting accuracy like this.
I may be done with the Scorpion, but I'll return soon with a test of both the BSF S20 Target and the Webley Hurricane, and we'll all get to see how these fine vintage powerhouses compare on paper.