by Tom Gaylord, The Godfather of Airguns™
Writing as B.B. Pelletier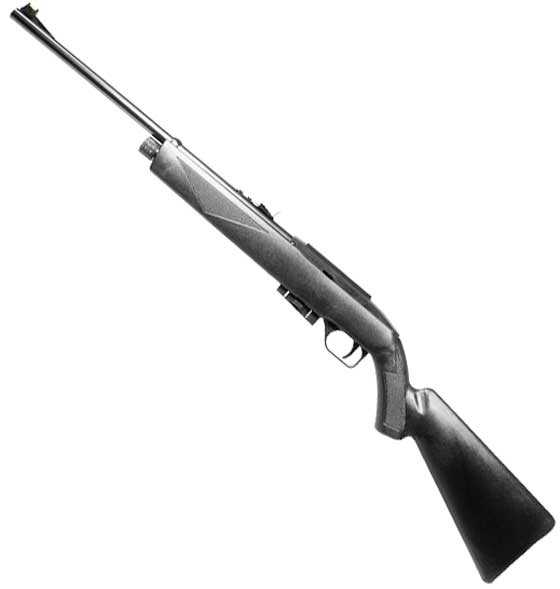 Crosman's 1077 RepeatAir is a classic.
This report covers:
• Some old business — trigger-pull
• Today's test
• First up — Crosman Premier lite pellets
• Air Arms Falcon pellets
• H&N Finale Match Pistol pellets
• Evaluation so far
Today we'll look at the accuracy of Crosman's 1077 CO2 rifle. Just as I said, it's pretty impressive for an air rifle in this price range.
Some old business — trigger-pull
One of our readers asked me if the 1077 trigger-pull would be too heavy for a 9-year-old girl. I said it would on a new gun; but that I have an older gun whose magazine mechanism is broken-in, and I thought it would be okay.
I told you last time that the rifle I'm testing has a trigger-pull of 8 lbs. I guesstimated that the old rifle's pull was about one pound lighter; but I wasn't positive, so today I pulled out my old 1077 and measured the trigger-pull for you. Surprise, surprise! The old rifle's pull measures 8.3 lbs.! Why did I believe it was so much lighter? I think it has to do with how smooth the worn-in mechanism has become. There's no pause or hesitation when you pull this trigger like there is on the newer gun.
I also told you that the pull was mostly governed by the magazine mechanism that advances the pellet clip. Therefore, I installed the old magazine in the test rifle and tried the trigger. The pull did not change. So, shut my mouth — I was wrong! I've been telling people this for years, and perhaps there's some truth to it if you compare a broken-in magazine to a brand-new one; but the gun also has to wear in for the trigger-pull to smooth out.
Oh, and for that reader who asked about the 9-year-old — yes, I think she could handle the broken-in trigger. It would seem heavy to her, but I think she could manage it.
Today's test
I am shooting from 10 meters rested. Each target will get 10 shots with open sights. Since this is a gas gun and has virtually no recoil, there's no special hold required, so I'm resting the rifle directly on the sandbag.
First up — Crosman Premier lite pellets
The first pellets I tried were the Crosman Premier lite domed pellets that weigh 7.9 grains. They put 10 into 0.761 inches at 10 meters. I think it looks more impressive than it sounds.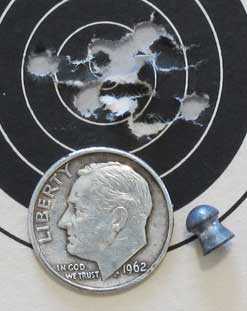 When I saw this first 0.761-inch group of Crosman premier lites, I knew my 1077 was going to shoot just as I told you!
RWS Hobby pellets
Before I get to what the RWS Hobby pellets did, I want to tell you how I controlled the group to get only 10 shots. As you know, the 1077 has a 12-shot circular pellet clip. What I did was load all 12 chambers and then shot just 10 shots. After that, I removed the magazine, popped out the clip and removed the last 2 pellets with a ballpoint pen. I think that's easier than trying to orient 2 empty chambers in the clip when you insert the magazine.
I'm telling you this because I forgot to stop shooting with Hobbys. It's a 12-shot group instead of 10 shots. The 1077 is so easy to shoot that it reminds me of its firearm namesake — the Ruger 10/22.
Twelve Hobbys went into a 0.63-inch group at 10 meters. How about that? More shots, yet a smaller group!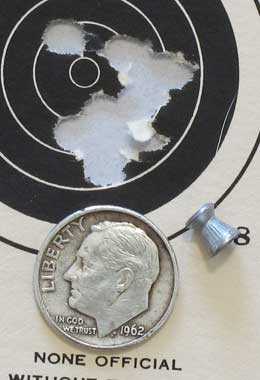 Twelve RWS Hobbys went into this 0.63-inch group at 10 meters.
Air Arms Falcon pellets
Because I read the things I write and also believe them, I next tried Air Arms Falcon pellets. I've told you that Falcons are often accurate in lower-powered .177 airguns, and I couldn't resist seeing if that was true for the 1077. Glory be — this time it was! Ten (I remembered to stop shooting at 10 this time) Falcons went into a 0.596 inch group that turned out to be the smallest one of this test.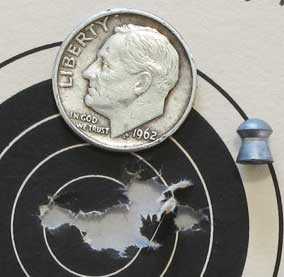 Ten Falcon pellets went into this incredible 0.596-inch group at 10 meters!
H&N Finale Match Pistol pellets
The last pellet I tried was the H&N Finale Match Pistol pellet that sometimes surprises me with its accuracy. This time, they matched the RWS Hobbys with a 0.63-inch group. Of course, there must be small errors in measuring and one pellet might be fractionally better than the other.
The Finale Match group is vertical, which leads me to wonder if the gas is running out in the 88-gram CO2 cartridge that's on the rifle. It's been there for several years and for an undetermined number of shots.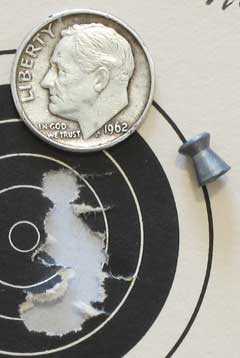 Ten H&N Finale Match Pistol pellets made this vertical 0.63-inch group.
Evaluation so far
The 1077 is turning out exactly as I remembered, except for the trigger-pull issue mentioned above. It's a very accurate rifle that deserves a longer accuracy test. So, I'll mount the Tech Force 90 dot sight and back up to 25 yards next time.