by Tom Gaylord, The Godfather of Airguns™
Writing as B.B. Pelletier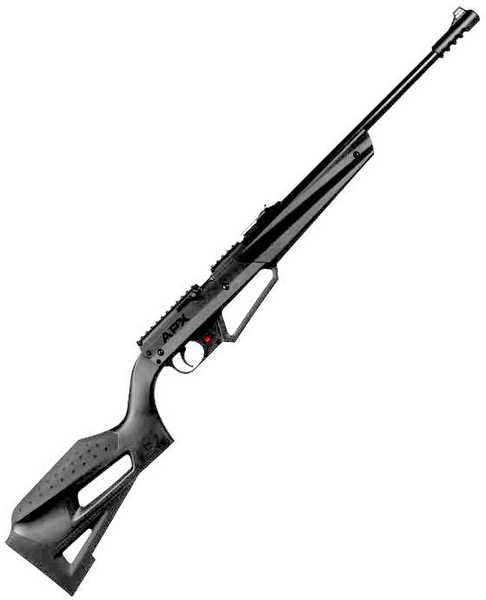 Umarex NXG APX multi-pump air rifle.
This report covers:
• Sight-in
• Pellets first: JSB Exact RS pellets
• RWS Superdome pellets
• Shooting behavior
• Crosman Premier 7.9-grain pellets
• RWS Hobby pellets
• Switch to BBs
• Evaluation so far
We'll look at the accuracy of the Umrarex NXG APX Air Rifle today, and that means we have to test it with lead pellets and BBs. There's a lot of work to do, so let's get going.
Sight-in
I sighted-in the rifle for 10 meters using the open sights. The fiberoptic front sight was no problem, because I lit the target bright and the place from where I shot was dark. I got the elevation okay, but I couldn't get the windage adjusted. It takes a Phillips screwdriver to loosen one screw and slide the rear sight notch left or right. The screw was too tight to move — it may be painted-in. So, I left it were it was, and the groups landed just to the right of the bull. If the APX is accurate I'll probably mount some sort of optical sight that can be adjusted, so this isn't a big problem.
I decided to pump the rifle 5 times per shot. For shooting at 10 meters, that seems right.
Pellets first: JSB Exact RS pellets
I'll test the accuracy of lead pellets at 10 meters with the rifle rested on a sandbag. Let's start with JSB Exact RS pellets. Ten made a 0.79-inch group, which I thought was pretty good.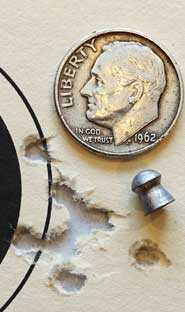 The APX put 10 JSB Exact RS pellets went into 0.79 inches at 10 meters.
RWS Superdome pellets
Next up were RWS Superdomes. Ten of them gave a horizontal group that measures 0.672 inches between centers. It's smaller than the RS group, but I wish it wasn't so horizontal.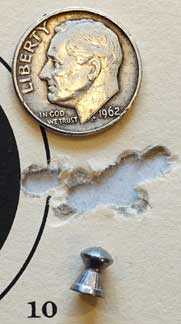 Ten RWS Superdome pellets made this 0.672-inch group that's spread out horizontal.
Shooting behavior
I must comment on the APX shooting behavior at this point. The trigger is stiff and heavy, but it doesn't seem to affect the accuracy. For such a lightweight rifle, it's very steady on the sandbag.
Crosman Premier 7.9-grain pellets
Now it's time to try the Crosman Premier 7.9-grain pellet. They gave a nicely rounded group that measures 0.679 inches between centers. One pellet strayed outside the main group, yet it's still tight!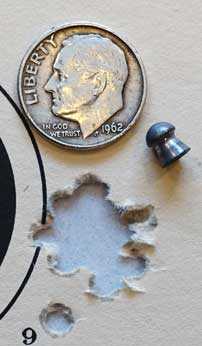 Ten Crosman Premier lite pellets made this 0.679-inch group, which is very round.
RWS Hobby pellets
The last lead pellet I tested was the 7-grain RWS Hobby. These made another round group that was the smallest of the session. Ten pellets went into 0.532 inches, center to center, at 10 meters. That is very impressive! Remember, there are 10 shots in each group in this test.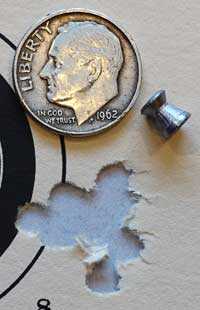 The smallest group of pellets measures 0.532 inches between centers. Ten RWS Hobbys made it.
Switch to BBs
It was time to switch over to BBs and see what they could do. For my BB gun range, I have 5 meters (16 feet 5 inches). Instead of a shooting bench, I used a chair and a new monopod that Leapers is developing. It isn't on the market yet, so I won't tease you with it — YET — but suffice to say that it's a good piece of field equipment.
I decided to use the same Umarex Precision Steel BBs that were used in the velocity test. I used 4 pumps because of the shorter distance, and I still used the open sights with the same setting as for 10 meters.
I shot one 10-shot group that measures 0.569 inches between centers. Yes, it's that small! My measurements may be off a little more than usual, because BBs don't cut good clean holes, even when the target is backed by cardboard. Still, you can see it and judge for yourself.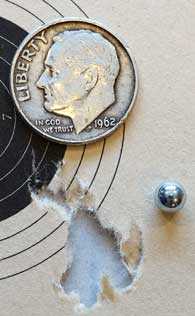 Ten steel BBs went into this group that measures 0.569 inches between centers. For a BB gun, this is something!
Evaluation so far
So far, I like the APX. It's different in several ways from the other low-cost multi-pumps. but of course, it also works like they do. It has to, because there's only so much that can be different.
I want to back up to 25 yards and also mount an optical sight and see what that does. Umarex said this rifle would be hot this Christmas season. I think they're right.