by Tom Gaylord
Writing as B.B. Pelletier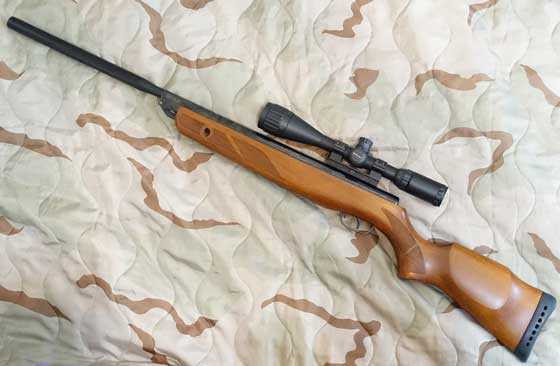 Gamo's Hunter Extreme 1250 was a big, beautiful wood-stocked magnum rifle. Today's guns have synthetic stocks but similar powerplants.
This report covers:
• Very sensitive to hold
• Today's accuracy test: Round 1
• Round 2
• JSB Exact Jumbo Heavy pellets
• Gamo owners justified
• 50 yards comes next
I shot the .22-caliber Gamo Hunter Extreme 1250 at 25 yards for accuracy, and I learned a lot! I confirmed what I thought was happening at 50 yards when I first tried out the rifle in Part 1.
Very sensitive to hold
When I shot this rifle in Ohio at the Pyramyd Air Cup, I was amazed that I hit a 1.50-inch killzone offhand at 50 yards. Then, in Part 1, I had it at my local rifle range. I shot one trial group of 10, just to see how good it shot. I was amazed when the first 2 shots went into the same hole, though that sort of thing does happen sometimes and then the shots scatter all over the place. But this time they didn't This time, the group grew slowly as more shots were fired. That's indicative of 2 things — me getting tired, but more than that — nerves!
As powerful as this Gamo breakbarrel is, it is also extremely sensitive to hold. All ultra-powerful breakbarrels are, in my experience. Any small change in the vibration patterns of the stock will send the pellet in a different direction. Don't ask me why powerful breakbarrels are like this and powerful underlevers aren't — I really don't know. But I do know they are.
When you start to really concentrate, your groups can get worse. Because you aren't actually concentrating. You're tensing up and causing the rifle to be held differently when you don't even notice it.
After the 50-yard group, I talked to Rich Shar on the phone. Rich modified this Gamo air rifle, and he says he's killed squirrels at tremendous distances with it. That means he's comfortable with the rifle, so I have to try to be comfortable with it, as well. And that means relaxing for every shot beyond what I normally do. This is a technique that few shooters know about. It has been described as Zen by some writers. I wouldn't call it that, but I do say that I'm in the zone when I shoot this way.
Today's accuracy test: Round 1
For today's test, I was at 25 yards with the rifle rested. That will tell me if the pellets are good enough for 50 yards. I actually shot today's test over the period of 2 days, since cocking a 47-lb. springer over 100 times is not conducive to the best accuracy. Neither is the additional relaxation technique I'm using.
I started with the Crosman Premier dome — the same pellet I shot well in Ohio, and again at 50 yards just week ago at my rifle range. This time, the first 5 shots all went into the same small hole. I will estimate that it was no more than 0.20 inches between centers. I have to estimate the size, because shots 6 though 10 opened it up to 1.021 inches. How exasperating that was to watch!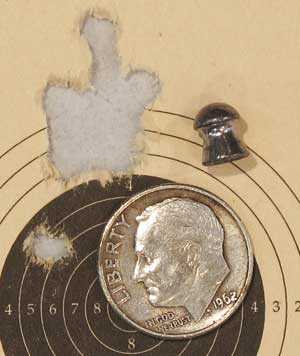 The first 5 were really tight; but by completing the 10-shot group, I opened it to 1.021 inches! That stray shot below the group was shot 9!
Then I shot and shot and shot — trying different holds and even laying the rifle directly on the bag. All of which convinced me that a soft artillery hold I'd used the first time was the right hold. I also tried other pellets at this time, but I'm not going to name them, because I believe my confidence was shot for this session. So, I put the rifle away and waited 24 hours.
Round 2
For the second session, I started with Premier domes, again, but this time they just didn't group for me. I tried a couple different holds, including my off hand way out on the forearm. Nothing worked. All, I did was prove what I said earlier about this rifle being sensitive to hold.
Then, I did something novel. I photographed the next group after 5 shots were fired, and then completed the group! And this time I captured the poltergeist's image!
JSB Exact Jumbo Heavy pellets
I tried the 18.1-grain JSB Exact Jumbo Heavy pellet for this group because I wasn't real confident of the Premier. It will still shoot very well, mind you, but I have to have absolute confidence to do what I'm trying to do with this rifle (my special extra relaxation technique). Rich is so used to it that it feels natural to him, but I shoot so many different air rifles all the time that I don't have time to get that familiar with any of them.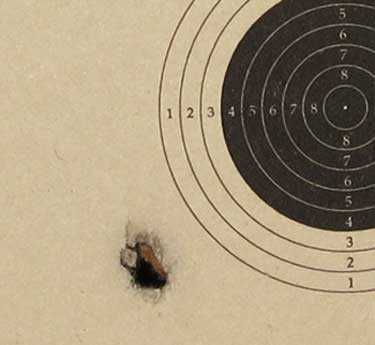 The first 5 JSB Jumbo Heavy pellets were really tight. Target is still on the pellet trap.
The first 5 shots went into another group that appeared to be about 0.20 inches, but I didn't measure it. Then shots 6 through 10 opened the group to 0.618 inches. Actually, that's not too bad for 10 shots at 25 yards, but the difference between the first 5 shots and the 10-shot group is what I want you to see.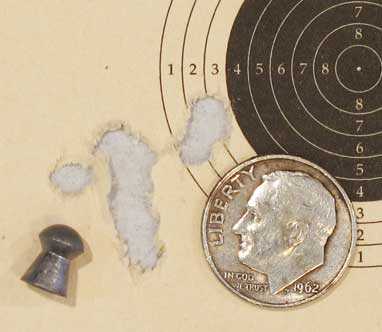 Completing the group opened it to 0.618 inches. While that's not too bad for 25 yards, it's significantly larger than the 5-shot group. That's not just statistics — it's nerves!
I can hold this rifle well for 5 shots, but apparently that's when I lose my edge. This report isn't about my flawed shooting abilities, anyway. It's about what Rich Shar's tune has done to this rifle. And what he's done has made the rifle easier to shoot well for the average shooter, which is me, this time.
Gamo owners justified
I've read many reports by owners of these powerful Gamo rifles that extoll their accuracy and power in the field. But this is the first time I've actually experienced one. I've tested a great many powerful Gamo breakbarrels and never before did I get results like these. I did get them with the old Whisper they made many years ago, but that rifle was nowhere near this power class. It was very tame and pleasant to shoot, and as I recall, it was very accurate.
50 yards comes next
The point of this test was to find one or two pellets that could be tested at 50 yards. I think I have them. I think I may shoot 5-shot groups instead of 10-shot groups in this test, just so I don't blow it for the rifle. Stay tuned!