by Tom Gaylord
Writing as B.B. Pelletier
Part 1
Part 2
Part 3
Part 4
Part 5
This report covers:
• Crosman Premier lite pellets
• Air Arms Falcon pellets
• H&N Baracuda Match pellets
• JSB Exact Heavy 10.3-grain pellets
• Conclusions
Before I begin, I want to tell you that there is at least one huge surprise coming in 2015. I'm testing an airgun right now, so this isn't something that's a one-off being handed to me at the Media Day range for a few causal shots. I've already been to the range with this gun 4 times, and it is earth-shattering! It does things other guns in its class cannot dream of doing. I tell you this not to tease — well, perhaps just a little — but also to let you know the world is continuing to spin on its axis, and good things are still happening with airguns.
In fact, I'm going to share a second secret with you later this week. It's a gun I'm testing that I would have bet money could not be built. That's coming up later this week.
I had planned to tune the Feinwerkbau Sport air rifle before taking it to the 50-yard range, but the opportunity to shoot came up; and it was such a perfect day that I didn't want to waste it. The accuracy should be the same with or without the tune, so today's test should tell all of you what you want to know about the FWB Sport.
Crosman Premier lite pellets
The day was perfect — not a breath of air, and bright sunlight illuminating the targets. I began with Crosman Premier 7.9-grain domes because they had done well at 25 yards. They hit the target low, so I adjusted the scope and brought them up higher; but because I was going to shoot 4 different pellets, I didn't concern myself with hitting the bullseye. I'm always racing the wind when I shoot outdoors, so I do anything that saves time.
I used the same artillery hold that I used at 25 yards — off hand with the back touching the triggerguard and extreme looseness in the hold. This time, I was rewarded with 10 pellets in a 1.44-inch group. That's okay, but far from stellar — especially for a calm day. So, I switched pellets for the next group.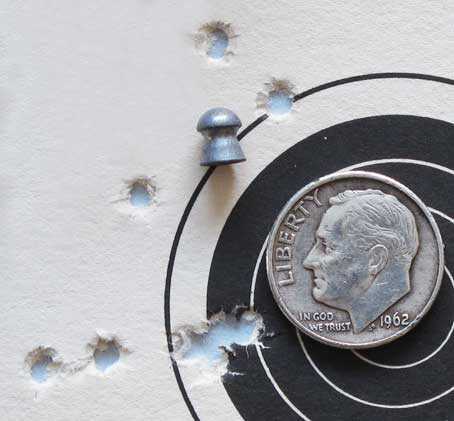 At 50 yards, the Sport put 10 Crosman Premier lites into this 1.44-inch group. It's not centered on the bull, because I was hurrying to finish before the wind picked up.
Air Arms Falcon pellets
The second pellet up was the Falcon dome from Air Arms. These were head size 4.52mm. They had done particularly good at 25 yards, and I thought that might carry over to 50 yards. This time, 10 pellets went into 1.424 inches, which is very close to the previous group. They did hit the paper higher and slightly to the right of where the Premiers landed.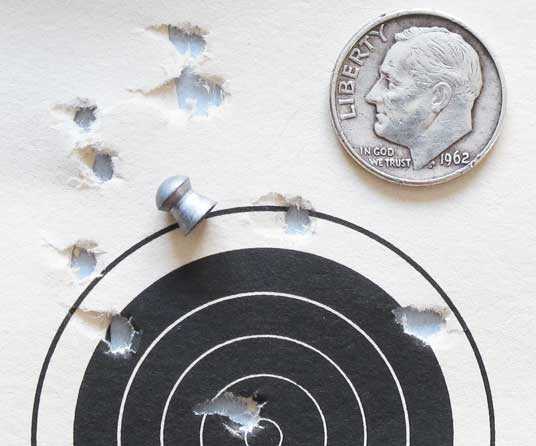 Air Arms Falcons were the most accurate at 25 yards. At 50 yards, they were close to equal to the Premier lites. Ten went into 1.424 inches.
H&N Baracuda Match
Next up were the 10.6-grain H&N Baracuda Match domes. There were 4.50mm. They were a lot slower getting downrange, but they were also more accurate. They may be a good pellet for longer distances in the Sport. Ten of them went into 1.307 inches, which is better than the first 2 pellets — but not by that much. However, they do carry a lot more energy downrange, and that's what hunters want.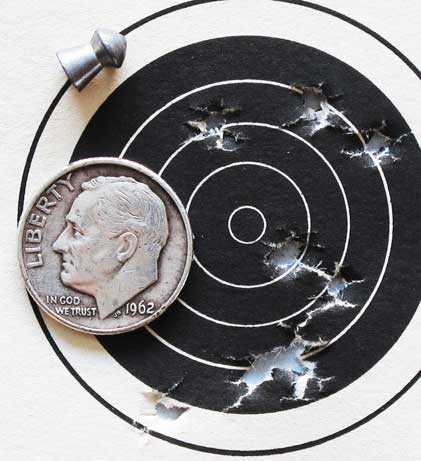 H&N Baracuda Match pellets were a little better, at 1.307 inches for 10. They also moved into the center of the bull. This might be a pellet to use in the Sport.
JSB Exact Heavy 10.3-grain pellets
The last pellet I tested was the 10.3-grain JSB Exact Heavy dome. They had 4.52mm heads and often do well in more powerful springers. The Sport put 10 into 1.311 inches at 50 yards.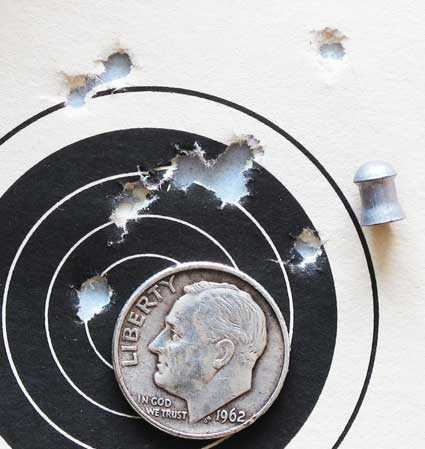 JSB Exact Heavies were very close to the Baracudas at 50 yards, putting 10 into 1.311 inches.
Conclusions
Looking at the results, I see that all 4 pellets went into very similarly sized groups. The heavier pellets were slightly tighter than the lighter ones. That shows the Sport is consistent. I doubt that I've found the best pellet for the rifle, but I have to say the Sport requires a lot of technique to shoot well at 50 yards. The trigger is good, which helps a lot, but being a breakbarrel means the rifle has to be held as lightly as possible, which can be tiresome.
The rifle still cocks smoother and shoots calmer than before I applied the oil, but I can feel some buzz starting to creep back. Also, that oil continues to run out of the action and down the stock when the rifle is stood on its butt, so care must be taken to keep it off the floor. Maybe oiling isn't the best thing to do. Maybe a more sophisticated lube tune that involves a disassembly is warranted. We'll look at that next.