by Tom Gaylord
Writing as B.B. Pelletier
• Nice air rifles
• Nice air pistols
• Other stuff
• Want some more?
I waited longer than I thought to write this second part to my 2014 Christmas gift guide. Many of you wondered why certain guns were left off the first list. Well, it was simply a matter of time. Maybe what was missing last time will be on today's list.
Nice air rifles
I left a lot of nice air rifles off the first list for space considerations, alone. My first choice today is not a rifle, though it has been called that since it was first made in 1938. Daisy's Red Ryder BB gun is an icon of youth. It's not the same gun as before World War II, but it's still a Red Ryder and still worth owning. Think of it as Christmas in a long box!
In fact, there are several Red Ryder models available, including the 75th Anniversary model with a metal cocking lever (the regular gun has a plastic cocking lever.


Daisy Red Ryder is an icon of American youth — just ask Ralphie!
The next airgun is nearly as popular as the Red Ryder, and, for its maker, it is number one. The Crosman 760 is a smoothbore multi-pump that has satisfied millions of owners over the years. It used to be a rifle but is now a smoothbore that handles both BBs and pellets. Its best feature is a short-throw pump mechanism that's very easy to work.


A 760 Pumpmaster is America's most-recognized multi-pump!
Stepping up to an actual air rifle, I nominate Weihrauch's famous HW 30S. It's small, easy to cock, accurate and has the Rekord trigger that sets the standard for sporting spring guns. It's a close cousin to Beeman's R7, but retails for $50 less and comes with the open sights that the R7 lacks.


Weihrauch HW30S packs a lot of quality into an affordable package. It's a small, handy air rifle.
I didn't put the Benjamin Marauder on the first list, but I wanted to. The Marauder is one of the finest precharged pneumatic rifles ever made. It's packed with features like power adjustment and fill-pressure control that no other air rifle offers, plus it has a wonderful trigger. America can be proud of this one, and you certainly will be.


Benjamin Marauder is a top PCP. It has more features than any European rifle, yet costs half as much.
If the Marauder is iconic, the Talon SS from AirForce Airguns is legendary. This is the PCP that gave the world the concept of a shrouded barrel for quiet operation. I was there in 2001 when it burst on the scene; and, although the design has been updated quite a bit since then with a better trigger, an onboard fill gauge and baffles, it's still a wonderful deal in an inexpensive package. No other PCP lets you switch calibers and barrel lengths so easily. With a Talon SS, you're not buying an air rifle — you're buying a whole shooting system — one that can put 5 shots through a wedding ring at 40 yards!


The Talon SS from AirForce is still setting the bar high for precharged pneumatics.
Want a breakbarrel that won't break your heart? Get the Walther LGV Challenger. I specifically recommend this model (the synthetic-stocked Challenger) because, for the price, I don't think there's a better breakbarrel on the market. In fact, I don't think there is one at any price! It has a wonderful trigger, great accuracy, a smooth powerplant and a barrel lock.


Walther's LGV Challenger is so calm and accurate that it's almost like shooting a PCP.
One air rifle I'm sorry I sold is the Diana RWS 54. It's the only credible challenger of the TX200 Mark III. While I do favor the TX personally, I notice that a lot of field target competitors shoot the 54. Ray Apelles, who placed second in the world this year, did it with a modified 54 that has a factory barrel. It's a very large and heavy air rifle; but being recoilless, it forgives your hold technique as much as a TX.


Diana's 54 Air King is a world-class spring-piston air rifle.
Nice air pistols
I'm sorry, but there aren't as many air pistols that I can recommend as there are rifles. I'm not going to recommend something just to balance out the list. The guns I recommend are guns I either own or have owned. I feel you will like them as much as I do because of their inherent qualities.
The Crosman 2240 is a winning air pistol on its own, but it's also the foundation of a lot of fine upscale air pistols in the Crosman and Benjamin lines. The 2240 is a bolt-action single-shot .22-caliber CO2 pistol. It's accurate as it comes from the factory, plus you can do many things to it. I turned mine into a precharged carbine on this blog several weeks ago!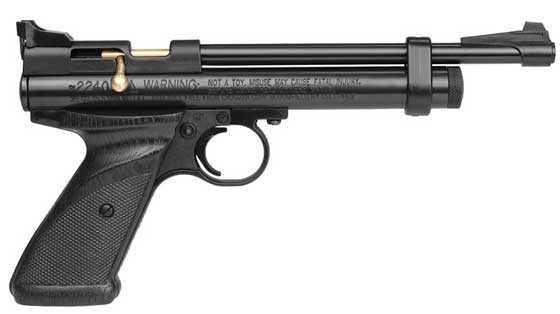 Crosman's 2240 is a classic CO2 pistol.
The Legends Makarov Ultra from Umarex is an accurate CO2 BB pisol with realistic blowback action. It looks like the firearm it copies; and with the blowback action, it also simulates real firearm action. If you want even more accuracy at a lower price and are willing to give up the blowback feature, Umarex also offers a Makarov BB pistol. It's just as realistic as the Ultra, except that there's blowback.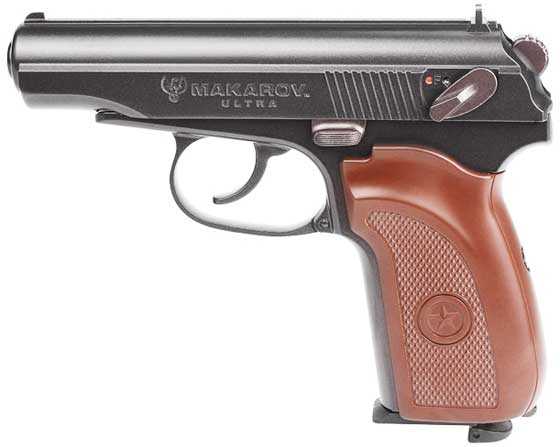 The Makarov Ultra BB pistol has realistic blowback.
Finally, I'll recommend the Benjamin Marauder pistol. When Ray Apelles was helping develop this air pistol for Crosman, I tested his prototype and cut dandelion stems at 18 yards with it. Think of it as the Marauder of PCP air pistols — which it is. It's a repeater that comes in .22 caliber, only, which makes it perfect for hunting. Like the rifle, you get features that would cost twice as much if there was a European name on the outside.


Benjamin's Marauder pistol has almost everything the rifle offers in a handgun.
Other stuff
Airgunners do not live by airguns, alone. Sometimes, they want things that don't shoot. Top on the list ought to be a chronograph. And I'll recommend the Alpha model from Shooting Chrony. It's the one I use 98 percent of the time. It's lightweight, portable, sets up easily and the price is right. This is something you'll buy only once, so long as you don't shoot it during testing!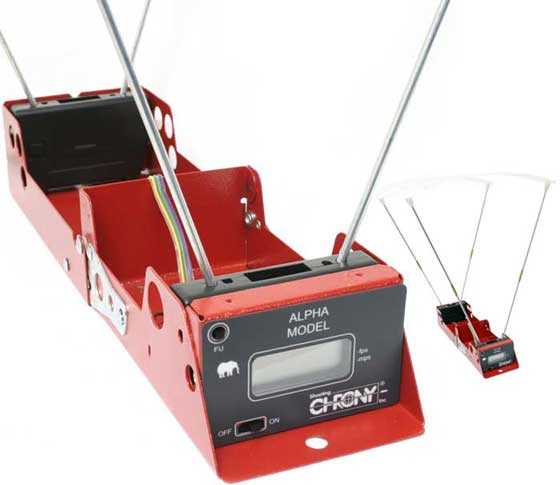 Shooting Chrony's Alpha chronograph is inexpensive, accurate and will last a lifetime with reasonable care.
I'm not going to list scopes, because the technical requirements are too varied to make any sense from my recommendations. If there was a good affordable spotting scope, I would recommend it because I think the world of mine. In fact, I traded a gun worth about twice what my spotting scope retails for, just because I saw that this particular one was crystal clear. This is another once-in-a-lifetime purchase.
I will recommend a bullet/pellet trap, though. I recommend the Champion Heavy Duty metal trap. They cost over $75 now. I bought mine for $49. Too bad. Gas was less than a dollar a gallon in those days, too! My trap is now 20 years old and still going strong after a quarter-million rounds have been stopped.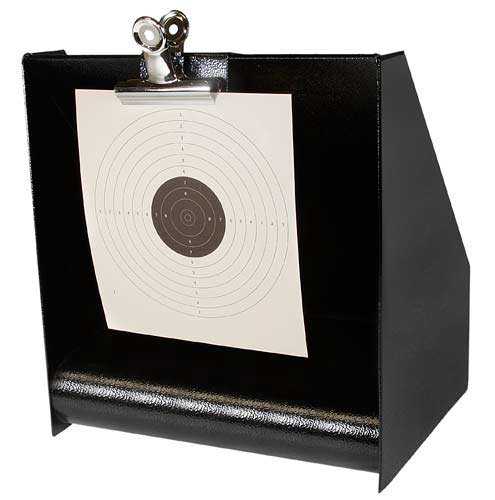 Just suck it up and ask for it as a gift. The Champion bullet/pellet trap will be sold at your estate sale after a lifetime of use!
The last product I'll recommend today isn't Crosman Pellgunoil. You guys should have that flowing through your blood by now! Instead, I'm recommending Ballistol, in the biggest can you can get. Buy a plastic spray bottle at the grocery store and fill it with this stuff. Spray it on everything you want to keep, because it's the ultimate preservative oil.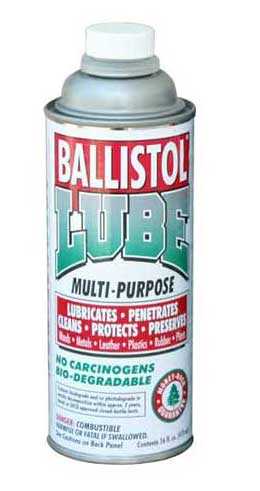 Every airgunner should have a can of Ballistol.
Want some more?
There's time for another list, if you think it's needed. Tell me the kind of things you want to see. Pellets? Silicone cloths? You tell me.