by Tom Gaylord
Writing as B.B. Pelletier
This report covers:
• Remington
• SIG
• Dueller
• Beeman
• Chiappa
• Diana
• Summary
Remington
Today, I'll finish the SHOT Show 2015 report for the blog. My first stop on the last day was the Remington booth, where I hoped to learn how their airgun sales are progressing. Remington told me several years ago that they're getting back into airguns in a major way, and their first 2 years seemed to back that up. This year, however, I was sorely disappointed.
While waiting for my conversation with the representative, I overheard him advise the man he was talking to that the Remington 1911 BB gun is perfect for his morning walks, because he could use it to shoot all the stray cats and dogs he encountered. That was enough for me! Edith and I left the booth, vowing not to return this year.
I don't know if the Remington rep I overheard is a Remington employee or is just a member of their rep group (companies that represent products to many stores), but regardless — he spoke as a company representative. As far as I'm concerned, that was enough. A representative who says things like in public that should fired, in my opinion. I can't do that, but I certainly don't need to look at their products! In 19 years at the SHOT Show, this was the first time I heard a boothholder suggest using an airgun to scare off animals. Remington — get your act together!
SIG
The next stop was the SIG booth,. There was some talk at the show about their new airguns, and I wanted to get a look for you.
Sadly, I could not find anyone in their booth who knew anything about the airguns they had on display. Yes, they have a couple of PCP and CO2 guns that are tactically styled after their firearms, but no one knew anything.
And they aren't just selling airguns, either. I saw a host of action targets and accessories in the booth. It's obvious that someone at SIG is interested in airguns — they just haven't put the word out to the rest of their staff. Plus, there was no literature about their products.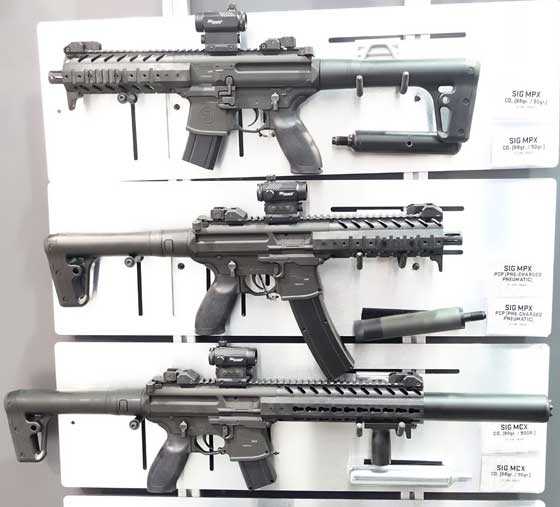 Yes, SIG has some new PCPs and CO2 guns. I'll see what I can learn about them.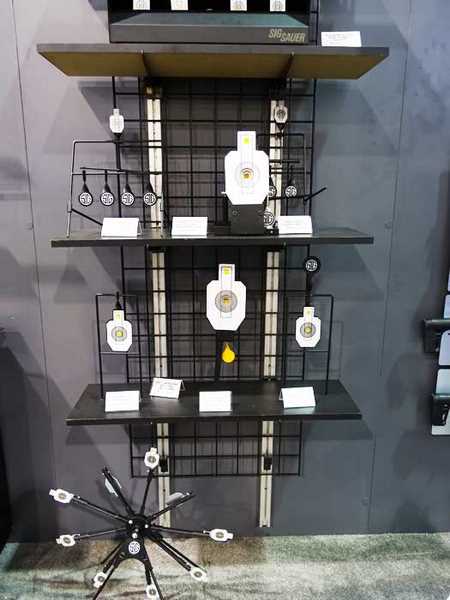 The number of action targets SIG displayed in their booth at the show indicates someone in the company is thinking about airguns. A pity noboby in the booth knew anything!
I'll watch for the SIG guns and products to arrive this year and review them for you when they do. Maybe by that time, I'll find that person at SIG who can speak about the airguns.
Dueller
I'd seen huge posters for the Arsenal Firearms AF1911 A1 Dueller — a twin-slide semiautomatic pistol that fires 2 rounds with each pull of the trigger. So, when I finally came across their booth, I just had to stop and look. I actually held the .45 ACP model that's as wide as a fence post and as heavy as a boat anchor. I won't be surprised to see this pistol on the silver screen in the hands of someone like Scarlett Johansson before long.
Yes, each pull of the trigger (actually 2 triggers joined in the center) fires both sides of this fantastic gun. It's offered in .45 ACP, 38 Super, and later this year in 10mm. Sorry, Buldawg, I erred when I told you there was a 9mm. I imagine the recoil is manageable because of the weight of the gun. But practical? Give me a break! These exotic handguns, which start at $5,600, are not for target practice. They're all about testosterone levels and whose holster is bigger.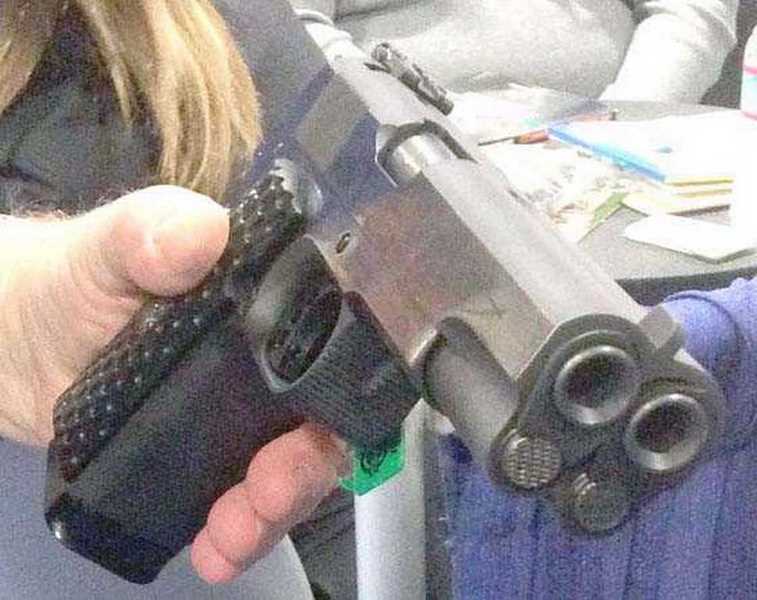 It's a fistful, to be sure, but I don't think the new Dueller pistol is meant for sport.
Beeman
Speaking of dual-barreled guns, I also stopped by the Beeman booth to see what new things they had, and this year I was met by a surprise. I saw a large green tactical rifle that looked like it belonged to the Teenaged Mutant Ninja Turtles. It had a thin barrel on top and what I thought was a thin cocking lever underneath. But I have since discovered this is a second barrel of a different caliber, and either barrel can be selected. The Beeman Dual, as it's called, fills a need that doesn't exist.
Beeman has been marketing a wide range of spring rifles with dual-caliber interchangeable barrels for the past several years. I've even tested them in the past. When I reread that test, it looked like the gun didn't perform with the .22 barrel and I returned it before the accuracy test was done.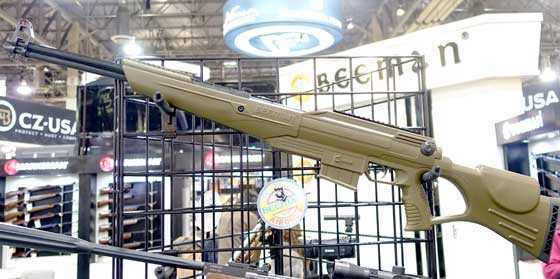 Beeman's own Dual air rifle was an oddity. I hope to get a chance to test it.
But the new Beeman Dual isn't a rifle that makes you switch barrels. It has both caliber barrels permanently installed and a knob on the gun determines which one is active. If it stopped there, it would have still been on the border of sane, but it doesn't. You can actually adjust the gun to shoot BOTH barrels simutaneously, as well.
I must say, I'm intrigued! I'll test the Dual if the opportunity presents itself. Until then, I'll try to keep an open mind. Right now, though, my thoughts are screaming, "Why?"
Chiappa
Who?
Chiappa — the people who produce Italian firearms that mimic famous designs. You may know them for their Little Sharps rifles (.22 LR to .38-55) or more recently for their .22-caliber scaled-down 1911 pistols that sell for very affordable prices. They started making precharged air rifles in 2008, and this year they showed them at SHOT. The model is called their AR611, and they call it a 200-bar PCP air rifle.


Chiappa's AR611 Sporter (bottom) and youth rifle (top) have a lot of interesting features. Let's hope we get to see them!
This new line (more than one set of features) has features like a free-floated barrel, a fully adjustable trigger, adjustable open sights, a reservoir that removes and has the gauge built-in. Though the rifle is a single-shot, there's an optional 10-shot circular magazine kit available.
A brief examination of these guns in their booth (again, there were no knowledgeable representatives on hand to explain the guns) shows a lot of promise. I can see the engineering that's gone into these rifles, plus Chiappa has a track record of supplying good value for the price.
What they do not have in the U.S. is any airgun experience. I hope they have the good business sense to find a large reputable dealer who can lead them through the U.S. marketplace, because this product would certainly fail if left to the discount houses, where their firearms are currently being sold.
Chiappa also seems to be representing FAS, the Italian single-stroke target pistol maker. FAS is an old company that's well-known in 10-meter target circles, but their airguns have never been properly represented here in the U.S. I hope aligning with Chiappa was a good move in the right direction.
FAS pistol
This sport version (ambidextrous grip) of the FAS 10-meter target pistol was also in the Chiappa booth. I hope they'll be distributed well this time, for the FAS is an affordable target pistol.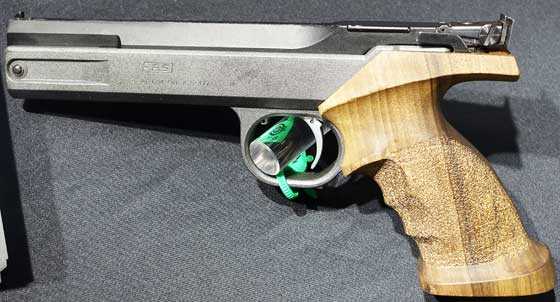 FAS single-stroke target pistols have been around for the past 40 years, but perhaps with Chiappa's help they'll make it in the American market this time
Diana
I stopped by the Diana booth in the German pavilion several times, but there was never anyone there. I get my information about Diana imports from RWS USA, which is located at the Umarex USA booth, so I didn't expect any surprises, but it would have been nice to talk to the new owners of Diana at this show.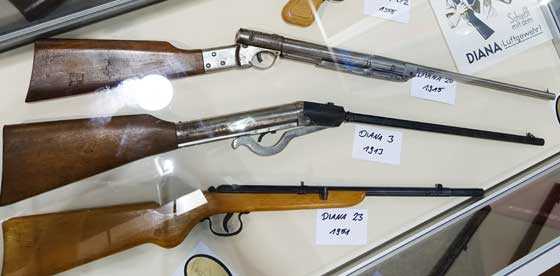 At Diana I saw these historic airguns. The one on the bottom is a rare model 10 sidelever that's been mislabeled as model 23. It shoots BBs and corks. Please excuse the reflections of the lights in the glass. 
Summary
That's where I'll end my report of the 2015 SHOT Show. This is the year of bullpups and big bores, and I see a lot of innovation coming to the market.
The way things work, probably not all the new guns have been shown. There are always some European holdouts that show up at the IWA show in Nurnberg for the first time, so perhaps that gas-spring Diana we're waiting for will emerge later this year. I would also expect one or two more surprises just based on past history.