by Tom Gaylord
Writing as B.B. Pelletier

Second-generation Benjamin Marauder in a synthetic stock.
This report covers:
Bipod, scope and rifle — oh, my!
2-16X44 scope
Sight-in
First group better?
The key?
Sound
Second group on the second magazine
What have I learned?
I told you in Part 1 that this is going to be a different kind of report. Not just because this new .25-caliber second-generation Benjamin Marauder is my personal gun (I bought it for a project involving a new modular RAI stock), but also because I'm installing some Leapers parts, including a killer new UTG 2-16X44AO Accushot scope. What I didn't tell you (yet) is that I'm also installing and testing a new UTG rubber-armored folding metal bipod.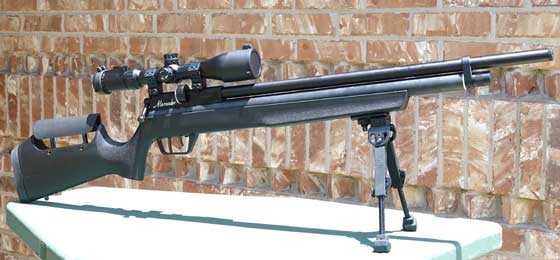 The new .25-cal. Marauder with synthetic stock is set up with a UTG bipod and the new UTG 2-16X scope. I'm gettin' with the program!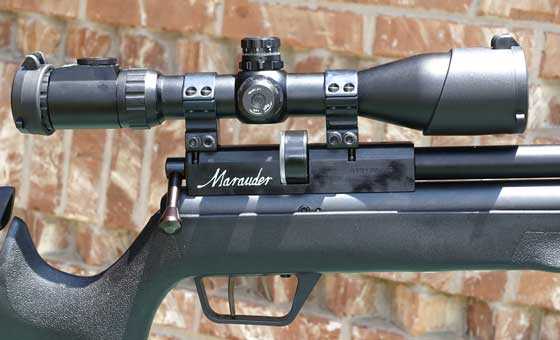 Leaper's new UTG 2-16X44 scope is a lot of glass for the price. It's the same size as a 3-12X.
Bipod, scope and rifle — oh, my!
I'm going to address the bipod, then the scope, then what I've done with the rifle. First the bipod. I'm not a person who uses bipods as a rule, but the new RAI modular stock screams for one; so, I thought I would test the standard Marauder synthetic stock with one.
This bipod is very compact and extends to a maximum 8.5 inches. The legs fold in either direction and are rigid when locked in position. The bipod attaches to a Picatinny rail; but if your rifle doesn't have one, an adapter converts the Marauder's front sling swivel stud to a Picatinny rail and gives you another sling swivel stud to boot. You lose nothing and gain a bipod that folds flat when not in use.

The rubber-armored UTG folding bipod legs can swing forward or back when not in use.
2-16X44 scope
This UTG 2-16X44 scope deserves its own report. First of all, this scope has a greater range of power than you'll find in any other affordable scope. You've heard of 4-16X scopes. They're considered to be very versatile because of their great range of power. I probably use a 4-16X more often than any other power range, with a 3-12X coming in second. But 2-16X? There hasn't been such a scope until this one — at least not for less than a thousand dollars.
On 2X, the view through the scope shows everything clearly. When you want more detail, you can zoom all the way to 16X. First, you find the squirrel; and then, you pick the place you want the pellet to hit.
This scope has all the bells and whistles that Leapers puts into their finest scopes. The reticle is etched glass, so it seems to float in the field of view without touching the sides. It's illuminated, so there are 36 shades of reticle color to choose from when the light is low. Or, leave the reticle switch off, and it's the regular black lines you're used to. Flip-up scope caps on both ends keep the lenses clean until you need them.
This scope comes with UTG Weaver/Picatinny rings that will save some people money; but since the Marauder has an 11mm dovetail, they don't work with this rifle. Ironically, I used an older set of Leapers high 30mm rings that do fit 11mm and 3/8″ dovetails for airguns and rimfires. I put one shim under the scope tube on the back ring just in case the Marauder droops, and sure enough — it does!
Once the eyepiece was adjusted, the image in the scope was also very bright and clear. This scope is short for its power, but it has sidewheel parallax adjustment that's a lot easier than reaching out to turn a ring on the objective bell.
I'll have more to say about this scope as this report unfolds. Today, however, I just wanted to get the scope mounted, and the rifle sighted in.
Sight-in
I sighted-in at 12 feet before moving back to 25 yards to refine the scope settings. The first shot landed low on the paper, which was where I wanted it to be at 12 feet, so I moved back to 25 yards. The UTG scope has locking rings on both the horizontal and vertical adjustments; so when the settings are where you want them, just screw down both locking rings and nothing will move.
Once I was back at the shooting bench, I rested the rifle on the bipod legs with the butt on my shoulder. It took 3 additional shots to get on target at 25 yards, and I initially sighted for the center of the bull. But when I blew it away in 3 shots, my group started to grow because I was guessing where the center of the bull was supposed to be. So, I dialed the elevation down 9 clicks for the first group.
The .25-caliber Marauder magazine holds 8 pellets, so all the groups I will shoot today are 8 shots rather than 10. I'm shooting only the JSB Exact King pellet, which may or may not be the most accurate one in this rifle, but I know it's one of several that are very good. I'm not interested in shooting the smallest possible groups right now. I just want to learn how this rifle functions, and this is a good pellet for that.
Since I used an entire magazine sighting-in and confirming my zero, the first group I shot was the second 8 shots after a fill. And, by the way, I filled the rifle last week, and it was still holding all the air when this test began.
Notice that my 8-shot 25-yard group, which measures 0.366 inches between centers, is vertical. I wondered if the air pressure and velocity was dropping below the useful point by the end of the group. And it was the final 3 shots that made the group so vertical.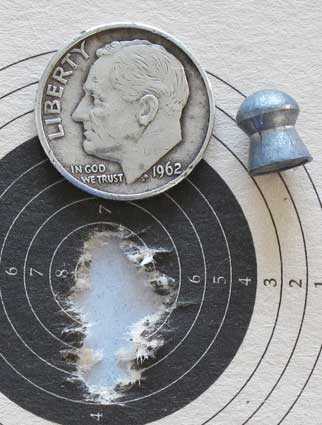 The first 25-yard 8-shot group is small but very vertical. It measures 0.366 inches between centers. That .25-caliber pellet is big, isn't it?
First group better?
I wondered if the first group after the fill would be any better. I refilled the rifle to 3,000 psi and shot 8 more JSB King pellets. This time, they landed in 0.421 inches, so no better. The group isn't as vertical as the last one, but it's larger overall.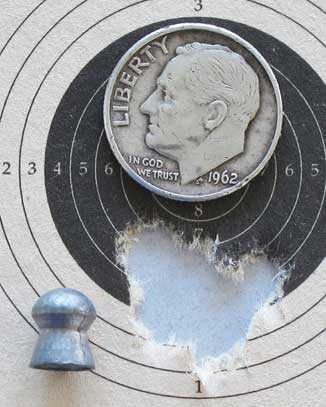 The second 25-yard 8-shot group measures 0.421 inches between centers. It isn't as vertical, but it's larger than the first group.
The key?
Before deciding anything, I noticed something while shooting this second group. My heartbeat was moving the crosshairs around the target by about 1/16 of an inch. Though the front of the rifle was resting solidly on the bipod feet, the rear was against my shoulder and wasn't supported by anything else. When I shoot from a sandbag, the entire rifle is rested and all I have to do is move it gently until the crosshairs are on the target. Then, it stays put. Another test was in order.
Sound
The .25-caliber Marauder is quiet for what it is, but it's not silent. Far from it, in fact. It's about the same sound as a magnum spring rifle firing, which is to say a 3.5 on the Pyramyd Air scale. You aren't going to shoot this one on a tiny suburban backyard! Marauders have a reputation for being quiet PCPs, but it's the .177s that are super-quiet. As the caliber increases, the sound that comes from the muzzle does, too.
Second group on the second magazine
Since I already fired one group following the fill, this would be the second group. In other words, the same conditions as the first group I showed that had verticality. However, the rifle was rested on the sandbag with the bipod folded flat.
This time, 8 JSB King pellets went into a group that measured 0.316 inches between centers. It's noticeably smaller than the first group and also not as vertical. I believe this target demonstrates 2 important things about my new Marauder. First, it has at least 2 full 8-shot magazines on a fill of air. Second, it groups better when rested on a sandbag than it does rested on a bipod.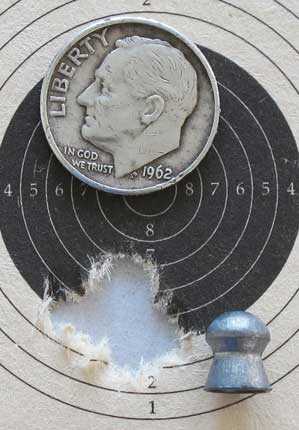 The third 25-yard 8-shot group was the smallest group I shot — measuring 0.316 inches between centers.
What have I learned?
The rifle is now set up the way I want for the present. I've adjusted the trigger as I want it, but I left the power alone for now. The scope is mounted and sighted-in. I know the bipod is a handy rest, but it isn't as steady as a bag rest. So — shoot groups from the bag and shoot at game off the rest. I can hold the rifle steady for a single shot, but not 8 times in a row.
I have no idea if there are other pellets that are even more accurate than the JSB Exact King in this rifle. All I know is that Kings are accurate enough to shoot at 50 yards. There don't seem to be any funny interactions with the baffles inside the shroud. The scope will have to be adjusted for that distance, but that can easily be done when I get to the outdoor range.
I know there are at least 16 good shots on one fill of air. The onboard gauge reads 2,000 psi when the last shot is fired, and my carbon fiber tank gauge tells me the rifle has 2,100 psi remaining. Small air gauges seldom agree, and I think my tank gauge is the more accurate gauge in this instance.
Are there even more than 16 good shots on a fill? I don't think so because of the low ending reservoir pressure, but it doesn't really matter. The magazine holds 8 pellets, so 16 shots is very convenient.
Notice that I haven't yet chronographed the rifle. It's as if I don't own a chronograph, and yet I can still set up the gun to suit me.
My next move will be to take the rifle to the 50-yard outdoor range and test a variety of premium pellets. Only then will we know if this new second-generation .25-caliber Marauder is really accurate. I believe it will be.