by Tom Gaylord
Writing as B.B. Pelletier


Second-generation Benjamin Marauder in a synthetic stock.
This report covers:
Farewell Marv Freund
Some updates and corrections
Shooting the gun
Stabilizing the bipod
First group is the best
Baracuda Hunter Extreme pellets
Diana domed pellets
Possible change in comments
Farewell Marv Freund
Before I start today's report, I must sadly announce that Marv Freund passed away last Friday evening. Marv was in his mid-80s and, in the words of Dennis Quackenbush, has been an "old lion" of airgunning for as long as I've been involved. Anyone who attended the airgun shows at Roanoke probably saw and spoke to him.
Marv was retired from the National Bureau of Standards before it became the National Institute for Standards and Technology. He was well-known for fixing and rebuilding music boxes and other complicated mechanical things. Marv is the man from whom I purchased my Nelson Lewis combination gun, the cased FWB 124 and my Falke 90.
Few people know this, but Marv was directly descended from the Freund brothers. The Freunds invented a more positive means of chambering and extracting the cartridge case in a Sharps single-shot rifle, making it far more reliable than it came from the factory. Their Wyoming Armory was a fixture of the Old West that moved around many times as the railroads were constructed.
Not everyone who knew Marv will get a call about his passing. Please pass along this info to other airgun forums and social networks. He'll be missed by many airgun collectors.
Today, I'll start shooting the .25-caliber Gen 2 Benjamin Marauder with the RAI modular stock and accessories mounted. First, though, I need to say a few words about the stock and the accessories.
Some updates and corrections
No. 1 — let's talk about the weight of the assembled and accessorized rifle. Some of you found the extra weight that I reported to be excessive, although I don't agree. When you shoot an accurate air rifle from a bench or a bipod, the more weight the better, as a rule. Weight helps with stability. But that aside, my rifle weighs more than it needs to because of the accessories I installed. The UTG deluxe mil-spec stock I mounted is a new one that has battery storage compartments, plus it has a fat cheekpiece. It weighs more than their standard 6-position mil-spec stock that Pyramyd Air carries. And the UTG Sniper pistol grip I mounted is heavier than a standard AR15 grip. Dave Rensing of RAI tells me that with both standard items mounted, his gun weighs just a half pound more than the Marauder with synthetic stock. That would still be under 8 lbs. before the scope and bipod are mounted.
No. 2 — the folding buttstock adapter I showed you is a UTG product that RAI modifies so you can adjust the rifle's striker spring tension with the stock mounted. I believe I gave the impression in the last report that it was an RAI product (I thought it was), but Dave tells me he gets it from Leapers. Anyone with an AR-15 can have one. It comes without the access hole; but for an additional $5, RAI drills the hole. I think Marauder owners will want it that way.
No. 3 — Dave told me his RAI Universal Adjustable Adapter — the same idea as the RAI adapter I tested for you with Crosman pistols, but made to fit an AR buffer tube — can be installed in line with the folding butt adapter. That lets you position the buttstock higher or lower and with some cast-off or cast-on (the angle of the butt in relation to the rest of the rifle when viewed from above). I told him I originally installed both adapters, but they made the minimum pull length about 14-3/4 inches. That gave me no adjustability with the 6-position deluxe mil-spec stock, so I removed it. Dave told me the stock I used measures nearly an inch longer than the 6-position standard mil-spec stock Pyramyd Air carries, so that accounted for the difference in length.
As I told you, the 6-position stock I've mounted is a different one. It's beefier and has 2 storage compartments for spare CR123 batteries. It's new this year and carries Leapers product number RBUS1BMS.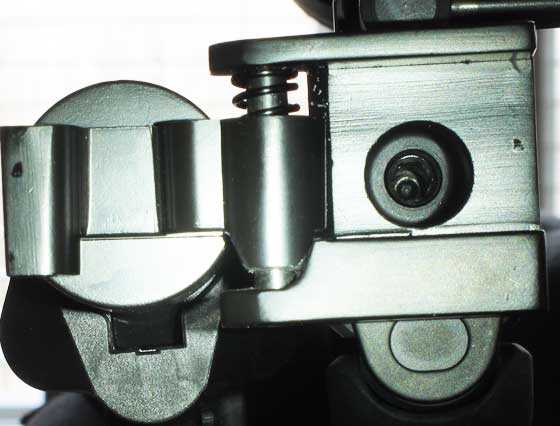 When the butt swings to the side, you can access the striker spring adjustment.
Shooting the gun
I arrived at the range early, and there wasn't a hint of breeze. That's perfect for shooting an airgun at 50 yards. The rifle still has the UTG 2-16X44AO Accushot scope mounted, and it was sighted-in, so I was ready to go. This scope, by the way, is a revolutionary new wide-range variable from Leapers that just came out. Blog reader Kevin Lentz just bought one, so maybe he'll comment on it for you. I like it a lot; and as you'll see today, It does very well on this rifle.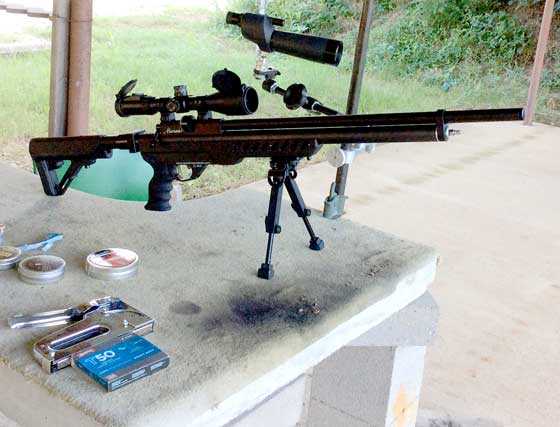 The Marauder as it's now set up.
Stabilizing the bipod
I mentioned last time that shooting off a bipod is less stable that shooting off a bag rest. This time, I fixed that to a large extent by leaning forward into the butt of the gun. The bipod legs were pressed forward, and that stabilized the light rifle. Light? Absolutely. I call it light because a long-range target AR-15 I once tested (and now own the upper of) weighed 14 lbs. when I tested it. It was stable on its bipod. So, weight matters when shooting off a bench.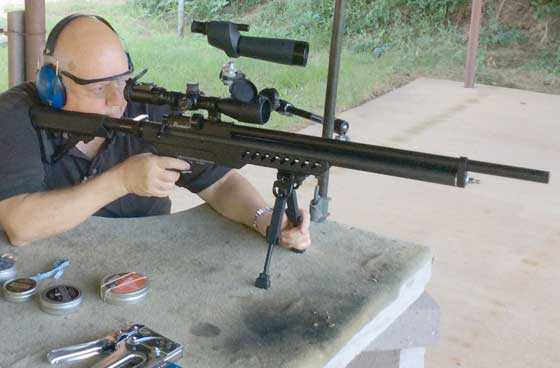 I lean forward into the rifle, and that locks everything tight.
First group is the best
The .25-caliber Marauder magazine holds 8 pellets; and during the range session before this, I'd determined that the first 8 were more accurate than the second 8. I also noticed that a couple pellets had hit the target on an angle, as if they had tipped in flight. That's never good! I disassembled the baffles after that session, but found no hard evidence of pellets hitting any baffle edges. So, I just reassembled them, hoping that I might have corrected any misalignment problems they had during the assembly. The plastic baffles have holes that measure 0.315 inches in diameter, which should be enough for good clearance.
I also determined on this previous trip that JSB Exact Kings are the best pellets in the rifle. So, that's what I started with in this session.
I shot the first magazine into a group that measures 0.639 inches between centers. Not a bad start! The second group with the same pellet opened up to 1.48 inches. And, just to say I did it, I shot a third group on the same fill. It started out well, and I thought I was going to have to recant my position of the first group after the fill being the best; but after 4 shots, things came apart. The last 2 shots landed very low on the target. I had to hold the final shot 4 inches above the bull to get it to land 2 inches below, so 16 shots are, in fact, the absolute maximum on a fill the way the rifle is currently adjusted.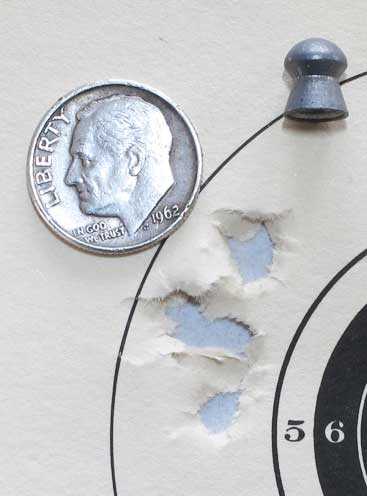 Eight JSB Exact Kings went into 0.639 inches at 50 yards. This was on the first magazine after a fill.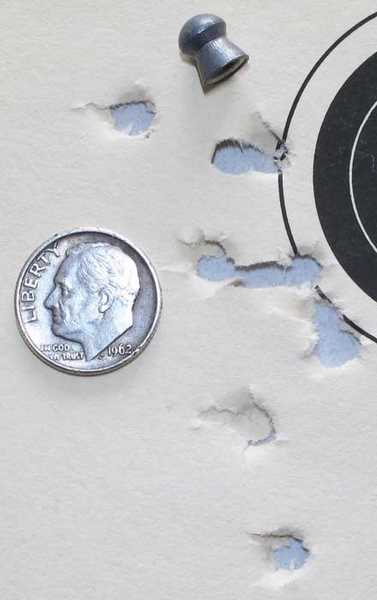 On the third magazine after a fill, I got 8 JSB Kings into this huge group by holding the scope up four inches for the final shot, which landed lowest. Without question, the rifle, as it's now adjusted, is out of breath on this third magazine! No group size is given because this isn't a real group, since I changed the aim point as I shot.
I shot these groups in a growing wind that was gusting 7 m.p.h. and more. By that time, I decided the test was almost over for this day. But I got what I came to learn. The Gen 2 Marauder in .25 caliber is very accurate. And the RAI modular stock and UTG accessories make it more stabile and comfortable to shoot.
Baracuda Hunter Extreme
The wind meant my time was limited. I shot a group of .25-caliber Baracuda Hunter Extreme hollowpoints. These went all over the place, with 8 ending up around 2 inches! Enough said!
Diana domes
Twenty years ago, the best pellets we had in .25 caliber were 20-grain domed pellets called Diana. RWS imported them and they were superior to everything else. In the Marauder on this day, I fired 2 pellets that landed about 5 inches apart. I removed the magazine from the rifle and emptied it manually. No sense wasting pellets or air.
Benjamin domes
These should be labeled .25-caliber Premiers, because the Benjamin domes that have no brand name are one of the 3 most accurate .25-caliber pellets on today's market. In the Marauder, the first magazine of 8 went into 0.734 inches at 50 yards. The second mag followed suit with the JSBs landing 8 in 1.489 inches.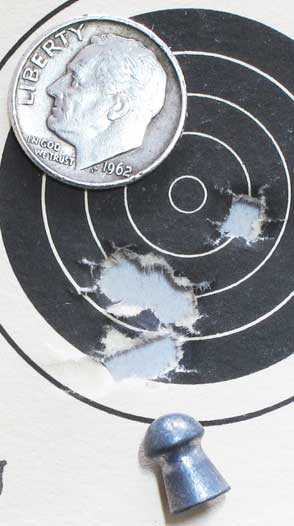 Eight Benjamin domes went into 0.734 inches at 50 yards. This was on the first magazine after a fill.
Now I need to learn what the rifle is doing, velocity-wise — over the first 16 shots. There have to be more than 8 shots on a fill, so it's time for me to start adjusting the powerplant for greater stability.
Also, I don't like the way the trigger is adjusted. Stage one seems way too long, which is probably due to changing the grip from the factory stock to the UTG Sniper grip. I can now feel the trigger-pull through stage two, rather than the crisp break I want. So, the trigger is also on the list to be adjusted.
Finally, those oblong pellet holes from the test before this are still bothering me. The pellets all seemed to land nose-first on this day, but I still reamed all the baffles out from 0.315 inches to 0.324 inches.
Lots more to come in this report.
Possible change in comments
We're considering a change in how comments are made because we're getting hundreds of spam comments a day. Edith has been doing some things that make it harder for spams to post, and they've been reduced by more than 50%. However, they're now on the rise, again.
The first change we're thinking of implementing is to make it mandatory to have a registration account and be logged in before you can make a comment. Of course, you can still read the blog without logging in.
The second change would require that a person's first comment be approved before going live. That means the comment would be held for moderation until either Edith or I approve it. After that, comments would go live immediately. If you've never commented before, this will affect you. If you currently have an account and have already posted one comment under that account, this change won't affect you.
We welcome legitimate interaction and hope these changes won't chase away any airgunners. Feel free to comment and let me know if there's anything in either of these changes that will cause you a hardship.