by Tom Gaylord
Writing as B.B. Pelletier

Second-generation Benjamin Marauder in a synthetic stock.
This report covers:
Introduction
RAI modular stock
Leapers parts
New Leapers scope
Past Marauder reports
Why this project?
Adjustments
Trigger
Power
The basics
Introduction
This is the beginning of a very long test series. I've just purchased a second-generation Benjamin Marauder in .25 caliber for several reasons. First, I have read in so many places that the .25-caliber second-generation rifle is extremely accurate. It has a Green Mountain barrel that many people say is the bomb. I have tested the first-generation Marauder in .25 caliber and found it to be a very nice PCP that will reliably produce one-inch 10-shot groups at 50 yards. While that's good, it's not exactly what I would call the bomb, so I want to see if there's a difference with this second-generation gun.
RAI modular stock
I also want to mount the Marauder in a modular stock from R. Arms Innovations. I saw that stock at the 2015 Malvern airgun show in April and made arrangements with Dave Rensing to get one for this test.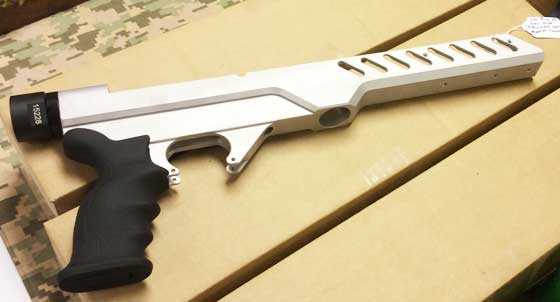 R. Arms Innovations modular stock for the second-generation Benjamin Marauder.
Leapers parts
There are a lot of UTG parts that go on that stock that Leapers has provided for this test. The modular stock calls for them, and some are very exotic — namely, the folding butt. I'll cover all of those parts in detail when I mount them on the modular stock.
New Leapers scope
Leapers also sent me one of their brand-new UTG Accushot 2-16×44 Tactical scopes for this project. Yes — I did say 2 to 16 power! I showed you this scope in the 2015 SHOT Show report (see Day 2) and mentioned that Leapers also has a new 1-8x and a 3.5-28x that will be out this year. The 2-16x is hitting the market right now, and Pyramyd AIR will have them in stock very soon.
For those who are new to the shooting sports, a variable scope with 8x magnification ratio is very special. The cheapest 1-8x scope until now has cost over $1,500. Leapers already sells their UTG Accushot 1-8×28 CQB for a fraction of that.
There are now other 2-16x and 3-28x scopes coming on the market, but they carry very stiff pricetags. Those who know Leapers know they won't put their name on a scope until it's exactly what they want it to be. So, this is the chance to be able to purchase an exotic telescopic sight that was, until recently, out of reach for most people.
Past Marauder reports
I've done a lot of reports on Benjamin Marauders over the years. I thought this would be a good place to list links to all of them, so you can go back and reference if you want. Here they are:
Benjamin Marauder .177 caliber: Part 1
Benjamin Marauder .177 caliber: Part 2
Secrets of loading the Benjamin Marauder magazine
Benjamin Marauder .177 caliber: Part 3
Benjamin Marauder .177 caliber: Part 4
Benjamin Marauder .177 caliber: Part 5
Benjamin Marauder .177 caliber: Part 6
Fixing a Marauder magazine
Benjamin Marauder .177 caliber: Part 7
Benjamin Marauder .25 caliber: Part 1
Benjamin Marauder .25 caliber: Part 2
Benjamin Marauder .25 caliber: Part 3
Benjamin Marauder .25 caliber: Part 4
Benjamin Marauder .22 repeater with synthetic stock: Part 1
Benjamin Marauder .22 repeater with synthetic stock: Part 2
Benjamin Marauder .22 repeater with synthetic stock: Part 3
Benjamin Marauder .22 repeater with synthetic stock: Part 4
Benjamin Marauder .22 repeater with synthetic stock: Part 5
Why this project?
Clearly, I've written a lot about Benjamin Marauders. So, why this project? Well, while I've written about the gun, I've never had the opportunity to modify one and make it my own. I've always been testing them as they came from the factory, with whatever adjustments the gun allows — which is a lot. This time, I'm going to take control of the rifle and really wring it out. I want to test that RAI modular stock because it seems so small and slim — although I have to admit the synthetic stock the Gen 2 Marauder comes with is pretty slim and svelte already.
Compared to the old wood-stocked Gen 1 Marauder, this one is a full pound lighter. And when you shoulder the rifle, you notice how slim the forearm feels, compared to the thick wood stock on the Gen 1 rifles.
I really wanted to test that Green Mountain barrel that I see so many people bragging about. I know that Crosman rifles the .177- and .22-caliber barrels in-house, and you can read my reports linked above to see the accuracy I've extracted from this airgun. Regardless of caliber, it always seems to hover around one inch for 10 shots at 50 yards. That's pretty good, but it isn't as good as what I hear people bragging about. So, this test will be seriously focused on accuracy.
Adjustments
I've already written volumes about the Marauder trigger, the fill-pressure adjustment and power adjustment. I expect this rifle to act the same as the others I've tested, which is to say it will be very flexible and tunable. Will I be able to get it to the level of perfection I'm seeking — the level others have written about on various chat forums? We shall see.
I'm going to run this test a little differently. I'll combine Parts 1, 2 and 3 in this report and the next as I sort out the rifle, adjust the trigger, mount the scope, adjust the stock and set the power where I want it. Past reports described it pretty well, so I'll borrow from them.
Trigger
The trigger was set very heavy with a lot of creep in the second stage as the rifle came from the box. I lightened the trigger-pull adjustment as far as it will go and then worked on the stage-1 and stage-2 adjustments. When I finished adjusting, I had the trigger breaking at 1 lb., 1 oz. with a crisp second stage that has no creep. I bumped the rifle several times, and the sear didn't release.


The large round screw at the left adjusts the trigger-pull weight. Behind the trigger blade, the two small screws adjust the first- and second-stage pull length. And the screw behind those 2 allows for slight repositioning of the trigger blade.
Power
I'm going to leave the power adjustments where they are until I shoot some groups at 50 yards. No sense changing something before I know how well it performs. Unlike the trigger, which is a matter of personal preference, I can't tell anything about accuracy without shooting the rifle at targets.
The basics
I'll close this report with the basic description of the Marauder I'm testing. It's a .25-caliber 8-shot precharged pneumatic repeater. It comes with one magazine and may or may not come with a degasser tool included. The rifle accepts up to a 3,000 psi fill of air, but that level is adjustable by the owner. You can also operate the Marauder on CO2, if you prefer.
The rifle weighs 7.3 lbs., but it comes without sights. A scope and mounts will add another pound or more to that, and I'll install a UTG bipod, which adds another pound. My rifle will tip the scales around 10 lbs. once everything is installed.
My Marauder has a black synthetic stock that I'll use for the initial tests. At some point, I'll install the new RAI modular stock with folding butt. I don't know what that will do to the weight, but I'll keep you informed.
The barrel is inside a baffled shroud, so the report is much quieter than it would be if the muzzle was exposed. While this isn't a super-quiet airgun (I've already fired it many times), it's very quiet for what it is — referring to the caliber and the power level.
There are links to 18 past reports if you want to know more about Marauders in general. For how this one performs, you will have to wait and see, just like me.