by Tom Gaylord
Writing as B.B. Pelletier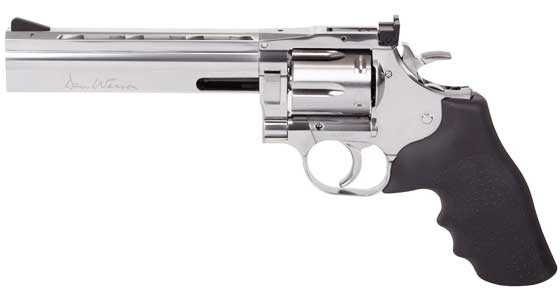 Dan Wesson nickel-plated BB revolver.
This report covers:
What I think
Speedloader
Installing the CO2 cartridge
The test
ASG Blaster BBs
Hornady Black Diamond BBs
H&N Smart Shot copper-coated lead BBs
Shot count
Trigger pull
Today we look at velocity for the Dan Wesson model 715 nickel-plated BB revolver. As fate would have it, I had dinner in Las Vegas with the staff of Action Sport Games where I had the pleasure of meeting and speaking with their CEO, Johnny Pederson. Mr. Pederson is an engineer, and when the discussion turned to the Dan Wesson model 715, he became very interested in what I thought.
What I think
I told him the pellet revolver had tested quite well when I recently shot it. See my 3-part report on that revolver. And that is significant, because that revolver is priced at more than a hundred dollars less than the other pellet revolver of the same accuracy — the Smith & Wesson 586. Both pellet guns offer realistic weight, adjustable sights and good triggers. So for once there is a real choice available to airgunners. I think he was surprised to hear me say that. Surprised but pleased, because his company invested a lot of time and effort on that airgun.
Speedloader
We are testing the new model 715 BB revolver today, and in Part 1 I told you about the physical characteristics of the gun. Today we will look at the velocity in both single- and double-action. One additional thing came out of my talk with the ASG CEO and that concerns the speedloader. He asked me what I though about it and I told him I thought ASG should offer a belt-mounted speedloader holder. Well, of course they do! I never looked for it on the Pyramyd AIR website, but it's right here. ASG Marketing Associate, Bob Li, who has been getting me the guns to test said he would send me a pouch to evaluate, and if it arrives in time I will try to work it into this report. Now, let's get to today's test.
Installing the CO2 cartridge
The first thing is to install the 12-gram CO2 cartridge in the grip. I praised this gun for 2 reasons in regards to the CO2. First, they put the Allen wrench in the left grip panel as a permanent installation so you always have it at your fingertips. And second, the rubberized grip panels fit the gun very tight!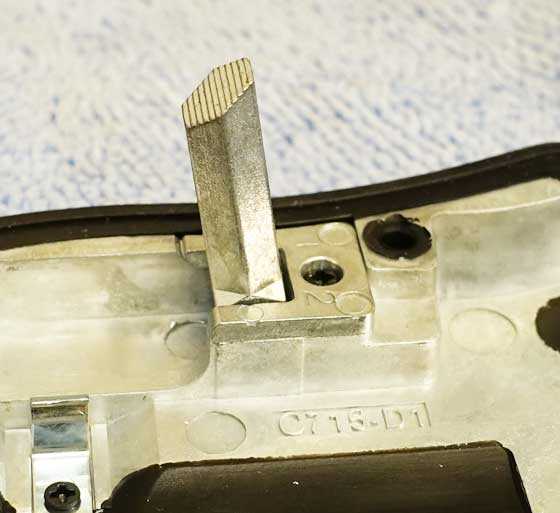 You'll never lose your CO2 piercing wrench because it's inside the left grip panel.
The test
Like the pellet pistol, this BB pistol sealed almost immediately when the cartridge was pierced. And the test was ready to begin. I will present the velocity for each type of BB I test in both single and double action. I will wait a minimum of 10 seconds between shots, to allow the mass of the gun to recover its temperature. The room I'm testing in is right at 70 degrees.
I selected 3 premium BBs to test in the revolver. Two are steel and one is lead that is heavier. So we should get a good idea of the power potential of the test gun. The specs say to expect 426 f.p.s., so we shall see.
ASG Blaster BBs
First up were Blaster BBs from ASG. When I looked them up to get the link I noticed they were listed at 5.4 grains. I thought that couldn't be right, so I first measured a few with the BB gage to see how large they were. They all came in at either 4.41mm or 4.42mm — not the .177/4.5mm caliber stated in the description. That will probably stay that way, though, because that's what it says on the bottle, and Pyramyd AIR doesn't want to confuse its customers. Nobody but me will be measuring them with a precision gage anyway! And they did all weigh 5.4 grains, just like it says on the website. Only 1 out of 8 weighed 5.5 grains.
Blasters average 373 f.p.s. in single action with a spread from 363 to 376 f.p.s. That's a tight 13 f.p.s. spread. In double action the average jumped up to 407 f.p.s. and the spread opened to 393 to 423 f.p.s. So double action is faster with this BB and also it opened the spread quite a bit, to 30 f.p.s.
Hornady Black Diamond BBs
Next to be tested were some Hornady Black Diamond BBs. These are premium BBs too. They averaged 380 f.p.s. in single action. The spread went from 370 to 402 f.p.s., with is 32 f.p.s. In double action they averaged 404 f.p.s., and the spread was from 391 to 421 f.p.s. That's a 30 f.p.s. spread.
So both steel BB performed similarly, and there was a shot that almost got up to the 426 f.p.s. advertised velocity. It looks like single action might be more stable with steel BBs, but at 5 meters it probably won't make a difference. The ease of pulling the trigger in single action will be the deciding factor. In fact I probably will not shoot the gun double action in the accuracy test because the stiff trigger might cause me to miss the backstop.
H&N Smart Shot copper-plated lead BBs
The last BB I tested was H&N's Smart Shot copper-plated lead BB. These are several grains heavier than steel, so we know they are going to be slower. They averaged 295 f.p.s. in single action, with a spread from 281 to 309 f.p.s. That's a 28 f.p.s. spread.
In double action Smart Shot BBs averaged 324 f.p.s., which is significantly faster. The spread for these was from 315 to 343 f.p.s. That's 32 f.p.s.
Shot count
After the velocity testing was over I continued to shoot. Shot 54 with Blaster BBs in single action went 358 f.p.s. Shot 65 left the muzzle at 321 f.p.s., so the gun is definitely slowing down. Shot 72 went out at 273 f.p.s. and I stopped with shot 79 that was going 221 f.p.s. There are about 80 shots in a CO2 cartridge and about 50 of them are good ones.
Trigger pull
The trigger pull in double action is too heavy to measure by any instrument I own. The single action pull is singe-stage and breaks cleanly at 5 lbs. 8 oz. While that is heavy, the ergonomic grips make it feel like less.
Evaluation so far
The Dan Wesson 715 BB revolver is powerful. It's a little more powerful in double action than in single action.
I believe some of the velocity variation has to do with the cartridges that hold the BBs with differing tensions. That probably doesn't matter to the users of the gun, who will be spraying targets of opportunity at close range, but it's nice to know.
So far, so good is how I see it. The 715 is a very realistic BB revolver that comes at an extremely competitive price. Now, if it will just shoot as accurately as the pellet revolver, life will be good.