by Tom Gaylord
Writing as B.B. Pelletier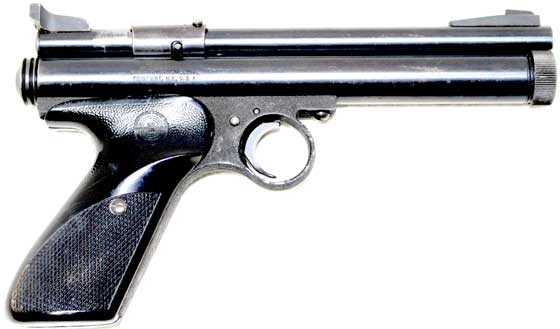 Crosman's 150 looks plain and simple, but was a pivotal airgun.
This report covers:
The test
Different type of inlet valve
Not much sight adjustment
RWS Hobby
JSB Exact RS
Change the aim point
Crosman Premier
General observations
The sights
2016 Texas Airgun Show
Today we'll look at the accuracy of my Crosman 150 CO2 pistol. Several of you said you have either a 150 or a 157, and this report reminded you if what a nice airgun it is. So you dug them out. I hope to hear some good reports from you.
I don't think I have ever shot this pistol for accuracy. If I did, I forgot about it. This seemed like a test of a brand new airgun, to me.
The test
Since I knew nothing about the gun I decided to test it at 10 meters off a bag rest. Instead of 10-shot groups I went with just 5 shots, thinking I would test each pellet on both low and high velocity. That assumption faded with the very first pellet I tried.
RWS Hobby
First up was the lightweight RWS Hobby pellet. In .22 caliber it weighs 11.9 grains, and is sometimes a very accurate pellet in a particular airgun. I began the test on low power (cocking knob pulled out one click). After the shot I was surprised to see no hole in the paper. So I walked up to 12 feet from the target and shot again. It hit very low and to the right.
Not much sight adjustment
When I saw this I looked at the rear sight and discovered there is no vertical adjustment possibility and very little in the way of horizontal. I shoved it as far to the left as it would go and fired another shot on high power (two clicks out on the cocking knob). This shot landed higher but was still 3 inches below the aim point. So high power it would have to be.
RWS Hobbys
The first group was more or less centered on the bull, but still very much below the aim point. The group is very vertical which surprised me because the sights are very sharp. Perhaps Hobby are not best for this 150.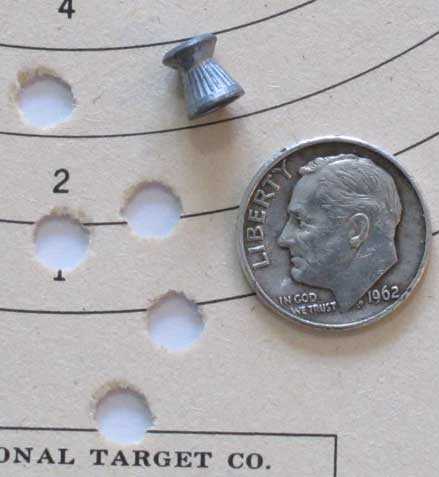 Five RWS Hobbys went into this vertical group that measures 1.119-inches between centers.
JSB Exact RS
Nex, I tried some JSB Exact RS pellets. These always seem to do well in lower-powered airguns. And this time was no exception. Five of them clustered in 0.651-inches between centers at 10 meters. This group was fairly rounded, so the gun can shoot when it wants to. These pellets struck the paper very close to where the Hobbys hit, so the pistol is still shooting very low.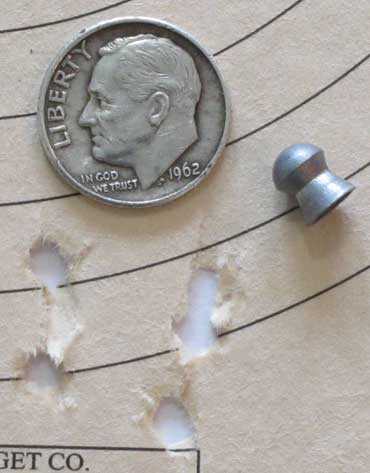 Five JSB Exact RS pellets made this 0.651-inch group at 10 meters. The gun can shoot!
Change the aim point
For the last pellet I decided to change the aim point to get the group higher on the paper. I took aim at the top of the bull, but couldn't see the front sight clearly enough. So I aimed at the black clip that held the target. While it isn't as precise as the bullseye, I could see the front sight clearly enough to take good aim.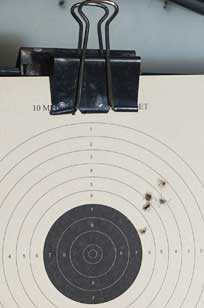 For Premier pellets I used the bottom center of the clip as the aim point.
Crosman Premier
The final pellet I tried was the Crosman Premier. It went more to the right than the other two pellets, but was about as far below the aim point as the rest. Five Premiers went into 1.091-inches, but 4 of them were in a much tighter cluster that was just 0.662-inches between centers. Because the aim point was not a standard one, I think I should consider Premiers for this pistol, along with the JSB Exact RS.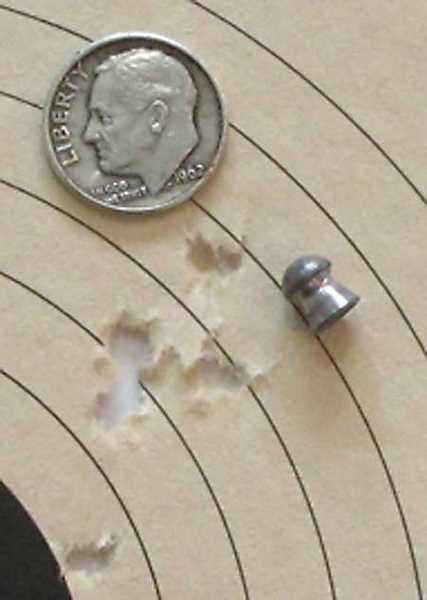 Five Premier pellets went into 1.091-inches at 10 meters, but 4 of them are only 0.662-inches apart.
General observations
The 150 is very loud on high power. My cats all complained about the noise.
The gun also recoils. That was very obvious when I concentrated on the front sight.
I said the trigger was creep-free in Part 2. That isn't correct. Now that I have really concentrated on it, I can feel some slight creep in the second stage. It's nothing some moly couldn't take care of.
The sights
I wonder what I am going to do about these sights? They are far enough off that it's going to take some real engineering to correct them. I doubt this 150 will ever be a favorite go-to air pistol, but it might be nice to find a fix, so owners with the same problem have a solution. If I can think of something other than shaving down the front sight, I might come back to this airgun at some time in the future.
2016 Texas Airgun Show
Just a reminder that the 2016 Texas Airgun Show is approaching fast. It's held on Saturday, August 27 at the Arlington Sportsman's Club. I believe there are still a few tables to rent for $30, or just come to the show to see what a good airgun show is all about.
We'll have the American Airgun cast and crew there, plus other personalities from the world of airguns. And the door/raffle prizes will be given away all day long. Yes, there are public ranges, and you can bring your own guns to shoot or try out something you find at the show before you buy it. Most of the major distributors will have tables there and their guns will be on the ranges to try. Click on the link for more information.