by Tom Gaylord
Writing as B.B. Pelletier
Mega-blaster
Baracuda Match 5.51mm heads
Initial observations
Baracuda Match 5.53mm heads
JSB Exact Jumbo Heavy
Bottom line?
Listen up, kiddies, because I don't often get a chance to do what I'm about to do today. I have found a world-beater air rifle! It has some stuff I don't like, but the bottom line is — the Diana AR8 is a winner. Allow me to explain.
First of all, I didn't mount a scope for today's accuracy test. The AR-8 comes with nice adjustable sights, so I shot it off a bag at 10 meters with open sights. I rested the rifle on my hand that was resting on a sandbag.
Mega-blaster
As noted in the velocity test, the AR-8 is a mega-blaster, and one with a gas spring at that. Because of that, I had almost no hope for accuracy. The thin thread of hope that I clung to is the fact that the Diana 340 N-TEC was very accurate when I tested it. But that rifle isn't as powerful as the AR-8. Until today my experience with extremely powerful gas spring breakbarrel air rifles is they are not accurate. Except for the 340 N-TEC I just noted, the rest of them are punishing disappointments. The AR-8 changes that. Let me show you.
Baracuda Match 5.51mm heads
The first target I shot was with Baracuda Match pellets with 5.51mm heads. The first shot went high in the black bull, so I left the sights where they were. Ten pellets went into a horizontal group that measures 0.816-inches between centers. That's not bad, but I hoped for better.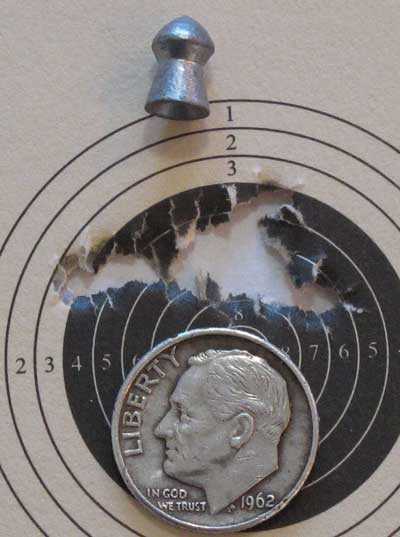 Ten Baracuda Match with 5.51mm heads went into this 0.816-inch group at 10 meters.
Initial observations
I was surprised that the pellets stayed as close together as they did. Usually these mega-magnum blasters throw pellets all over the place. However, because I was shooting Baracuda Match that comes in several head sizes, I decided to go up to the largest heads I had and see what a difference it made — if any.
I really appreciate the AR-8's ultra-light trigger when I'm shooting targets. It makes everything so much easier.
The rifle doesn't kick as much as I feared in Part 2. But it does vibrate. I got slapped in the face every time the rifle fired, and they were painful slaps. That's something I could do without.
Baracuda Match 5.53mm heads
Next, I tried 10 Baracuda Match pellets with 5.53mm heads. This was the pellet for this rifle. They went into 0.49-inches at 10 meters. Now, THAT is a group! And it's 10 shots. So, this AR-8 can really shoot!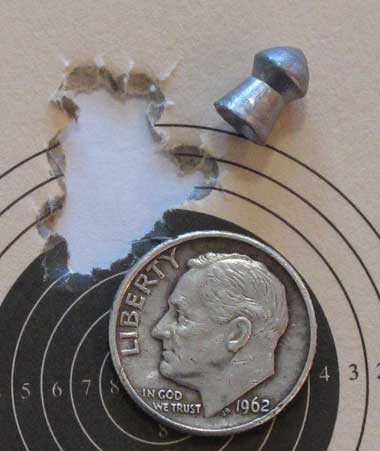 Ten Baracuda Match with 5.53mm heads went into this 0.49-inch group at 10 meters. This is a group!
JSB Exact Jumbo Heavy
The last pellet I tried was the 18.13-grain JSB Exact Jumbo Heavy. Ten of them made a 0.735-inch group. That's in-between the first and second groups, and closer to the first.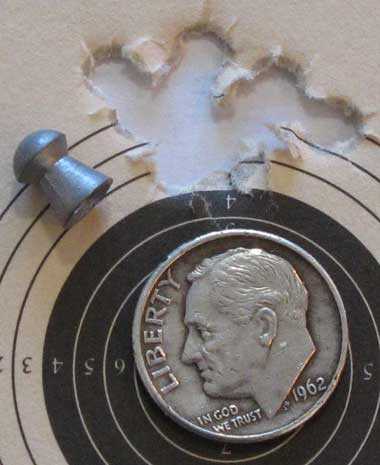 Ten JSB Exact Jumbos went into this 0.735-inch group at 10 meters.
Bottom line?
The bottom line today is that the Diana AR-8 rifle can really shoot. Yes, it does slap you in the kisser with painful vibration, but the trigger is superb and I don't think hunters are going to mind that much.
Now that the detonations are over, this AR-8 has settled down to become a great shooter. Remember that, if you get one. There is a short break-in period.
I want to back up to 25 yards and shoot this rifle again with open sights. I know that's not the way I normally do it, but that's what I want to do. If this were my rifle, I would never mount a scope on it at all. That said, I will most likely conform to the usual plan and scope the rifle for the next test.