by Tom Gaylord
Writing as B.B. Pelletier
This report covers:
Happy New Year
If you see it, buy it
Buy it now
The gun
So far, so good
Saving everything for you
Seller has more
The rest of the report
Happy New Year
Happy New Year! I promised you that today I would tell you what I got for Christmas this past year. You know that I bought the Sharp Ace Target Standard rifle, which you've already seen. We aren't finished with that rifle yet, and, no, that's not the airgun I'm talking about today. Let me set this up for you.
Right after I bought the Ace Target I got another alert from Gun Broker that another of my custom searches had a result. After just spending a lot of money on the Ace I was sure I wasn't going to be interested, but I looked anyway. You never know when somebody is auctioning off a Sheridan Supergrade at a reasonable price.
And that was exactly what it was — a Supergrade was up for auction. This one was in very good condition and the seller said it functioned fine. Not only that — this was an early one — serial number 527. I thought it would go for a pretty good price, so I put in a bid at the highest level I was willing to pay and then sat back. However, before I left the website I noticed the seller had a "buy it now" price that was only $12 more than my high bid. Well, that was a no-brainer for me! I pushed my bid to the "buy it now" price and bought the air rifle.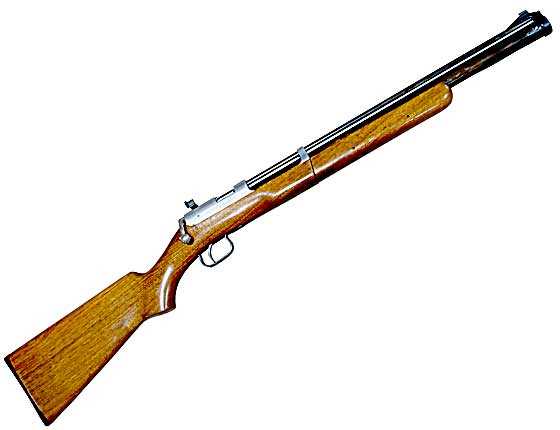 Like all Supergrades, my new rifle is graceful and attractive.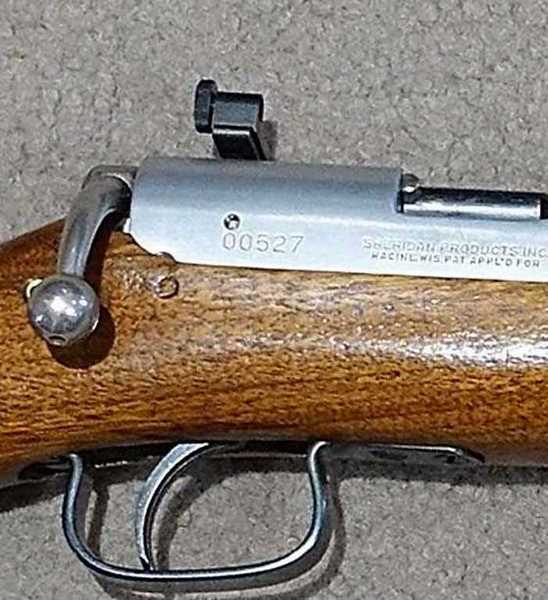 The low serial number means the rifle was manufactured in the 1940s.


The Supergrade stock is well-formed.
Apparently this was one of those times you always hear about happening to other people, where the buyer hits the auction page just after something great has beene posted. I sent an email to the man whose Supergrade I tested for you very recently and told him what I had done. He had seen the auction, as well, but the gun disappeared before he could do anything about it.
If you see it, buy it
This is a pretty important lesson that I have learned recently. My shooting buddy, Otho, tells me that whenever he sees something he really wants in a pawn shop or at a gun show, he buys it if he can. He says things like that don't pop up all the time. On television, Mike Wolfe on the American Pickers show says the same thing.
The problems is, most of us, like me, grew up with barely enough money to make ends meet (that's the end of the paycheck meeting the end of the month). So we keep our money close and tight and we rarely venture too far from what we know. Well, here in the latter part of my life my finances have turned around, so there is enough to go around and some left over. But my head is still in the "poor me" posture. So, for several years I have let things like this Supergrade slip through my fingers.
Buy it now
But there is more. There was a "buy it now" price listed for the gun, and it was very reasonable. So reasonable, in fact, that unless something serious happens to the economy, I cannot lose money. I might even make a little. And bear in mind that this is a Sheridan Supergrade. It's one of the most desirable airguns around! It's money in the bank.
"Buy it now" prices are seldom given on guns like the Supergrade. Sellers know the market can go crazy, and if they want to make the most money from such a gun they put no reserve on it and start it for a penny. If the listing is for 14 days, they will probably make a lot more, because collectors will get into bidding wars. I have seen choice airguns vanish fast when they had "buy it now" prices.
The gun
As mentioned, this is serial number 527, so it's a very early gun. I'm guessing it was made in 1948 or '49. The first 200 or so had their serial numbers hand-engraved on the receo=iver, but this gun is a little too late for that.
It has the early long bolt handle that was changed sometime later in the production run. The original black finish on the bronze parts has worn down to perhaps 40 percent coverage that thankfully no one has tried to refinish. I say that because refinishing a gun like this takes away a lot of the collector value, although with a Sheridan Supergrade I don't think it is as bad as with some airguns.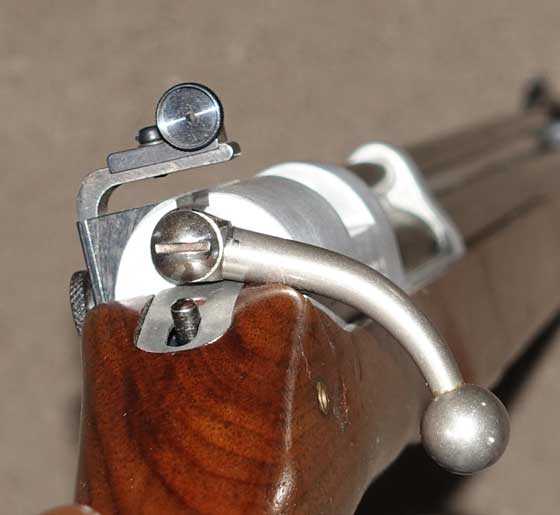 The long bolt handle of the early Supergrades adds a graceful line to the rifle.
The walnut stock and forearm are matching straight-grained walnut that has no real figure. I can tell that this wood has been refinished, because the finish looks too fresh to match the metal, and also because the stain is much blonder than a Suregrade is supposed to be. I don't think it detracts from the gun's appearance, but there are collectors who will shy away from a gun because of something like that. However, the low serial number offsets the refinished wood, in my opinion.
The overall length of the rifle is right at 37 inches, 20 of which are the barrel. The pull is a trifle under 13-1/2-inches. It weighs bang on 6 lbs. on my balance beam scale. When you look at a Supergrade in pictures it always looks larger than a Blue Streak, but when they are compared side-by-side there is very little difference in size.
So far, so good
Naturally I have pumped and shot the rifle, and so far it looks solid and good. The valve holds air for several days, which is all the time I have had to test it. The screw slots and pins all appear undamaged and there is very little evidence the airgun has ever been apart, even though the stock refinish required it. Only the slightest tearout of wood around one pin hole on the forearm gives any evidence of removal.
Saving everything for you
I'm purposely holding myself back from testing this rifle until I write about it for you. We will discover it together.
Seller has more
I discovered while talking to the seller that he has more Sheridans to sell and I've already arranged the sale/purchase of a Model B Sporter to another collector. The model B Sporter was Sheridan's first attempt to lower the cost of the model A Supergrade. Instead of $56.50, the model B sold for $35.00. That still wasn't enough off to stimulate sales when a .22 caliber Mossberg model 44 US bolt action repeater with a rear peep sight was selling for $27.90. So the model B Sheridan was made in about half the number as the model A (about 1100 compared to around 2200).
Model Bs don't change hands as often as model As, so coming up with a price for one is hard, but expect to pay more for one than for a model A. That's just for the rarity.
The rest of the report
I will test this rifle the same as any other multi-pump. Since I plan on keeping this one, I want to know how well it performs, the same as you.
I had to sell my first Supergrade years ago to pay bills, so hopefully I can keep this one.