by Tom Gaylord
Writing as B.B. Pelletier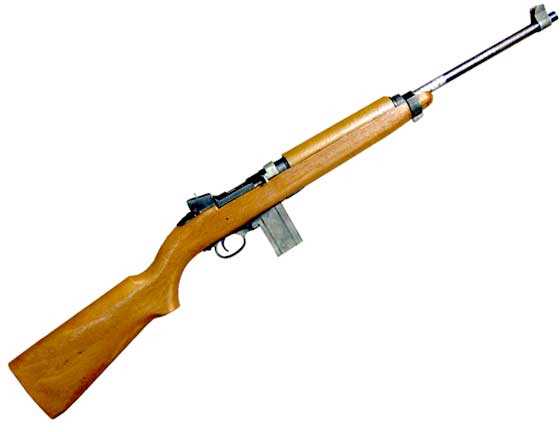 Crosman M1 Carbine BB gun is a classic lookalike airgun.
This report covers:
Cocking effort
2013 test
Oiled the gun
Magazine
Velocity Daisy BBs
Air Venturi steel BBs
Hornady Black Diamond BBs
Trigger pull
Summary
Today we look at the velocity of Crosman's M1 Carbine BB gun. You learned in Part 1 that this gun is based on Crosman's V-350 powerplant which gets its name from the expected velocity — 350 f.p.s. That's pretty hot for a BB gun — especially one from the era of the 1960s.
I may not have mentioned it before, but my Carbine weighs 5 lbs. It's a good weight for kids. Too bad they can't cock it!
Cocking effort
Let's get this out of the way first. I think this will be the first time I have measured this effort, and I made a big deal of it in Part 1. So I placed the muzzle of the gun in the center of my scale and pressed down until the gun cocked. It took about 42 pounds of force to cock my gun. It was hard to measure it precisely because the gun jerked a lot while being cocked, but it was definitely greater than 38 pounds to engage the sear. No wonder kids had a hard time!
I thought shooting might loosen up the action, so I retested it after the velocity test. The effort hadn't changed.
2013 test
I last tested the velocity of my Crosman M1 Carbine in 2013. At that time I was getting velocities well above 350 f.p.s. — as much as 40 f.p.s. faster. A number of new BBs have come to market since then, so today we may have a pleasant surprise.
Oiled the gun
This is a BB gun, so I oiled the mechanism first. There is an oil port behind the BB loading port on top of the upper handguard, so this was easy. Then I started shooting.
Magazine
The gun has an inline 22-shot BB magazine under the upper handguard. What looks like the mag is really just a box that can be filled with Bbs for reloading. But it doesn't fed into the gun.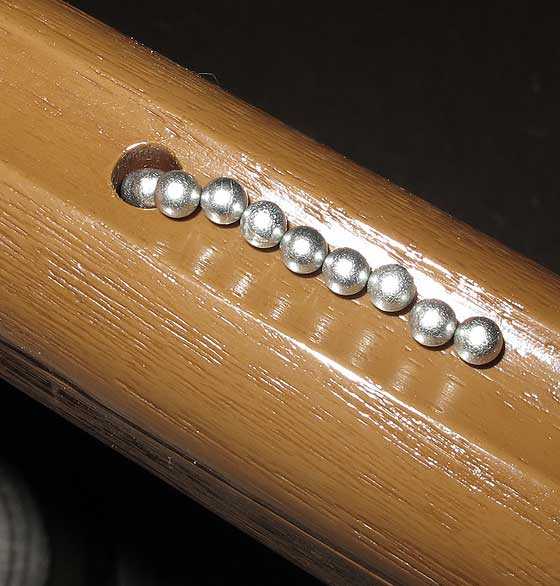 Load the BBs through a hole in the front of the upper handguard.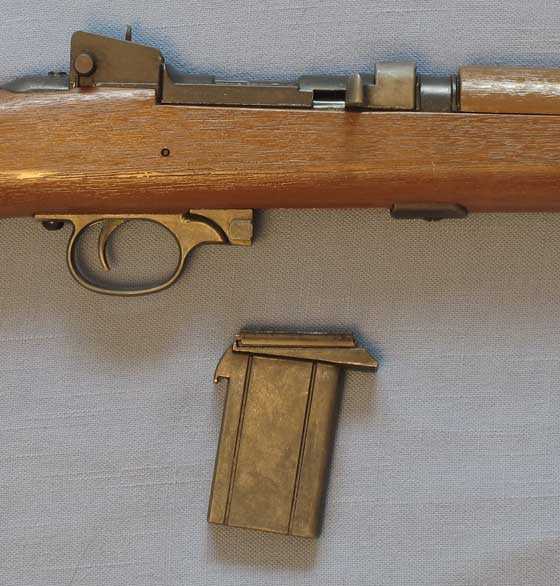 What looks like the magazine is just a box for extra BBs. It doesn't feed into the gun.
Velocity Daisy BBs
I will test velocity with Daisy BBs first. In 2013 they averaged 383 f.p.s. Today the average was 375. The spread went from a low of 360 to a high of 385, so the gun is still in the same neighborhood. The spread was 23 f.p.s., where in 2013 it was 26 f.p.s. This test was a sort of baseline, because I had done it before.
Air Venturi steel BBs
Next I tried Air Venturi steel BBs that weren't available in 2013. They averaged 374 f.p.s. with a spread from 358 to 382 f.p.s. That's 24 f.p.s. difference.
Hornady Black Diamond BBs
The last BB I tried was the Hornady Black Diamond. These were also0 not around in 2013. They averaged 372 f.p.s. with a spread from 354 to 377 f.p.s. That's 23 f.p.s.
Trigger pull
The trigger is not adjustable. It is single-stage and breaks at 2 lbs. 8 oz.
Summary
My gun is performing pretty much as it did 4 years ago. For a gun that is no less than 41 years old, that is pretty good!
So far, so good. The M1 Carbine has performed admirably for the 20 years I have owned it. It was a gift from my late friend, Mac, so I think of him whenever I shoot it.