by Tom Gaylord
Writing as B.B. Pelletier
This report covers:
Stupid me
The show
Pyramyd Air
William Schooley
Crosman — this is for you
Stuff at the show
Remington model 26 BB gun
IZH 46M
Pyramyd AIR — again!
Best for last
Stupid me
Well, the verdict in in — I'm stupid! I have a case of ignorance for which there is no cure. I just drove 2,400 miles to attend a one-day airgun show that I had hoped to report to you, and forgot to take my camera! Took the charger and some flash drives so I could transfer the images — just didn't take the picture-taker thingy!
Fortunately for me, I live in an age where there are safety nets everywhere for people like me. My smart phone has a better camera built into it than the first digital camera I owned. Let me show you how good it is.
I was in Illinois, flying down the road at 6 a.m., when I saw one of those tractor/trailers that has aerodynamic flaps on the rear of the trailer. It reminded me of a diabolo pellet, except the purpose of these flaps is not to create drag, but instead to smooth out the air behind the trailer and lower the drag. That gives the tractor pulling the trailer better fuel mileage. The flaps can be deployed, as shown here, or folded flat and out of the way.
Hey! This would make a good intro to my report — Oh, NO! I forgot to bring my camera! Well, my phone has a camera in it. Let's see how it works.
The first picture is pretty much what the camera saw as I was holding the phone with both hands while steadying the steering wheel with my left forearm (at 70 miles per hour, no less)! I just wanted you to see what I have to work with.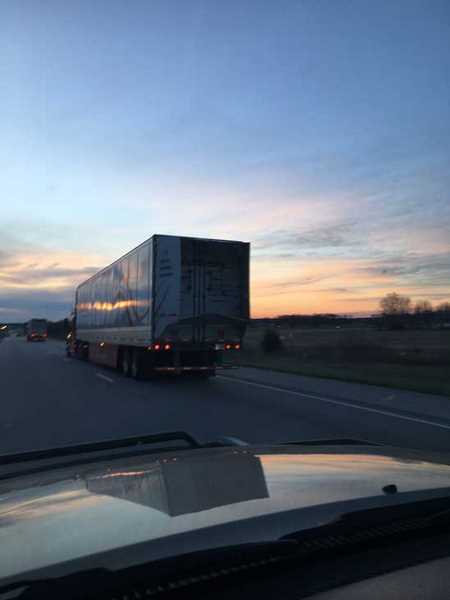 This is the image my smart phone captured.
The second picture is one I cleaned up and enhanced in Photoshop to make everything more visible. I show it today to show you how much has to go into a photo to make it interesting.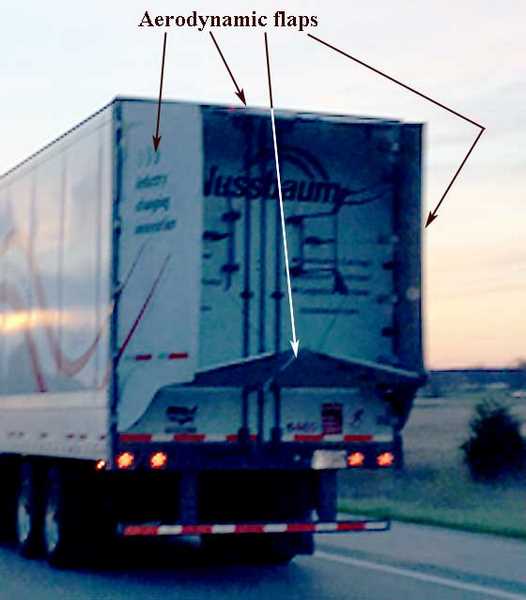 These four metal flaps streamline the tail of the trailer, lowering drag and increasing mileage. Over a long haul, they really pay off.
The show
Now for the show. It was held at a different venue this year — a much larger venue, and that made all the difference in the world! It seemed that each vendor brought their very best stuff, without anyone telling them to. And the attendees had lots of money in their pockets! So, this turned out to be the best airgun show I ever attended. Now I will tell you the specifics.
Pyramyd Air
Let me start with the very best. Pyramyd AIR brought guns they acquired when they bought the business of another Ohio airgun dealer. These ranged from very old spring rifles to things as new as a new-in-the-box IZH 46M. I saw the list the evening before the show and put in my offer for the 90 percent Beeman R8. Before you ask, no, it's not for sale because it's already been sold. More people offered me money and trades for that gun than for any other on my tables, and that one was hidden out of sight!
I bought other things from them, too, including an FWB 124 Deluxe that sat on their table for most of the show. I couldn't believe it! People even picked it up! With 124s as red hot as they are right now, people were avoiding this one like the plague. I finally bought it only because they sold it so low I had to! I got it for almost Bronco money, and yes, there was one of those, too. So, buck up, campers! You're about to endure yet another foray into the fascinating world of the 124.
I will reveal the rest of the things I got from them over time — through the history column. Many people I talked to at this show told me that the history column is their favorite part of the blog.
William Schooley
Speaking of people, I met more readers at this show that at any other airgun show. Everyone must have felt comfortable coming up and saying hello! But the one I took a picture of is our marksmanship coach and reader, William Schooley.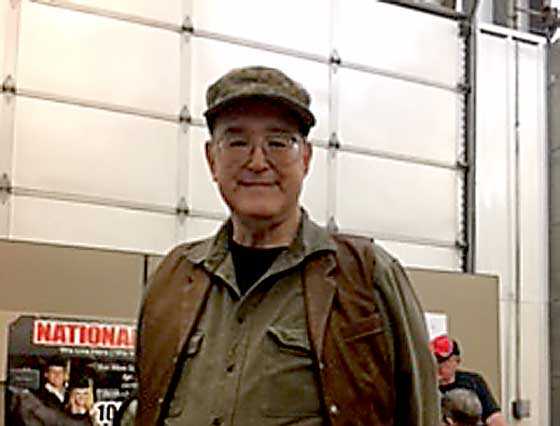 Marksmanship coach William Schooley has an idea for Crosman.
Crosman — this is for you
William wants to see the Benjamin Maximus turned into a budget 10-meter rifle for the CMP/NRA Sporter class. He wants a rifle that the parents of kids can afford to purchase, instead of using a club gun. That way they can practice more. He says he sees many kids who could go much farther if they just had equipment of their own.
We talked about the 10-year olds squirming around on the mat as they try to pump the Daisy 853 while in the prone position. It's a wonderful airgun, but not very friendly when it comes to pumping. The Maximus would solve that problem.
He doesn't want Crosman to go nuts modifying the rifle, either. It's accurate enough as it is, and we already know that coaches and dads can modify the trigger. There are limits on how light a sporter-class trigger can be, and we both think the Maximus will be ideal. It probably needs target sights and perhaps a few other things that will occur to the designers.
It seems to be a great idea for how to sell more Maximus rifles, if Crosman is interested. If they are, I told William I would make the introductions and get out of the way.
Stuff at the show
Okay, besides Pyramyd AIR, there were about another hundred dealers at the show. I don't have time to show everything today, but we can get started.
Remington model 26 BB gun
A what? Remington made BB guns? Yes, they really did, and their gun was a very substantial slide-action. They called it the model 26, as opposed to Daisy's Number 25. They are very uncommon. I seldom see even one at a show. I think I saw 4 at Findlay!


A Remington model 26 BB gun in fine condition.
IZH 46M
People always tell me they are looking for IZH 61s and 46Ms. They should have been at Findlay. There was everything from a NIB 46 on the Pyramyd table to several in fine condition walking the floor and lying on tables. And a steel-receiver 61 walked around the show on somebody's back.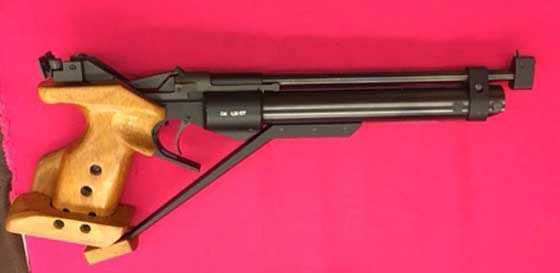 An IZH 46M awaits a new owner.
Oh, and by the way, I saw sales ticket prices fall like meteors! Five-hundred-dollar airguns (the price on the tag) were going home with new owners for $300! I even know of better deals than that, but I am sworn to secrecy — really!
Pyramyd AIR — again!
A final nose-tweak for those who didn't make the drive. Here are a few of the choicer airguns Pyramyd AIR was selling.
Haenel 300
HW 50SE (yes — the old one!)
Diana 38 (walnut stocked version of the 34, and NIB!)
Sheridan Blue Streak rocker safety
Sheridan Silver Streak thumb safety
Wischo 70 (BSF S70)
Beeman R8
FWB 124 Deluxe
Tell breakbarrel rifle (a real old breakbarrel!)
Slavia 619
BSF S20 in the box
Crosman 115 pistol in the box
Crosman 116 pistol in the box
Benjamin Marauder Gen 1 NIB .177
Benjamin Marauder Gen 1 NIB .22 (2)
Crosman 1400
Crosman 622
American-assembled Sterling HR83
Japanese Sakaba (copy of the Tell breakbarrel)
Crosman 160 (2)
That is about one-quarter of the list, which is about half of what Pyramyd AIR bought from the collector/dealer. The cherry-pickers had a field day at Findlay this year, and I was among them.
Best for last
Not only was this show in a new and larger venue this year. It was also the only airgun show I have seen where they post the colors (the American flag) and everyone says the pledge of allegiance. You know — everyone seemed to know the words! Then a minister opened the show with a blessing. These two things speak to the high pedigree of the show's organizers — who are basically Dan Lerma and his family.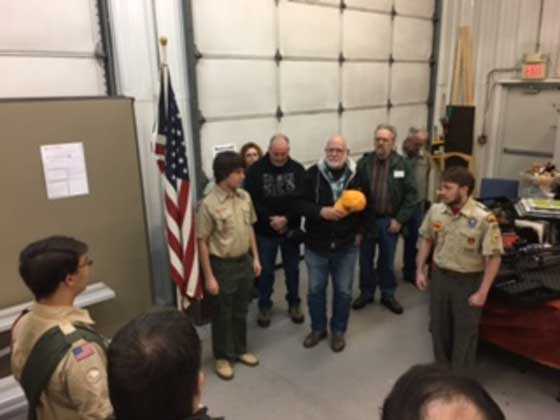 Five Eagle Scouts posted the colors before the pledge of allegiance.
There is a lot more to tell, so keep watching this space!