by Tom Gaylord
Writing as B.B. Pelletier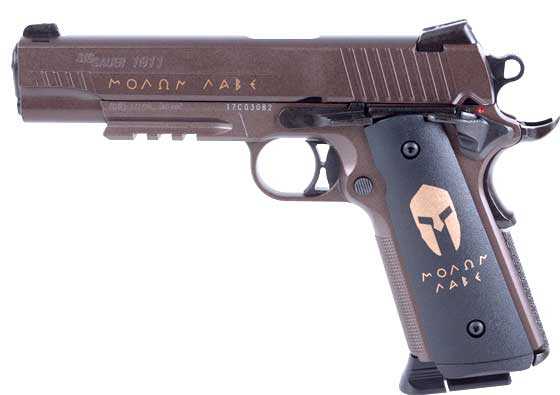 Sig Sauer Spartan BB pistol offers a lot of pistol at a budget price.
This report covers:
The test
H&N Smart Shot
Hornady Black Diamond BBs
The trigger
Air Venturi Zinc-Plated BBs
Overall evaluation
It's accuracy day for the the Sig Spartan BB pistol, and I have to tell you I am excited. The trigger on this pistol, while heavy, breaks so crisply that I am expecting good things.
The test
I shot from 5 meters, seated and resting my shooting arm on a UTG Monopod. The Spartan's sights are fixed but they are wide enough for good accuracy and the front post is sharp. There was no problem seeing the sights on the target for a 6 o'clock hold.
H&N Smart Shot
I tried the H&N Smart Shot lead BBs first. I did that because the Spartan only got 40 good shots on a CO2 cartridge in Part 2 and I wanted the pistol to be as powerful as possible with this heavier BB.
The first BB went high and centered on the bull. Shot number 2 hit right next to it and we were off to a great start. Ten BBs went into 1.636-inches at 5 meters, which is a little larger than I would like. I think it isn't worth the extra expense to use these lead BBs, unless you are doing it for their extra safety.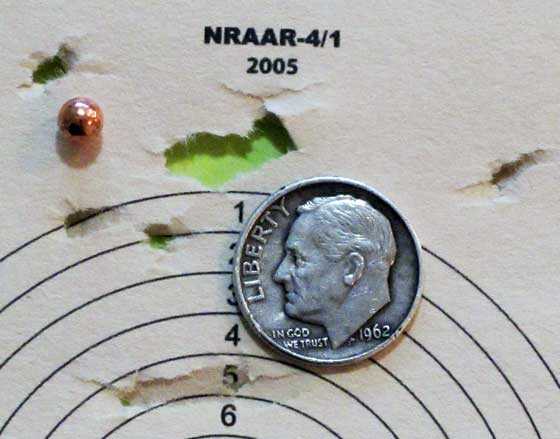 Ten H&N Smart Shot lead BBs went into 1.636-inches at 5 meters.
Hornady Black Diamond BBs
Next up were some Hornady Black Diamond BBs. Ever since they shocked me in the test of the Gletcher Stechkin pistol, I have vowed to try these in every BB gun. In the Spartan 10 of them went into 1.336-inches at 5 meters. That's acceptable accuracy for a BB pistol in my book. You can certainly roll tin cans with it.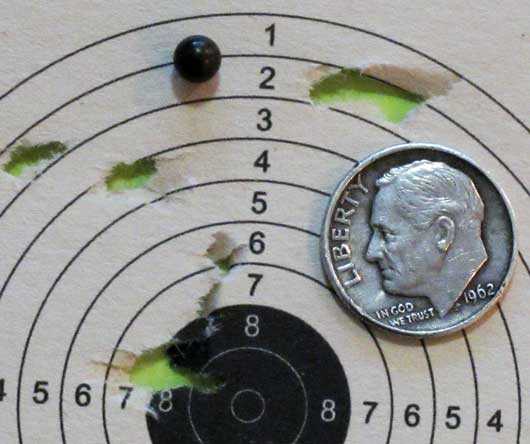 Ten Hornady Black Diamond BBs went into 1.336-inches at 5 meters. A BB to consider for this pistol.
The trigger
I have to comment on the Spartan's trigger. If you shoot rapid-fire you won't notice anything, beyond the fact that it's heavy. But for bullseye shooting it is extremely crisp. I wish some of my 1911s were as crisp.
Air Venturi Zinc-Plated BBs
The final BB I shot was the Air Venturi Zinc-Plated BB. I used them to represent all the premium BBs on the market. I didn't think they would challenge the Black Diamonds. But they did. Ten went into 1.472-inches at 5 meters. While not quite as tight as the Black Diamonds, it's plenty tight enough for casual plinking.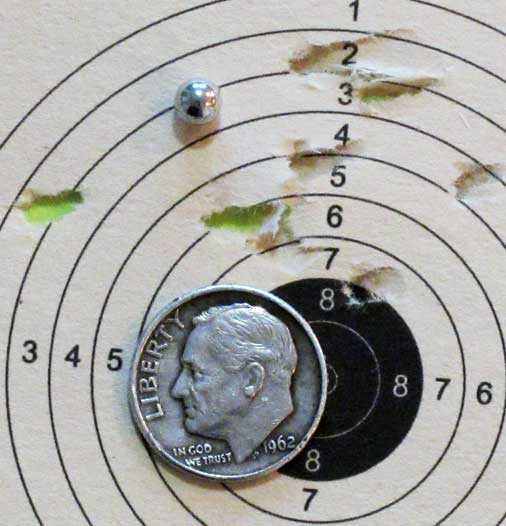 Ten Air Venturi Zinc-Plated BBs went into 1.472-inches at 5 meters. Another BB for the Spartan!
Overall Evaluation
Well, I have now tested the Spartan BB pistol thoroughly. I know it's very similar to the Max Michel 1911 that I tested a year ago, so I purposely did not look at that old test. I wanted to see the Spartan with fresh eyes.
Seeing it that way, I have to say I like this BB pistol. It's so true to a 1911A1 that it's easy to imaging it as a firearm. And I do like the special finish the Spartan has. In fact, it took some resistance to not buy a Spartan 1911 firearm, after seeing this one! I do that from time to time, you know.
There are many 1911 BB pistols, so you certainly have a good choice. I think you'll want to look at the Spartan is the finish resonates with you. It's acceptably accurate, if a little bit of a gas hog. The blowback is great, the trigger is crisp and the sights are very sharp and clear.