by Tom Gaylord
Writing as B.B. Pelletier
This report covers:
SHOT Show
A great find!
My interest
My collection
This BB gun
Cocking
Takedown
Number 25?
Sights
Summary
SHOT Show
I am at the SHOT Show in Las Vegas this week. Today I am at Media Day at the Range, where I get to shoot any airguns that are there. Not every dealer attends this event, but about 200 of them do and I get to shoot not only airguns, but any firearms I want. Imagine 200 firing ranges, side-by-side, a quarter-mile long with 2,000 shooters.
Having said that, when I return, I have to write tomorrow's blog with pictures and get it up before I go to a hosted dinner at 6:30. The blog publishes at 9 pm, here on the West Coast, so I'm getting crunched on both ends. My reports will be slim and telegraphic this week. I'll have more to say when I'm back in the office next week.
One thing that has helped me is that most airgun manufacturers have already spilled their beans on social media. You already know as much as I do about many of the new products. By the time I report on them the first time they will be old news. So, I will try to ferret out the real news and separate myself from the You Tube showmen who can't keep the camera off themselves!
All I ask is that you play nice for me and help the new guys out with their questions. I have 11 football fields with 12.5 miles of aisles to walk over the next four days, along with 64,000 other visitors and 2,000 displayers (that's maybe 20,000 more people) from 111 countries and all 50 of the United States! Thanks for understanding. Now, let's get started.
The other day I used a vintage Daisy Number 25 pump gun in Part 2 of the report on the Dust Devil BBs. A reader's question convinced me that not everyone knows the Number 25 Daisy as well as I, so I thought I would present it here.
A great find!
When my wife and I lived in Maryland there was a local flea market every Sunday at a mall. Most Sundays it was populated with the same vendors whose inventory never changed. Once a month, though, they held a Super Sunday, and the flea market grew by 500 percent. That's when the one-time sellers came out of the woodwork, and that's where I found many collectible airguns. Oh, if I could only go back now and spend the hundred dollars that the guy wanted for each of two Daisy Sentinels! They would be worth $750 apiece today!
One Sunday I spotted a Daisy Number 25 pump BB gun on a table. The condition was like new and it was price at only $40, so I figured it for a recent one from Rogers, Arkansas, but you always look. When I looked I was surprised to see Plymouth, Michigan stamped on top of the gun. That meant that this one was made before Daisy's move to Arkansas in 1958. The move took many months and there were probably parts made in Plymouth that were assembled in Arkansas, but the Plymouth name on the gun helps us roughly pin down it's age — at least the latest it could have been made.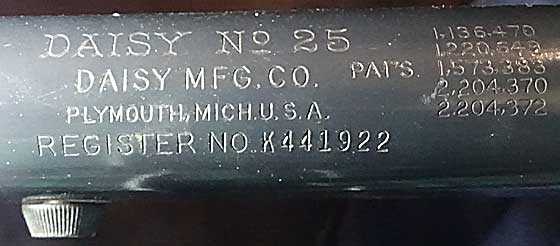 No doubt this one was made in Plymouth!
On the early side, this gun is loaded with clues. First, it has a plastic stock and pump handle. Daisy started experimenting with plastics on their production guns in the very early 1950s. The first plastics they used were not good and over time many have warped from sunlight and heat. But they changed the formula in the 1960s, which ended most of these problems. Heat was still a problem, but they were far less sensitive than at first. My vintage 25 has the first batch of plastic and yet is still in museum-quality condition.
This gun is also painted, rather than blued. Daisy started doing that in the early '50s, as well. Painting with electrostatic paint cut time from the manufacturing process and saved them money. Kids of my age saw the painted guns with plastic stocks and immediately complained that Daisy was cheapening the design, which they were. Suddenly wood-stocked guns that were blued became more valuable and none moreso than the Daisy 25. Is that the reason this particular BB gun lasted from 1952-58 all the way to the 1990s (and even until today) in like-new condition? Was it a gun some kid didn't care for and never used?
My interest
I have been fascinated by the Daisy 25 since my childhood. I bought my first one — with wood and blued steel — from my sister's boyfriend for $5 of paper route money in the late 1950s. A few weeks later the power suddenly went south and I panicked. I tried to take the gun apart (something even a grown man will find challenging) and ended up with a shopping bag full of parts. I sold them to a friend for a quarter, just to get them out of my sight. A few days later he comes back with the gun in perfect condition and tells me his dad fixed it. His dad told him he had to oil the gun often or it would lose power, just as it had for me!
My collection
When I was first married to Edith money was tight and I couldn't afford airguns. But one day I found an old 25 at a flea market in Gettysburg and bought it for $50. That was a lot of money for us, but this time I knew how to keep the gun running. Eventually I stripped it and lube-tuned it for The Airgun Letter. I still have that gun today.
When I started The Airgun Letter in 1994, I attended airgun shows where Daisy 25s were everywhere. Over many years I wound up with a small collection that was quite nice — everything from the first 25 that was made in 1913-14 to the one that's featured in this report.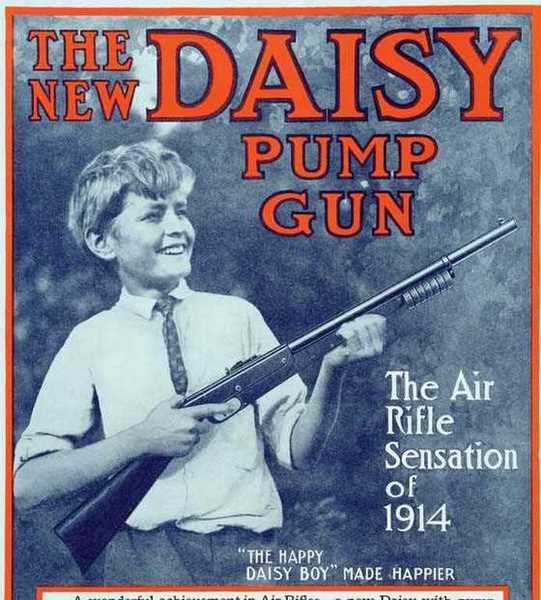 The Happy Daisy Boy.
All but one of my 25s were made in Plymouth, because I still had a chip on my shoulder about Daisy painting the metal and putting plastic on the guns. The one exception was a boxed Centennial 25 that Daisy sold in 1986, to celebrate the first century of the company. It was blued and had a wood stock, so I reckoned it belonged in my collection.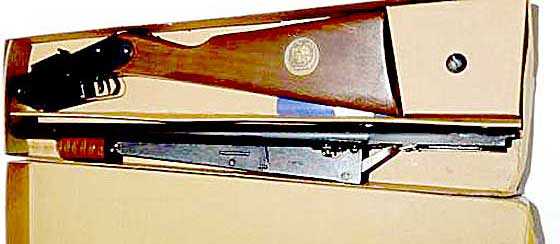 l
The 1986 Daisy Number 25 Centennial came in a special box that was full of documentation celebrating its long heritage. The gun was wood and steel — just as it should be!
But I'm not a collector, so several years ago I sold most of my 25s at airgun shows. A special one went to Volvo — a former reader of this blog. I kept both the original gun I bought at Gettysburg and this nice one I'm writing about today, along with some parts for a couple others. But the rest are history for me.
This BB gun
This Number 25 is a painted model with a brown hollow styrene stock. It weighs 3 lbs. exactly and takes a 24 lbs. of effort to cock. If it was a breakbarrel cocking might seem easy, but pulling the cocking handle straight back isn't as easy as breaking down a barrel. As an adult I can cock it relatively easily, but when I was a kid these things seemed next to impossible!
We have already seen the velocity with both standard 5.1-grain steel BBs (360 f.p.s,. with a 13 f.p.s. spread) and the new frangible Dust Devil BB (365 f.p.s with 23 f.p.s. spread). I could test the velocity with other steel BBs and with the lead Smart Shot, but BB guns are usually so regular that you would be bored. I just gave you the weight and cocking effort, and the trigger pull is a rather smooth 4 lbs. 3 oz. The trigger blade is hung in such a way that the pull is both back and up.
The gun is 36-1/2 inches long with a 13-1/2-inch pull. It's sized for older children and will fit most average adults.
Cocking
The gun is cocked by pulling the plastic pump handle straight back, which causes the cocking linkage to break in two in a distinctive way. Nothing in the firearm world resembles it and although Daisy advertised it as looking like your father's gun. It really didn't.


The 25 looks very different when it's cocked.
Takedown
One of the really cool aspects of the 25 is the fact that it takes down. Loosen a single large-headed screw and it comes apart in two pieces that are roughly the same size, making transportation easier. Dad's model 61 Winchester slide action .22 did the same thing. Most people don't use this feature, but it's so very cool just to know that it's there!
Over 20 million Number 25s have been manufactured, and, because the model is still in production today, the story isn't over. The Red Ryder may be Daisy's best-known BB gun, but the Number 25 Pump may be their most prolific.
Number 25?
Why do I slavishly keep referring to the gun as a NUMBER 25? Why don't I call it a MODEL 25? Simple. It's not a model 25. In fact to my knowledge, Daisy never made a model 25. The Blue Book refers to it as a Model 25 and Pyramyd Air lists it that way, so I suppose I'm just being a dinosaur about this. No problems. In a few million years I'll be a tank of gas in somebody's car!
Sights
The rear sight is fascinating! It's both a peep and a conventional open notch. You flip it to the one you want to use. Does it make the BB gun more accurate? Of course not! Also I have never seen one that was straight up and down. Whether the peep or notch are selected, both are somewhat tilted when they are as far as they will go.
Summary
That's all for today. I will skip Part 2, since it's already been done, and go straight to accuracy testing next. This will be the first time in about 25 years that I have shot this BB gun for accuracy — I think. And yes, I will test the Dust Devils with this one.
Now please remember — I am at the SHOT Show all day and being entertained each evening. I have just three hours to look at all the comments and write the next blog, because it has to be ready by 9 pm. I'm on the west coast. Please hold your questions and you veterans please help me!