by Tom Gaylord
Writing as B.B. Pelletier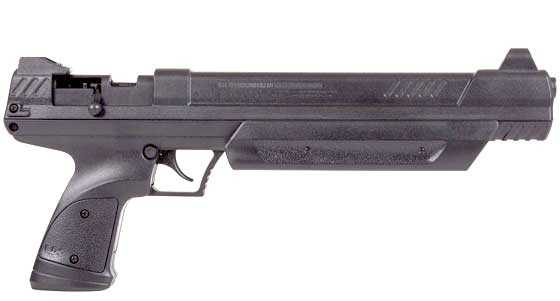 Umarex Strike Point multi-pump pistol.
This report covers:
A surprise is coming
Ugly step-sister
Oil a multi-pump
Test 1. Velocity per pump
Learned a lot!
Curiosity
Pump force
Test 2.
Evaluation
Test 3.
Test 4.
Evaluation
Trigger pull
Summary
CMP Coach's Course
A surprise is coming
It's very fitting that I announce today that I have a surprise coming for you readers. The surprise is a multi-pump, as well, and it will be presented in the historical section. I have some other reports to get through before I can get to it, but this is a surprise worth waiting for!
Ugly step-sister
You readers were really hard on the Umarex Strike Point multi-pump pistol when I introduced it in Part 1. You made fun of its looks, the trigger, the weight and everything else. Today we find out about the velocity.
Oil a multi-pump
Multi-pump pneumatics need to be oiled to obtain their best performance. The Strike Point I'm testing came to me well-oiled, but I added some Crosman Pellgunoil to that. Let me show you how a multi-pump should look.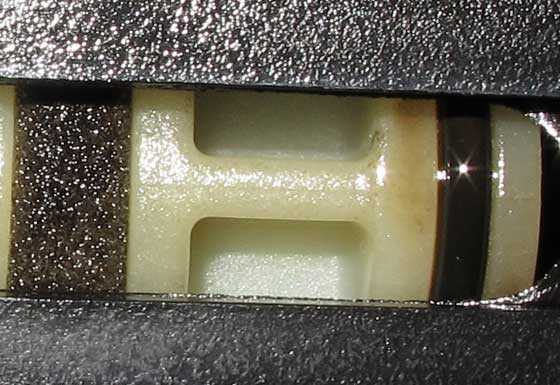 You are looking at a portion of the pump piston head. The pistol is on its back with the pump handle all the way up. You can see the oil film around the o-ring on the pump head.
I did not oil the pistol for today's test. I oiled it for Part 1, back on March 28 (I write each blog the day before it publishes). The oil will last for weeks, but you do need to examine the pump head of any multi-pump frequently to see if it needs oil.
The manual says you can shoot the pistol on 2 pumps, and can also go up to 10 pumps, so that is the range I will test — 2 to 10 pumps. I don't know of any other multi-pump that recommends shooting with just two pumps, so I am excited to get this test underway! Remember — with the Strike Point you have to cock the gun before pumping or all the air will escape.
Test 1. Velocity per pump
The Strike Point I'm testing is a .177 caliber pistol. Remember that it also comes in .22. This is an Umarex airgun, so I will use a pellet they import and distribute under their RWS USA brand — the RWS Hobby. I will pump the gun a number of times and test the velocity after each set of pumps.
I'm also going to do something new today. I will pump and shoot the gun for record three times for each number of pumps. That way you will be able to see how consistent the powerplant is. In the past I have done this test another way, but I think this will be an interesting way to go.
Pumps………Vel 1….Vel 2….Vel 3
2…………….328……329……327
3…………….388……381……382
4…………….434……439……430
5…………….467……464……469
6…………….503……501……496
7…………….514……516……514
8…………….530……517……531 No air remaining
9…………….541……543……544 No air remaining
10……..…….549……550……551 No air remaining
Learned a lot!
This string taught me a lot about the Strike Point pistol. First, it is very stable. So stable, in fact, that I doubted myself when I saw the second reading on 8 pumps. If you look at the data it looks like I only pumped it 7 times. Fortunately I counted the pump strokes aloud for every shot in this test, so there is no mistake.
Next, do you see how you can see the point of diminishing returns with a table like this? It's pretty clear that after 6 pump strokes you are wasting a lot of energy for a small gain. Up to that point the pistol yields 30-40+ f.p.s. per stroke. After that point the yield drops to 15 f.p.s. or less.
Curiosity
I don't know why but when I got to 10 pumps I was curious about what came next. So I found out.
Pumps………Vel
11……..…….560 No air remaining
12……..…….558 No air remaining
I could continue this way, and lots of owners do, but as you see, it's all for nothing. The valve simply gets overwhelmed by the excess pressure. So, why was there no air left in the gun after shot 12? Since that shot went slower, shouldn't there be some air left over? I am not sure, but maybe it escaped on the shot but didn't add anything to the pellet's speed. At the dragstrip there are cars that can burn their tires almost without limit and then there are the winners that don't burn rubber as much as they grab the pavement and accelerate. As a pneumatic shooter you can "burn your tires" by over-pumping your gun, and all you do is shorten the life of the gun. Or, you can stick to the gun's proven performance schedule and get all it has to give without wasting anything.
Pump force
The pistol is easy to pump through three strokes. Stroke four is where I noticed it starting to get harder, and stroke five is even harder. Here are the measures of effort for each pump stroke through 10 pumps.
Pumps….Effort (lbs.)
2…………17
3…………20
4…………23
5…………24
6…………24
7…………24
8…………25
9…………25
10………..25
I must admit those numbers are lower than I expected. I think the fact that this is a pistol and the pump handle is so close to where you hold it with the other hand is what threw me.
Test 2.
This is another new test. I want to see how stable the pistol is, in terms of velocity. I'm writing this on the day after the first test, so 18 hours have passed since I last shot the gun. In this test I will pump the gun a random number of times and shoot the same Hobby pellet as in Test 1 to see if I get the same numbers as in the first test. When you see the table, I think you'll understand what I'm doing.
Pumps………Vel
6…………….471
2…………….318
10………..….539
5…………….451
3…………….380
9…………….521
7…………….494
4…………….421
8……..………510
Evaluation
What just happened? Every shot in this test was slower than the same shot in Test 1. I used the same pellet with the same number of pumps in the same gun, so what gives?
A couple shots were close to what we saw before. Two pumps, 3, 4, 5 even ten pumps were all within 15-17 f.p.s. of the first test. But the rest were 20 f.p.s. slower. Why?
I think the reason this test gave slower numbers was because the first test involved a lot of pumping and shooting. I think the pump piston head warmed up with all that work and was more efficient. And I have a way of finding out if that is right. I will run a sample of Test 2 again, for comparison.
Test 3.
Pumps………Vel
10………..….536
2…………….318
6…………….479
3…………….371
This time the numbers were much closer to those in Test 2. In one case — 2 pumps — the velocity was the same. In one case — 6 pumps — the velocity was faster in this test that in Test 2. I think we have eliminated all of the first test bias with tests 2 and 3. And we have learned that test 1 is probably not the best way of testing a multi-pump.
However, if you are just out shooting your gun, know that the more you shoot the more efficient it becomes. That's good to know.
Test 4.
How does the Strike Point do with different pellets? In this test I will look at 3 different pellets on 2 pumps, 5 and 10.
Air Arms Falcon
Pumps………Vel
2…………….312
5…………….447
10………..….527
RWS HyperMax
Pumps………Vel
2…………….356
5…………….493
10………..….579
Baracuda Match
Pumps………Vel
2…………….265
5…………….381
10………..….448
Evaluation
The Falcon pellets look fine. I know they are accurate and deserve to be in the accuracy test.
I tested the RWS HyperMax just so we would know how fast the Strike Point can shoot. It's advertised as a 600 f.p.s. pistol and with the lightweight HyperMax we got to within 21 f.p.s. of that. Hypermax pellets have never proved acurate in my testing, but I think I will try them once again in the Strike Point. Who knows?
The Baracudas are definitely too heavy for this pistol. But having seen how fast they go I know that a medium weight pellet like the RWS Superdome and the Crosman Premier light will probably do well. If I shoot either of them in the accuracy test I think I need to add one additional pump from whatever number of pumps I choose for the lightweight pellets.
Trigger pull
The trigger is single-stage and has a lot of travel and creep in the pull. The pull ranges from 7 lbs. 6 oz to 8 lbs. 12 oz. with a 5-shot average of 8 lbs. even.
Summary
I'm wringing out the Strike Point so you readers know exactly what to expect. I still don't know what I'm going to do with the sights, but we will see next time.
CMP Coach's Course
I received the following information from reader William Schooley.
I'm contacting you because, in the past, several of your blog readers have expressed interest in rifle coaching. I don't know if you've seen the recent CMP e-letter, but CMP has announced several upcoming coaching schools throughout the US. Would this be something you'd be interested in announcing in your blog?
Respectfully,
William Schooley
A Level 1 Rifle/Air Rifle Coach School will be held in Newton, NC 14-15 April. Previously certified Level 1 coaches are invited to audit the class. For more information contact CDR Kevin Nash at (704) 677-0326 or email Kevin.nash@n-ccs.org.
A Level 1 Rifle/Air Rifle Coach School will take place at the Fish & Game Club of Vienna (Ohio) on May 5-6. The cost is $180 and includes materials and handouts and two year's NRA Coach Registration. For more details, contact Russ Evans at rvevans1@juno.com.
A Level 1 Rifle/Air Rifle Coach School will be held in Centralia, WA August 18-19. For more information, contact Charles Neely at CRCJDPRES@GMAIL.COM or (360) 338-5532.