by Tom Gaylord
Writing as B.B. Pelletier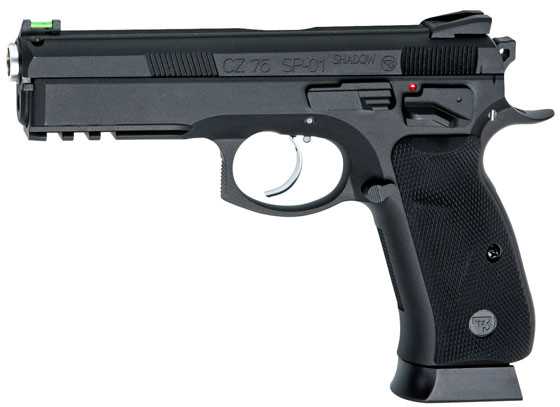 ASG's CZ 75 SP-01 Shadow BB pistol is large and heavy. The guns they are shipping have red fiberoptic sights in front, like those found on the firearm.
This report covers:
The trigger
My firearm
Not a CZ 75
Clean the screens
Velocity Dust Devils
Velocity ASG Blaster BBs
Velocity Daisy BB
We need BB action targets
Shot count
Trigger pull
Evaluation
Wow — what a report this is stacking up to be! I have so many things to tell you today. Let's get started.
The trigger
Boy oh boy, I wasn't expecting all the negative comments about the thin trigger in Part 1. Some folks just went ballistic!
The trigger is not thin. First off, it is shiny and that makes it look thinner than it is. Second, it was photographed from the side. You could not see how wide it is. I took a picture from the front today so you can see what it really looks like.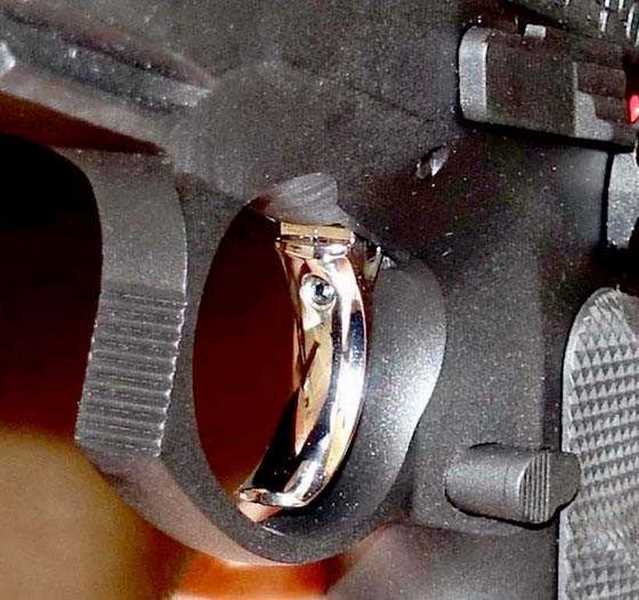 The trigger may look thin from the side but its width makes up for it.
My firearm
Next, I took some heat for the firearm I showed you next to the ASG pistol — the one I said I was going to test alongside the BB pistol. That was deserved. Like I told you in the report, I tried to save money when I bought that pistol. Well that was all I did — save money. I ended up with a firearm that is not representative of the CZ 75 SP-01 Shadow. Not at all! It's like going to an all-you-can-eat steakhouse and being surprised that the steak isn't as good as you had hoped.
That pistol was made by IMI — an Israeli weapons manufacturer who also made the Desert Eagle for many years. They are a fine firm, but the Bul Cherokee pistol that I bought is not representative of the true CZ 75 — any more than a cheap 1911 clone is representative of the genuine Colt. So I have changed my plans.
Not a CZ 75
The basic CZ 75B is much better known than the SP-01 Shadow, but that's because it has been around longer and there are so many more of them in the world. It is a fine weapon in its own right that might be a good gun to compare with this BB pistol, but the SP-01 Shadow firearm has certain advantages over the base model. It would be like comparing a basic government 1911A1 to a 1911A1 made by Wilson Combat — not a fair comparison.
I'm communicating with CZ USA to see if I can get a genuine 9mm CZ 75 SP-01 to test. If I can, I will. If not I will buy one, because I have plans for these guns that go beyond this report. I want to do this right.
Clean the screens
The next lesson came when I started chronographing the pistol, because today is velocity day. I wasn't getting any readings. An error code told me skyscreen 2 wasn't "seeing" the BB. That happens every once in awhile, but this was consistent. After the 6th shot I realized that the skyscreen might be dirty so I looked at it. It was covered by a film of oil particles and dust from recent tests. Time to clean.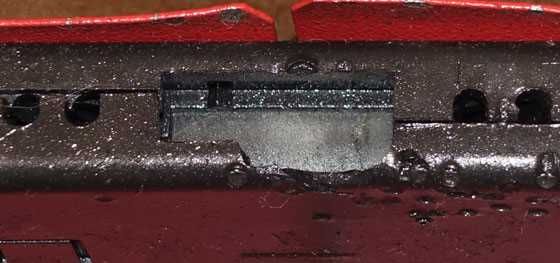 Skyscreen two was fogged with oil and dust.
I cleaned the skyscreen with a cotton swab. It cleaned up instantly. While I was at it, I also cleaned screen 1, though it wasn't as bad. The results were instantaneous!

A clean screen put me back in business.
Velocity Dust Devils
Now that the skyscreens were clean I was back in business. The first BB to be tested was the Air Venturi Dust Devil. These averaged 326 f.p.s. with a range that went from 317 to 331 f.p.s. That's a spread of 14 f.p.s. across 10 shots. Normally I wait for the gun to warm up when shooting with CO2, but with this pistol each shot seemed to go faster. I tried to wait 10 seconds between shots, but when I realized that wasn't necessary I sped up. The last shots in the string were going faster than the first. At the average velocity the Dust Devils produce 1.03 foot-pounds of energy at the muzzle.
Velocity ASG Blaster BBs
Next up were ASG Blaster BBs. These weigh 5.4 grains, so we expect them to go slower, which they do. Blasters averaged 303 f.p.s. in the SP-01 Shadow. The range went from a low of 289 f.p.s. on shot 2 to a high of 310 f.p.s. on shot 10. That's a spread of 21 f.p.s. across 10 shots. Like before, the gun sped up as it was shot. At the average velocity Blasters averaged 1.10 foot-pounds at the muzzle.
Velocity Daisy BB
The last BB I tested was the Daisy Premium Grade BB. These are very much like the Blasters, but a trifle lighter, so I expected a higher average, but it was exactly the same, at 303 f.p.s. The spread went from a low of 288 f.p.s to a high of 309 f.p.s. — so an identical 21 f.p.s. spread, as well. At the average velocity, Daisy BBs averaged 1.04 foot pounds at the muzzle.
We need BB action targets
Readers have been discussing the fact that there are no good action targets for BB pistols. Because of their low power, BB guns are not powerful enough for most action targets that are made for pellet guns. I had planned to cover the Air Venturi Dueling Tree for you with another BB pistol, but it really can't be used with the gun I wanted to use. This pistol is another one that can't operate it.
Shot count
Shot 52 was fast, at 307 f.p.s. with Daisy BBs. I figured it would get a lot more shots. However I didn't take the blowback into consideration. I fired some blank shots and the next shot I chronographed was number 75, going 231 f.p.s. with Dust Devils. I was then interrupted for half an hour, and when I went back I figured the gun was out of gas. I fired one more shot and the cartridge gave up its last gas. Call it 65-70 shots per cartridge to be safe.
Trigger pull
The double action trigger pull on the test gun is 11 pounds, 4 oz. The single action pull is 1 lb. 12 oz. Both pulls are smooth and the single action pull is very crisp.
Evaluation
It's obvious how much I like this BB pistol. The designers have gone to a lot of effort to mimic the firearm faithfully, and they have succeeded. I sure hope it's accurate!