by Tom Gaylord
Writing as B.B. Pelletier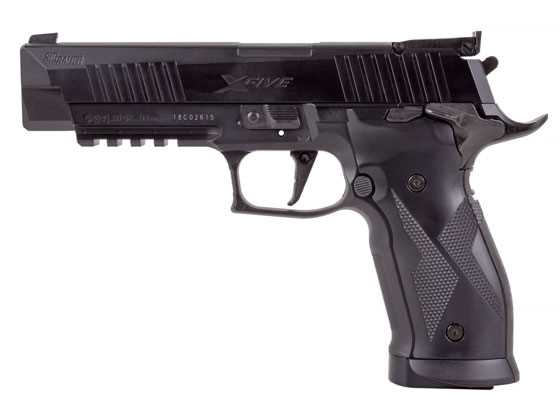 Sig's P226 X-Five pellet pistol.
This report covers:
PELLET pistol?
The quiet reader
What's an X-Five?
Back to pellets — features
Sights
Trigger
Blowback
Safety
Grip
Magazine
Slide and frame
Size and finish
Summary
Note to Sig
If it sounds like this blog has turned into one long commercial for Sig, don't blame me! They are the ones who keep on bringing out significant new airgun products. Today we begin looking at the Sig Sauer P226 X-Five pellet pistol.
PELLET pistol?
That's right, sports fans — this pistol shoots lead diabolo PELLETS! Don't get it confused with the Sig Sauer P226 X-Five BB pistol that looks very similar. I have already gotten confused a couple times, so I know how easy it is.
The quiet reader
I'm starting this report today for the quiet reader. He's the guy who has commented that he would sure like to see each BB pistol I have tested in a version that shot pellets. The belief is since pellet pistols have rifled barrels they will be more accurate at greater distances. I think that's true, as long as we bear in mind that a repeating pistol with blowback will never be as accurate as a dedicated single shot pistol, when all other variables are the same. But in all probability a rifled bore should put the pellet pistol ahead of a smoothbore BB pistol at distances of 10 meters, or so. That's the hope, and that's what I will be testing.
What's an X-Five?
Sig's P226 is a military sidearm, and the X-Five started out as a custom hand-fitted competition version of the gun. The Five refers to the barrel length in inches and this pistol is single action only — both in the firearm and pellet versions. You can't tell by looking at it, but the Sig X-Five is meant to be an alternative to a 1911, for those who don't want a 1911. Instead of a single-stack 8 + 1 in .45 ACP you have 19 +1 in 9mm.
The most significant thing for me, though, is the accuracy. Several reports I have read say the X-Five accuracy is on-par with the Sig P210 — a legendary pistol! The X-Five is rated to put 5 shots into LESS than 2-inches at 25 meters (27 yards). And they call ME the Great Enabler! With accuracy like that, which is in the same ballpark as my Wilson Combat 1911 CQB, do they think I can resist? Guys, it's getting harder and harder to be me anymore!
Back to pellets — features
Okay, we aren't talking about a firearm today. This is a pellet pistol. At a retail of $120 I know there hasn't been any hand-fitting work done to the action. BUT — and this is a big but — this pistol has some FEATURES! For starters, there is a fully adjustable rear sight! If this pistol will group, you can move that group where you need it to be.
Sights
Besides the rear sight adjusting, there are no fiberoptics to be found anywhere on this pistol. Apparently someone at Sig has actually fired a handgun at some time! On the X-Five Tactical, which I think this pellet pistol copies, the sights are tritium night sights. I have those on my Wilson Combat 1911 and they do work. I pull the pistol out of the nightstand drawer every so often to see the glowing dots.
You won't get $100 sights on a $120 pellet pistol, but there is a white dot on the front post. That post is also squared for target shooting, if that's your pleasure.
Trigger
More features. The X-Five is single action only. Yes I am aware that one version of the firearm (the Allround) has both a single and double action trigger, but I believe the version Sig has copied here is version they call the X-Five Tactical. It sure looks like one.
Anyhow, a single action trigger is going to be lighter and crisper than a double action trigger every time. I have tried this one and, while it isn't super crisp, it is light. Can't wait to try it on targets!
Blowback
And the all-metal slide blows back fully on every shot, cocking the hammer for the next shot. Unfortunately the slide does not remain back after the final shot has been fired, so that's something you have to pay attention to.
Safety
The safety is manual and ambidextrous. It will feel very comfortable to all 1911 shooters. I found it a bit stiff to put on, but it comes off with thumb pressure. It should become smoother with use.
Grip
What doesn't feel the same as a 1911 is the grip. This grip is molded rubber that conforms to the hand. Even though the magazine is double stack for the firearm, they kept the grip width down to a reasonable level, so it doesn't feel like you're holding a 2 by 4.
Magazine
The mag is a drop free stick mag (yes — for pellets) that houses a 20-round belt. You're going to get as many shots with the pellet pistol as firearms shooters.

The X-Five magazine holds 20 shots in a revolving belt.
Slide and frame
As mentioned the slide is all metal. But the ejection port is just an impression in the metal, because what has to eject? Those who want absolute realism in their air pistols need to be aware of that.
The frame is metal, too. A Picatinney rail under the frame and ahead of the triggerguard is the perfect mounting spot for a light, a laser or both. The frame is long enough that the light needn't stick out ahead of the muzzle.
Size and finish
The X-Five is a large air pistol. It's fully the size of a 1911, plus it weighs 46 ounces with a CO2 cartridge installed. The finish is all black, like the X-Five Tactical firearm.
Summary
The X-Five pellet pistol is a realistic action pistol for those who have been asking for one. It's large and in charge and I have no doubt it will fit any holster that's made for the firearm. This is going to be an exciting airgun to test.
Note to Sig
Sig — please stop innovating for awhile! I need to catch my breath and get some money back in the bank. The firearm version of this pistol is now on my bucket list!