by Tom Gaylord
Writing as B.B. Pelletier
Part 1
Part 2
Part 3
Part 4
Part 5
Part 6
This report covers:
50-yard test
Time to fold
Scope mount problem
Problem solved!
Sight-in
25-yard group
Summary
Today I will bring you up to date on all that has been done with the Umarex Gauntlet PCP rifle. It has been two and one-half months since you read anything about this rifle, but I have been doing things and have tried to test the Gauntlet before now. Here is what happened.
50-yard test
I went to the range in early April for a 50-yard test. Unfortunately that day I had also invited a member of my church out to zero his AR-15, and it turned out he did not know how to do it. I ended up spending a lot of time getting him zeroed, plus I lent him my sandbag that I would normally use for any 50-yard PCP test. I shot the Gauntlet off a pile of wadded up rags and gun bags. Even so, the test was still good, if not ideal.
But the time I spent helping my friend allowed the Texas wind to pick up and by the time I tried to shoot groups there was a stiff variable breeze. I also discovered that the reticle in the UTG 3-12X32 Bug Buster scope was thick enough to cover 1/4 to 3/8-inch at 50 yards, so my aiming wasn't as precise as I would like. On top of that, the day was dark and the Bug Buster scope wasn't as clear as I would have hoped.
Time to fold
When all things were considered, the 1.5- to 2-inch groups I was getting were not good enough to show. I would have told you all that I went through to get them and you would have asked for a better test, so I just cut out the middle man.
Scope mount problem
Other stuff arose as things always do, and when I went back to the Gauntlet to remove the Bug Buster I discovered the shims I had used to tighten the scope bases on the receiver. Some readers criticized me for doing that — thinking that the UTG P.O.I rings I used were the problem. Well, they weren't. I spent the next two months (off and on, as time permitted) trying all the other scope mounts I have on the Gauntlet. All those I tried were too large, when tightened as tight as they would go.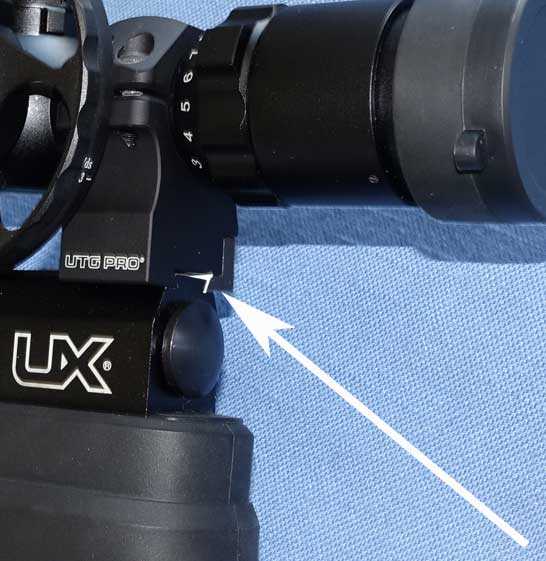 You gave me grief when I told you what I did to get the scope rings to tighten before.
Now, don't get all hyper about this. I only tried maybe five different ring sets besides the P.O.I. mounts. I'm sure there are many rings that do fit, but I want you to be aware that the Gauntlet dovetail is on the smaller side. I even checked with AirForce, to see if I could squeeze down the base on a BKL mount to fit. They didn't know whether it would work but told me to give it a try.
Problem solved!
But this past Tuesday evening I got a brainstorm. What if I used a UTG Weaver ring with a UTG 11mm Dovetail to Weaver adaptor? Would that work? Yes, it works perfectly. In fact, let me show you.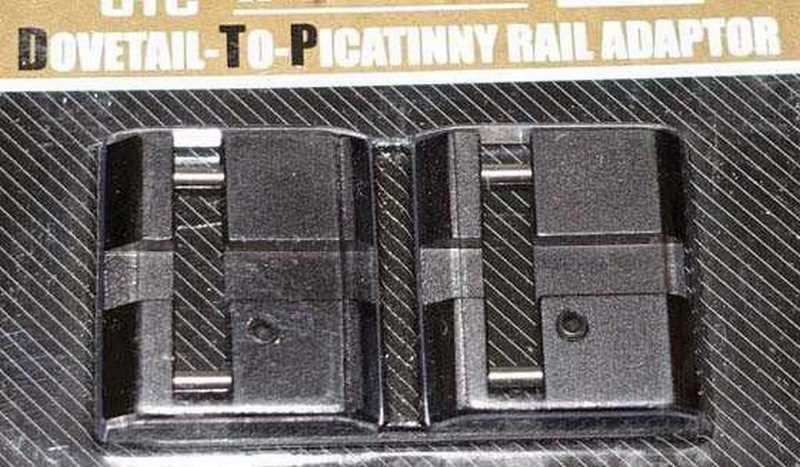 The UTG 11mm to Weaver/Picatinney adaptors saved the day.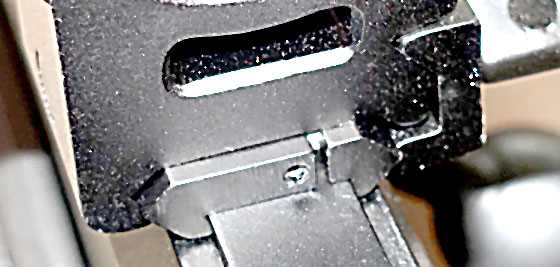 Here is what they look like installed.
With the mounts secured to the receiver I was ready to mount a scope. Since the Bug Buster was small I decided this time to go with a biggie. I selected an obsolete UTG SWAT 8-32X56 scope that is similar to this one, except for the illuminated reticle. You have to agree, we are not under-scoped this time!
Sight-in
I needed to get the scope sighted in before I head back to the outdoor range, so that came next. After a two and a half month layoff, I had to get used to the Gauntlet all over again. I read most of the past 6 reviews and then started the sight-in. I shimmed the scope with one layer of credit card plastic when I installed it in the rings this time. I do that for all scopes these days. In fact, I am talking to Leapers about making a special 2-piece mount that has the offset already built into the rear ring. Why not? I do it every time I mount a scope.
I used the Gauntlet magazine this time, despite what I had said about it earlier. I planned using Crosman Premier Heavy pellets, and thought they might feed through the mag just fine. I don't think I had ever tested them. Well, guess what? They do feed! I now know to pull back the bolt all the way, which might have been the problem earlier. Anyway, this target was shot with the mag installed.
25-yard group
The 10 shots went into 0.628 at 25 yards. That's okay, but it's over twice the size of the 10-shot group I got with the same pellet fired single-shot in Part 6 (0.303-inches), and even significantly larger than the 10-shot group in Part 5 (0.456-inches) that was also fired single-shot. That suggests a special test for 50 yards — with and without the magazine. That's a test whose results I want to see!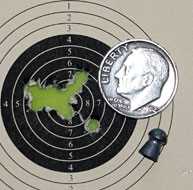 Ten Crosman Premier heavys made this 0.628-inch group at 25 yards when shot from a magazine.
Summary
I have tested the Gauntlet quite thoroughly, but as the first price-point PCP, it deserved the attention. The nice thing about this series is all the information that's available to a potential buyer. The 50-yard test comes next.