by Tom Gaylord
Writing as B.B. Pelletier
Labor Day
What to do?
Oddball listing was hidden!
Lesson from the old guy
Fresh from a score and ready for more
The deal
You can play, too
The catch
Labor Day
Happy Labor Day! It's a holiday for you American working stiffs; another day at the office for me.
Labor Day started in New York in 1882, as an unofficial march to protest long hours and low pay, plus a protest on using convict labor to do jobs free men could do. The marchers were in danger of loosing their jobs for skipping work, but the American Labor Movement was in full swing at the time. It is said the bars were all filled on that day, so bartenders apparently didn't get the day off.
The goal was to get a 40-hour workweek and a day off each week. Yes, many people worked 7 days a week in the early 1800s. That's too much for anybody.
Their plan worked for some, but not for others. Restaurants, amusement parks, bands and most entertainers work harder on Labor Day than on others. There is no religious, family or even national reason for the holiday. It exists because the labor movement pushed for it and, after getting everything they requested, they were unwilling to give the day back.
Ironically, with cell phones and tablets, many people now work a lot more than the ideal 40 hours each week. But it's a day off for many, and who is going to complain about that?
What to do?
I was wondering what to write about today. I have plenty of vintage airguns to show — that's not the problem. I even have some things to show you that are quite unique. But for some reason, I didn't want to do that today. So I went on the internet and looked for some inspiration — and I found it in spades!
First I went to Ebay. A search on "antique BB guns" brought up several oldies and some not-so-old. Apparently, when you were born in 1990, anything from 1970 is an antique! But there were several legitimate 100+ year-old airguns, and among them was a Heilprin Columbian model 1906. Those are the cuties that have cast iron receivers with fancy raised "engravings" and figural patterns. This one was listed as a "Buy it Now" offering for $900. Like that will ever happen! The gun doesn't even work! I can get the same gun in shooting condition with more nickel for $650 at any good eastern (east of the Mississippi) airgun show.
Oddball listing was hidden!
Then, for no reason I can remember, I entered the search term "Heilprin" and got a different page of listings. Many were books written by authors named Heilprin, but there was a second BB gun listed — also for Buy it Now, but this time at just $300 for a working BB gun! That's a steal, folks! And, I stole it! I can pocket $150 or more if I sell it, plus I get a blog series. In fact, today is the first installment.
Lesson from the old guy
Okay, look over my shoulder. First, this rifle WAS NOT listed as an "antique BB gun." That mistake cost the seller a significant percentage of viewers. How did he list it? As a "Heilprin/Columbia Model 1900 Air Gun." That's pretty specific. Unless someone typed in a subset of those exact words as a search, they would never see it. When airgun maker Gary Barnes was learning his way around the internet, my wife told him he had to spell words correctly or he would never be able to find what he was looking for. He responded, "I find it hard to believe that just one extra letter in a word could do that." Well, experience made a believer of him. How about you? And, there is more.
Look at the picture he published with the listing.

I can just hear what the seller was saying when he posted this, "This is as good as I can do. Someone will appreciate it!"
And look at how clear it could have been after a minute's work in Photoshop.


All I did was enhance the image that was posted. If this was my listing I would have taken a sharper image to begin with. You don't need an expensive camera. Just steady whatever camera you have on the back of a chair and use some light!
Unless the seller lied in his listing about the gun working, I am getting a great BB gun for a song. If he did lie — well that's the chance you take to play the game.
I've told you guys in the past about these hidden listings that are not clearly titled. Like when someone misspells Daisy as Daisey, or spells Crosman with two "Ss". Just because the sellers can't spell doesn't mean they don't have worthwhile things. But today's search was even more subtle — a complete miss on the title. No "BB gun" in the title for an antique BB gun. You gotta try other search options to find this stuff when it's hidden in the weeds. And, on Ebay there are a LOT of weeds!
Fresh from a score and ready for more
Well, I hadn't envisioned THAT happening when I woke up. I had watched that other Heilprin for several weeks — way back when they had it listed at $1,000. I had no clue this one was even available. So I was on the high that comes after making a great score.
I decided to try the Gun Broker auction site, just for continuity for this report. A search on Heilprin yielded nothing, but when I entered Hy Score — BINGO! Another potential find!
A seller had listed a Hy Score model 816 pistol for $119.99. Now, if you have listened to reader ChrisUSA, you have purchased your Blue Book of Airguns that has a manufacturer cross-reference table in the back. Hy Score was based in Brooklyn and did manufacture some airguns in the 1940s through the '60s. They also bought airguns made by other companies that were marked with their name — not unlike business is done today. One company they bought from was Diana. I search Hy Score listings frequently, hoping to stumble across a model 807 rifle which is really — quick, someone tell me! That's right, it's a Diana model 27.
Well, there wasn't one of those, but this model 816 translated to a Diana model 6. That's the recoilless version of their target pistol. Only the Diana model 10 target pistol is worth more. Here is a $350 target air pistol (Blue Book says $325, but experience at airgun shows says different) potentially selling for $120 plus $29 shipping. The seals are probably shot but do you know who replaces them with lifetime seals? Right again — Pyramyd Air! For about $225 I get yet another blog-worthy air pistol that can then be sold for $300 and I'm a good guy for selling it so cheap — after a fresh re-seal!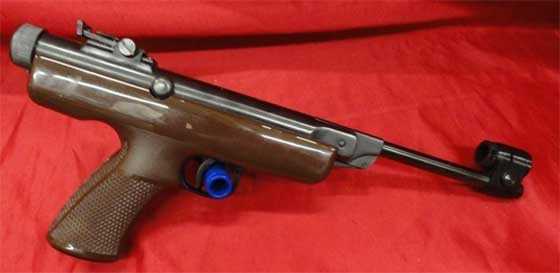 Saw this on Gun Broker. The round knob below the rear sight and above the grip is the anchor for the Giss anti-recoil mechanism. This is a valuable airgun.
The deal
This one is an auction, not a Buy it Now item. If I bid the minimum I run the risk of waking someone up who will bid against me. Sometimes they research the listing and realize what it is, but there are also plain old mean people out there who will just run up any bid, to keep you from getting a deal. So, I have to wait until the auction is almost over before submitting my bid. It ends on Sunday (that was yesterday) so by the time this report is published I will know the outcome. See how cagey I am?
I tell you, guys, sometimes I feel like Meadowlark Lemon, and they are playing the "Sweet Georgia Brown" theme! Talk about being blessed! I'm glad my sox aren't on right now, because they would certainly come right off, with this deal.
You can play, too
Okay, enough about me and my luck. This game is for everyone. Maybe readers living in countries that are not open to airguns don't have it as good as we do, but here in the U.S. — at least in the free parts of the U.S. that remain — we can play. I tell you that because there is another very good deal online that I haven't moved on yet. That's all I'm going to say about it until the proper time comes. Maybe this one isn't quite as good as the two I just described, but it's good nevertheless. I'm tracking it and will bid if it remains a good buy. Or you can swoop in and get it! I was cagey with the Diana 6, but I'm leaving this out for everyone to find. With one catch.
The catch
This one doesn't come up in a search for others like it — even if you knew what it is, which you don't, and on what website it's located, which you also don't and I'm not about to tell you — you couldn't find it. If you want a chance at this one you have to get your cyber hands dirty!
This is like playing Escape Room online!