by Tom Gaylord
Writing as B.B. Pelletier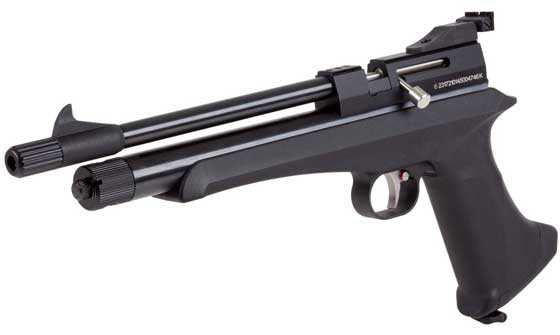 The Diana Chaser is a new CO2 pistol.
This report covers:
Trigger
Piercing the CO2 cartridge
RWS Hobby
Sig Match Ballistic Alloy
JSB Exact 8.44-grain dome
Cocking
Shot count
Report
Discussion
Summary
Today is the day we find out about the velocity of the Diana Chaser air pistol. There are a couple other things to learn today, as well. Let's go.
Trigger
The first thing I wanted to know was whether that trigger really is adjustable. So I got a fine Allen wrench and started adjusting. Turning the screw in the trigger blade counterclockwise did nothing at all. The pull remained where it was — two stage and around 4 lbs.
Then I turned it in — clockwise. Bingo! I got to the point that the gun couldn't be cocked. That tells me the trigger is adjustable and also that the adjustment works on the sear contact area. I had to back the screw out several turns and then I got a single-stage trigger that fired at 8 ounces. That's FAR TOO LIGHT for an inexpensive direct sear! I kept turning and testing until I got a great 2-stage pull. Stage one is 12 ounces and stage two breaks cleanly at 2 lbs. 4 oz. The trigger can't be "bumped off" which is important for a light trigger — especially one that has a direct sear adjustment. I'm staying where I am.
Piercing the CO2 cartridge
Next came installing the CO2 cartridge. Remember that I told you that rod in the CO2 chamber cap wouldn't be needed? Maybe not to get the cap off after the CO2 is expended, but certainly to screw the cap down tight enough to pierce the cartridge. The first cartridge was very hard to pierce and I needed the extra leverage of the bar. However, once pierced, the pistol was ready to go.
RWS Hobby
First up was the lightweight lead pellet — the RWS Hobby. These loaded stiffly, as if the edge of the flat nose was clipping something in the breech. Hobbys gave me a strange shot string, so I will show it and then talk about it.
Shot……….Velocity
1……………..513
2……………..525
3……………..535
4……………..543
5……………..546
6……………..545
7……………..549
8……………..547
9……………..547
10…………….547
11…………….546
12……………541
13……………534
14……………551
15……………551
I show the string because I didn't just want to take the first 10 shots and average them. That wouldn't be representative. But we can argue about where to start and stop the string all day long; what will it prove? The "average" with Hobby pellets seems to me to be something in the 540s, perhaps 545. I wanted to shoot some more pellets to confirm that this first CO2 cartridge had settled down. So that's what I did.
Normally a CO2 gun has one or two extra-fast shots at the start of the new cartridge, then it settles down to shoot normally until the gas is exhausted. I think this is the first gun I've seen where the velocity actually increased as I went. And, I waited a minimum of 10 seconds between all the shots in today's test.
By the way, at 545 f.p.s. Hobby pellets produce 4.62 foot-pounds of energy. Because this pistol is CO2, heavier pellets are going to be more powerful.
Sig Match Ballistic Alloy
Next I tried some Sig Match Ballistic Alloy pellets. You know I am going to test them for accuracy. They averaged 600 f.p.s. with a spread that went from 594 to 607 f.p.s. That's a range of 13 f.p.s., which suggests that the CO2 cartridge and the gun have settled down.
At the average velocity, this pellet produces 4.2 foot-pounds. It's following the rule that lighter pellets produce less energy in gas guns. And they also loaded hard at the breech, just like the Hobbys.
JSB Exact 8.44-grain dome
The last pellet I tested was the JSB Exact 8.44-grain dome. They averaged 512 f.p.s., with a low of 505 to 519 f.p.s. That's a 14 f.p.s. spread. At the average velocity these pellets produce 4.91 foot-pounds of energy at the muzzle. This pellet loaded easily.
Cocking
Having the bolt on the left side of the receiver speeds things up a lot for a right-handed shooter. It's the right way to go.
Shot count
After all these shots, plus a couple others for testing the trigger, this CO2 cartridge had 37 shots on it. I went back to Hobbys for what follows.
Shot……….Velocity
38……………555
39……………552
40……………547
41……………542
42……………540
43……………541
44……………539
45……………537
46……………535
47……………530
48……………528
49……………512
50……………515
51……………516
52……………Did not register
53……………498
54……………490
55……………483
56……………469
57……………464
58……………454
59……………437
60……………426
I stopped after shot 60, though you can see there were still a few more shots to be had. The Pyramyd Air shot count of 50 seems to be realistic and conservative, though individual CO2 cartridges do vary somewhat.
Report
How loud is it? Well, when the CO2 cartridge is fresh it's pretty quiet and when you get down to the final shots it starts to bellow. That's common for CO2 guns. The Chaser is no louder or quieter than other CO2 pistols of the same power.
Discussion
The Chaser is certainly right there where it should be on velocity. The adjustable trigger can be adjusted very nicely and is one of this pistols best features. The pistol grip, on the other hand, is one of its worst features. That "fin" on the back of the grip gave me fits during this test. I will know more about that after the accuracy test.
Summary
Readers have asked me whether I think the Chaser is worth the money. As of this point in the testing, I do think it's a great value. It still has to be accurate, so I will hold off my final thoughts, but this is one to consider.