by Tom Gaylord
Writing as B.B. Pelletier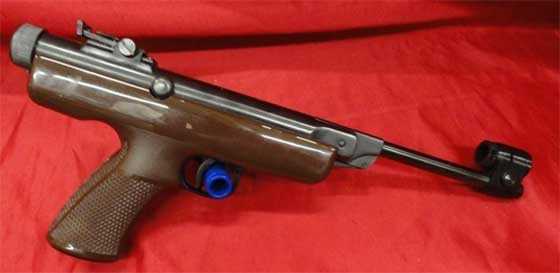 This Hy Score 816 is a Diana model 6 recoilless target pistol. This is the photo from the auction.
This report covers:
The deal
Almost a PCP!
Sights
Model 6 variations
My pistol
Hold
Size
Power
Cocking
Trigger
The real world
It's Friday and you now know what pistol shot that small group this week. It was a Hy Score 816 that's actually a Diana model 6 target pistol. I had told you that I won this auction on Gun Broker. In fact, let's look at what I said.
A seller had listed a Hy Score model 816 pistol for $119.99. Now, if you have listened to reader ChrisUSA, you have purchased your Blue Book of Airguns that has a manufacturer cross-reference table in the back. Hy Score was based in Brooklyn and did manufacture some airguns in the 1940s through the '60s. They also bought airguns made by other companies that were marked with their name — not unlike business is done today. One company they bought from was Diana. I search Hy Score listings frequently, hoping to stumble across a model 807 rifle which is really — quick, someone tell me! That's right, it's a Diana model 27.
Well, there wasn't one of those, but this model 816 translated to a Diana model 6. That's the recoilless version of their target pistol. There are several versions of the model 6 that I will cover, but only the Diana model 10 target pistol is worth more. Here is a $350 target air pistol (Blue Book says $325, but experience at airgun shows says different) potentially selling for $120 plus $29 shipping. The seals are probably shot but do you know who replaces them with lifetime seals? Right again — Pyramyd Air! For about $225 I get yet another blog-worthy air pistol that can then be sold for $300 and I'm a good guy for selling it so cheap — after a fresh re-seal!
The deal
This one is an auction, not a Buy it Now item. If I bid the minimum I run the risk of waking someone up who will bid against me. Sometimes they research the listing and realize what it is, but there are also plain old mean people out there who will just run up any bid, to keep you from getting a deal. So, I have to wait until the auction is almost over before submitting my bid. It ends on Sunday (that was yesterday) so by the time this report is published I will know the outcome. See how cagey I am?
Then I posted this in the comments section
Everyone,
By the way, I did win the Hy Score pistol! I guess it was just too hard for everyone to find.
B.B.
This was posted on September 3 and was harder to find than I thought, so you are forgiven if you didn't know what today's pistol is. Except for RidgeRunner. He said he wanted the pistol, so I thought he would remember.
Hy Score 816
The Hy Score 816 is a Diana model 6 target pistol. That's a recoilless target pistol, and it's also the foundation of the Diana 72 youth target rifle that I reported on in 2014. The model 6 is the recoilless version of their better-known Diana model 5 pistol that I reported in 2017.
The model 6 pistol and its more expensive cousin, the model 10 target pistol, both use the Giss anti-recoil system. The Giss is a double piston arrangement where the regular piston compresses the air and a piston of equal weight moves in the opposite direction to cancel all recoil. Until you shoot one it is impossible to imagine just how calm such an arrangement can be.
Almost a PCP!
I just compared the model 6 (Hy Score 816) to my FWB P44 10-meter pistol. The 6 has ever-so-slightly more of a firing impulse than the P44, and the P44 was made with a recoil-compensation mechanism, so it is one of the calmest air pistols in the world. Diana 6M owners give practically nothing away to a $1,800 target pistol in the recoil department.
Sights
One place the 6 falls short of a world-class target pistol is the sights. The 6 has target sights that were good for their day (1960-1978 — mine was made in March, 1978), but fall short of today's guns.
The rear sight is a 4-part adjustable notch that adjusts for windage and elevation with click detents. It has indices to tell you where things are. My notch is correctly set on the largest square — the target setting.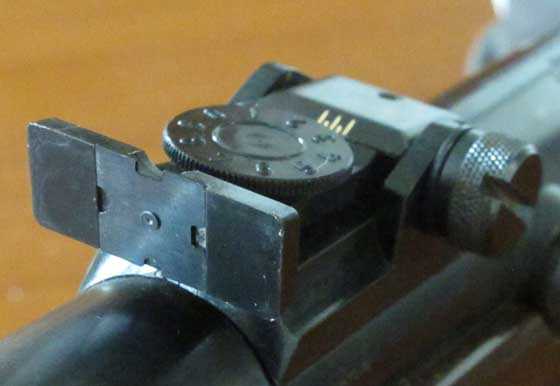 The rear sight was good for the 1960s and '70s. Very adjustable with rear notch options.
The front sight can be any of several globes with interchangeable inserts, with one exception. The top-of-the-line model 6M pistol has a real target post taken from the model 10, along with the sliding barrel shroud that protects the hand from the front sight during cocking. The round inserts for the sight on my rifle measure a whopping 0.747-inches (18.9mm) in diameter, with the tabs measuring 1.023-inches ( 25.98mm) across. And the insert that was in the sight when I got it is the worst one possible for target shooting — a tapered post. Shades of the Beverly Hillbillys!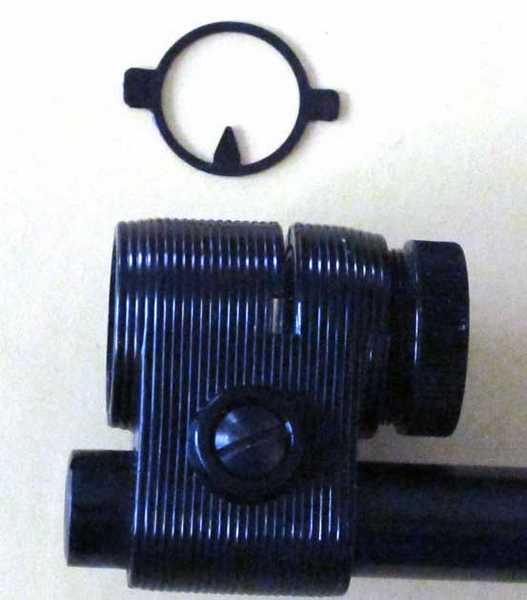 The front sight globe is huge and so is the insert. Too bad it's this one, because it doesn't help 10-meter shooting one bit!
As deep as I am with airguns, I can usually reach into a drawer and find what I need. Not this time. The model 6 front sight globe is much larger than any inserts in my vast array of flotsam and jetsam. However, that insert was the one I used to shoot that target I showed you, so this hunt for the right front sight will be worth the effort. The horrible irony is that somewhere in the world there is the exact insert I need sitting in a drawer unused and unlooked-at!
Model 6 variations
I'd better go through the variations now to keep confusion down. All of the variations came after the basic model 6 ended in 1978. There was a model 6G (1979-2000) that has an alloy frame and a separate plastic grip, similar to the model 5G. Then there is a 6GS (1979-1995) that has a factory scope and a barrel weight. That one has to be rare! Finally there is the 6M (1979-1999) already mentioned that has the rotating barrel sleeve and a choice of plastic grip or true target grip with an adjustable shelf.
My pistol
I thought the seals on my pistol would be shot, because the early Diana piston seals were made from a synthetic that dry-rotted over time. But when the gun arrived I was pleased to see that it shot well. I haven't chronoed it yet, so it still may need new seals, but right now I'm hoping it doesn't. If it does, Pyramyd Air can replace them. Replacing seals on a Giss system is not for the casual hobbyist, because the piston(s) need to be timed when the gun goes back together. Unless they are, the anti-recoil won't work.
The grip on the model 6 is one piece and plastic. It's sculpted to fit the hand well. It fits my medium-sized hand very well, but there is no way to adjust anything, so you shoot it like it is. It's got huge diamonds of checkering at key places that help you hold the gun steady.
Hold
All these older target airguns are on the heavy side. When I compare them to my P44, the P44 comes out far ahead. But for informal target practice, the model 6 is light enough for most shooters. It's not muzzle heavy — just a little heavy overall. It weighs 3 lbs. 3.4 oz. which is 1.457 kilograms.
Size
The pistol is large, at 15-7-8-inches (403.225mm) overall and 6-1/2 (165.1mm) inches high. The barrel is 7-1/4-inches (184.15mm) long.
Power
According to the Blue Book of Airguns, the model 6 should shoot a lead pellet around 420 f.p.s. My model 10 was doing 450+ and my model 5 shoots 8.2-grain target pellets at 406 f.p.s. This one should be in that neighborhood if it's in okay condition. We shall see.
Cocking
I remember my model 10 pistol being hard to cock. It was also more powerful. This model 6 isn't as hard, but you do notice the effort. This is something you would face when shooting a 60-shot 10-meter match. I will measure the effort when I do the velocity test.
Trigger
The trigger is another area where the model 6 isn't up to current standards. It's mushy! When I received the gun the trigger was set as light as it could be and probably broke at less than a pound. I can't have that, so I turned the single adjustment in several turns and finally got a two-stage feel. But stage 2 is still too light and not crisp at all. I remember the same thing from my model 72 rifle trigger that had more adjustability.

The trigger has one adjustment screw.
The real world
Let me get frank. Diana model 5 pistols are common and don't command much money. A really good one might fetch $100-125 at an airgun show. Maybe it will bring a little more in the box. No big deal. The model 6, in comparison, is not that common and is much more desirable. If a model 10 in the original case is worth $450-500, then a nice model 6 should sell for $300-350. The 6M version would be almost as much as the model 10. I have never seen a 6GS so I can't say what it might fetch. Subtract $50-75 for guns that need new seals, which will be most of them. It will cost at least that much to get them sealed, but that's how it goes.
That being said, I'm not sure I will ever want to let go of this pistol. I keep an obsolete IZH 46 around for no special reason, and I might hang onto this one, as well. It's the kind of thing that doesn't take up much room and can always be pressed into service for something. So, RidgeRunner, you might have to keep looking. Sorry!