by Tom Gaylord
Writing as B.B. Pelletier


Daisy's model 110 Rocket Command BB gun.
This report covers:
The deal
What is it?
Earlier model 26
Blue Book of Airguns
Trigger
Stock
Description
Sights
Comparison to the 27
Summary
Sputnik
When I was a kid in the 1950s, western movies where the big thing. We saw them in the theaters and we also saw westerns on TV. This trend continued into the 1960s, but another trend overlaid it and eventually eclipsed it. In October of 1957 the Soviet union launched the first man-made satellite into orbit. Most people know Sputnik. Technologically it was both crude and incredibly advanced. But what it did to society far eclipsed anything that it did for science!
Sputnik ushered in the space age. Until then only scientists and nerds knew anything about rockets and space travel. After then, space was all that anyone could talk about.
My first BB gun
I have written in the past about my first BB gun being a Wamo cap-firing gun. And it was. But my first real BB gun was a Daisy. I bought a used Daisy Number 25 pump gun from my sister's boyfriend. That one lasted only a few days and then lost power. I didn't have anyone to ask, so I thought I would try to fix the gun myself. And that is a story of its own!
Get a Red Ryder
After that I saved my paper route money and vowed to buy a new gun this time. And I did. I wanted a Red Ryder, but the only place I knew to buy BB guns was Eddie's convenience store that was a couple blocks from my house. They always had a cardboard display rack full of BB guns — until I had the money to buy one! Then all they had was a blue and white gun that was called the Daisy model 110 Rocket Command gun. Little did I know what was going on behind the marketing scenes at Daisy!
Gender-appropriate BB guns
Daisy was trying to get girls interested in BB guns. Of course some already were but Daisy saw the ten times bigger market of all the girly-girls who surely would want a BB gun if only they didn't all look so boyish.
Remember those westerns I mentioned? Boys had Hopalong Cassidy, The Lone Ranger, Roy Rogers and Gene Autry to idolize. Girls had no choice at all. It was Annie Oakley or nothing. Forget that Annie was born and raised in Ohio. Put her in a western outfit worn by actress Gail Davis (AKA Betty Jean Grayson) and she's a star!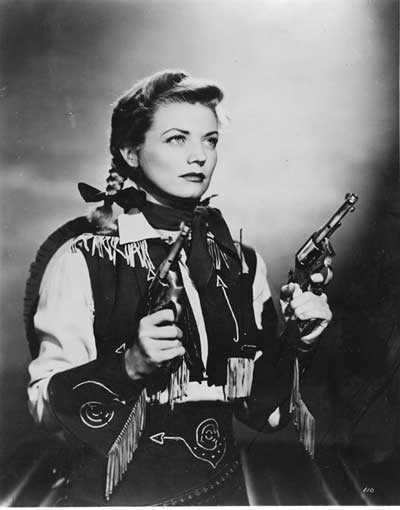 Gail Davis starred as Annie Oakley, a woman sharpshooter who was world-famous at the turn of the 20th century.
Daisy didn't hesitate to make a special Annie Oakley BB gun. It was colorful and stood apart from run-of-the-mill BB guns. It didn't meet with success, though, and today is a super-rare find, with the smoke-producing toy gun version of the same gun being far more common. But I have examined a real Annie Oakley BB gun, so I know they do exist.
That gun came out in 1959 on the coattails of Sputnik, so Daisy quickly made a few changes to the paint and produced the model 110 Rocket Command gun. That was the only serious BB gun that was available when I went to the store to buy my first new gun. At least I thought it was serious. Okay, I thought it looked fruity, but if Daisy said it was a Rocket Command gun, then that's what it was — right?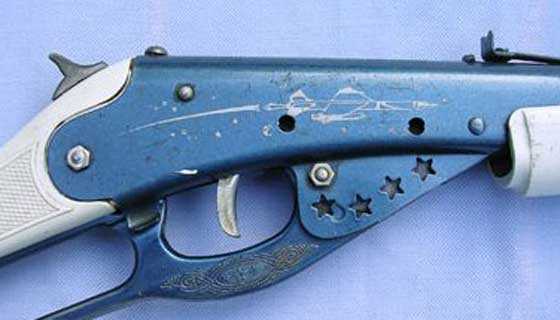 Yep! There was a rocket painted on each side of the receiver to let us know this was the Rocket Gun.
The gun also came with a thin blue cloth sling that clipped to the bottom of the butt and in front of the forearm. It's wasn't very sturdy and I think I have only seen one in recent times.
A girl's gun!
Apparently not. My next-door neighbor, Duane, saw it and started laughing immediately. "You bought a girl's gun!" he said, derisively.
I certainly didn't intend to, but I had to admit that if you looked past the silver paint on the sides of the receiver, my new gun did indeed look like a girl's BB gun! As a result, it never saw the light of day after that. And, except for a Slavia pellet rifle I was gifted a few years later and a Daisy model 200 CO2 pistol that was a serious leaker, that was my last airgun until the day I bought a Diana model 10 target pistol in Rothenburg ob der Tauber, during my 4-year tour in Germany.
The 110
The 110 wasn't a different BB gun. It was just the paint and the color of the plastic stock and forearm that distinguished it. The blue paint is a color Daisy referred to as "toy blue." They played around with it on different BB guns over the years. I learned that from an advanced Daisy collector at an airgun show, where I saw two BB guns that weren't supposed to exist.
The following two BB guns are not mainstream models. They were apparently made just because someone wanted to.


Here's a Number 25 you'll never see unless you see this one. It's toy blue in a white plastic stock that's starting to yellow with age.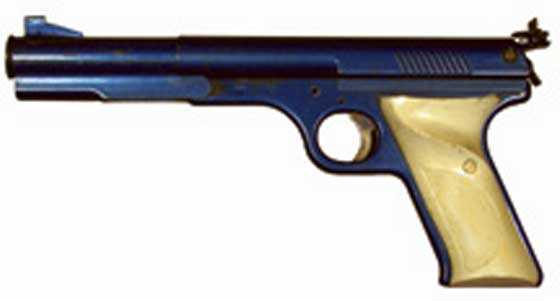 This blue and white Daisy Targeteer was never a cataloged gun. It apparently was made on a whim. The plastic grips have started to turn yellow with age.
The 110 took a scope
Notice the two open holes on the right side of the 110's receiver! As I recall, they came to you with rubber grommets in the holes, but they are for mounting a scope. There was even a set that included the scope.
The faults of the 110
Early Daisy BB guns that have plastic stocks and forearms suffer the same fate over time. The plastic warps with heat and cannot be straightened again. They also develop cracks from people just looking at them. And where they are joined at the seams the plastic often comes apart. Daisy eventually got the plastic formula right and made stocks that last a long time, but those early ones (1952-1960) had some problems.
The white plastic stock and forearm, on the 110 suffers an additional degradation. The plastic turns from white to yellow with time. I think two things are at work here. First, the sun will turn a stock yellow in a matter of weeks. It will also promote warpage. Second, I believe some household oils will get into the plastic and yellow it. Either way, a 110 with a straight stock that's still white is a rarity today.
Value
You can find a discolored 110 shooter for $100 and sometimes even less. They often sell for a bargain at auctions where they are not recognized as collectibles. A pristine gun with all the blue paint intact and a white stock that's straight is a different matter. It's a question how much money you have and how much you want the gun.
Other recent collectibles
If you know what to look for there are a number of highly collectible BB guns that are relatively recent. As a teaser, I'll tell you about the all-brass Daisy 179. The 179 is a catapult BB launcher that's mostly made of plastic, except for a few special guns that were made from solid brass. Some say they are salesman's samples; others call them favors for Daisy executives. Whatever they are, there are up to 25 179s that are made from solid brass and painted to look like plastic guns. They work as they should and reportedly fetch thousands of dollars when they change hands.
Summary
The Daisy model 110 Rocket Command BB gun was an experiment in marketing. I think my story isn't too far outside the norm.