by Tom Gaylord
Writing as B.B. Pelletier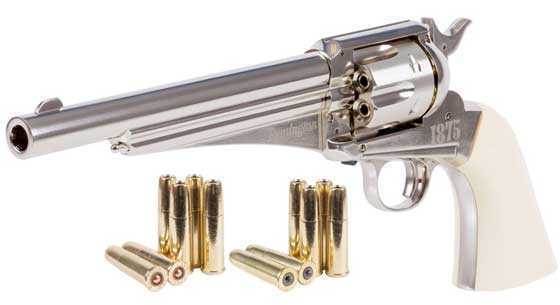 Remington 1875 pellet and BB pistol.
This report covers:
Different cartridges?
Thank you for asking
Problems loading?
Let's go!
RWS Hobby
I was confused
Sig Match Ballistic Alloy
Air Arms Falcon
Learned something
Shot count
Summary
Today we look at the velocity of the 1875 Remington BB and pellet revolver. In the first report I glossed over the fact that this revolver also shoots pellets. It even comes with 6 cartridges that are specifically for pellets, so those are the cartridges I will be using today.
Different cartridges?
This first question that came to my inquiring mind was — what's the difference between the two cartridges? Obviously the 6 additional cartridges cost money, so why put them in a blister pack with a gun you are partially selling on price? They must be different and the difference, however small, must be important.
Thank you for asking
I'm so glad you asked! First, let's look at the headstamps on the base of each cartridge.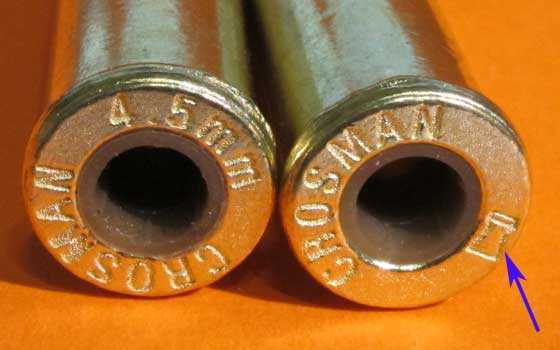 The two cartridges look quite similar, but their headstamps are different. The BB cartridge (left) says 4.5mm and the pellet cartridge has the image of a diabolo pellet (arrow).
The BB cartridges say 4.5mm on their base. The base of the pellet cartridges have the image of a diabolo pellet. Both are loaded at the base, where there is a soft synthetic material to hold them. I tried measuring the inside diameter of each base, but the numbers I got were conflicting and not accurate. There are low ridges in the synthetic material of both types of cartridge, to hold the projectiles.
On the other end of each cartridge there is no synthetic material. On this end, the pellet cartridge has a hole measuring 0.181-inches. The BB cartridge hole measures 0.175-inches. So, that is a definite difference.
Problems loading?
Reader SigPig said he has a problem loading the pellet cartridges with his revolver. He says the BB cartridges work fine but the pellet cartridges seem too small to accept pellets. If I encounter this I will highlight it for you.
Let's go!
Well that's enough background. Let's start the velocity test. Looking at the velocities we got from BBs (430+ for the standard premium steel BBs), I think we want to stick with the lighter pellets. I will select several lead pellets and a lead-free pellet to test.
RWS Hobby
The first pellet I tested was the RWS Hobby. This is a lead wadcutter that weighs 7 grains and is the standard for lead pellet velocity tests.
I was confused
The first shot went out at 342 f.p.s. Shot two was 391 f.p.s. Shot three was 396 and then shot 4 was 328 f.p.s. I finished that string but what was going on? I initially thought it was the amount of time I took between each shot — that the revolver was cooling down extra fast, because I was waiting 15-20 seconds between all shots. So I decided to try something. I would wait a full minute between each shot for a string of three and then I would only wait 10 seconds for the final three.
That almost worked. Look at what happened.
Shot..…….Velocity
1……………396
2……………400
3……………368 now switch to a shot every 10 seconds
4……………369
5……………351
6……………303
Does that make any sense to you? Because it doesn't to me. Well, maybe a little, because shots 5 and 6 were slower. Shot 6 was much slower. But it didn't make much sense — until I thought about what reader SigPig said about the pellet cartridges with his gun loading hard. The ones I am testing loaded easily with all the pellets, but was one of them a little tighter than the rest? Looking at my chronograph data I determined which one it might be and removed it from the gun. Then I marked its base and rim with a Sharpie pen so I could see it without opening the loading gate.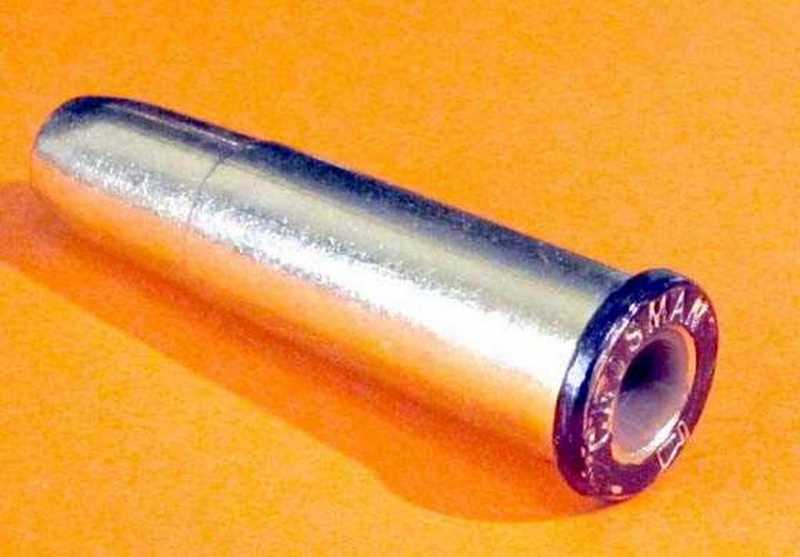 I marked the rim and base of the suspect cartridge with a Sharpie.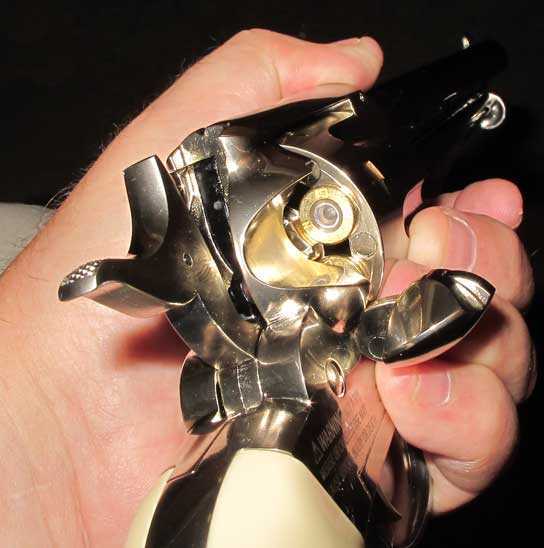 It's just as easy to load the revolver through the loading gate, one cartridge at a time.
Sig Match Ballistic Alloy
Now I was ready to test my theory of whether that one cartridge was tight. The second pellet I tested was the Sig Match Ballistic Alloy pellet. Weighing just 5.25-grains, this lead-free pellet is the lightest one I tested. Let's look at the string, with 30 second between each shot.
Shot..…….Velocity
1……………418
2……………408
3……………390
4……………400
5……………395 and shot 6 is the suspect cartridge
6……………292
Well, that was pretty convincing! But I needed more proof, so I switched to Falcons for another try.
Air Arms Falcon
The last pellet I tried was the Air Arms Falcon dome. It's light, but at 7.33-grains not as light as the Hobby. I'm still suspecting that one cartridge, so let's do the same test again. I began shooting with one minute between shots
Shot..…….Velocity
1……………356
2……………346
3……………322 after this I paused just 10 seconds between shots
4……………350
5……………340 and now the suspect cartridge
6……………298
Maybe not as big a difference as before, but a difference just the same. Next, I shot the same Falcon pellet with 10 seconds between all the shots.
Shot..…….Velocity
1……………345
2……………342
3……………317
4……………350
5……………342 and now the suspect cartridge
6……………326
That string kind of wrecked my hypothesis. Unless, by shooting, that bad cartridge was breaking in.
At this point in the test 31 shots had been fired on the CO2 cartridge. I continued shooting until there were 56 shots on the cartridge, then I broke for an hour. When I returned — here was the first string of Sig Match Ballistic Alloy pellets. Ten seconds between all shots.
Shot..…….Velocity
57…………..367
58…………..394
59…………..385
60…………..382
61…………..378 and now the suspect cartridge
62…………..378
63…………..345
64…………..did not register
65…………..350
66…………..345
67…………..343 and now the suspect cartridge
68…………..poof Gun fired by no pellet came out — try again
69…………..poof Gun fired by no pellet came out — try again
70…………..285 this was with the suspect cartridge
Now a five-minute interval while I typed and loaded the gun again. Then I resumed — still 10 seconds between shots.
71…………..291
72…………..290
73…………..311
74…………..291
75…………..285 and now the suspect cartridge
76…………..poof — try again
77…………..poof — try again
78…………..poof — try again
79…………..poof
And that's where I stopped the test. There is still gas in the gun and you Scotsmen will no doubt continue shooting for a while. But it won't be very long. And the suspect cartridge needs to be removed from the rotation — its days are over at this point.
Learned something
Today was a good test and I believe we learned something. These cartridges are not all identical and, if you have problems, they are a good place to start looking.
The 1875 revolver has plenty of power for pellets as long as they are the lighter ones.
Shot count
Looking back at Part 2 I see that I didn't give you a shot count for the BBs. It's probably exactly the same as today's, which is somewhere between 70 shots and a stuck pellet around shot 90.
Summary
I'm so glad I took the time to test BBs and pellets separately. That allowed me to concentrate on the performance of the gun which afforded us a lot more insight into how this air pistol really functions.
I will also test accuracy on different days, because I think the pellets will be shot from farther away. This is turning into a wonderful test!