Beeman P17 air pistol: Part 5
by Tom Gaylord
Writing as B.B. Pelletier
This report covers:
Sight-in
The test
Finale Match Light
Air Arms Falcon
Meisterkugeln Rifle
Qiang Yuan Olympic pellets
Sig Match Ballistic Alloy
R10 Match Pistol
Summary
I'm flying to the Pyramyd Air Cup today, so I won't be as quick to answer your questions.
Today I test the Beeman P17 pistol for accuracy at 10 meters with the UTG Reflex Micro dot sight mounted. I have to say, the sight installed in just a minute and I slid it as far forward as the pistol's dovetail base permits. That leaves plenty of room for the hand to pump the gun.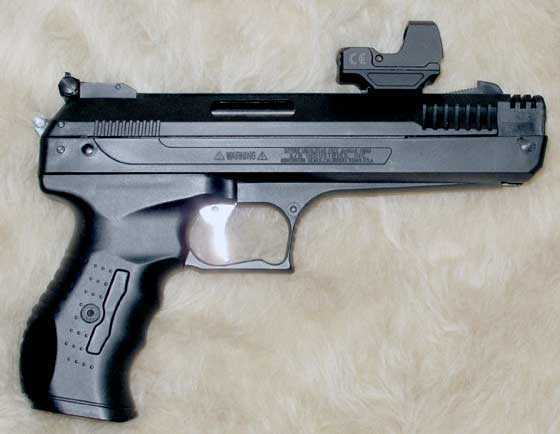 My Beeman P17 with the UTG Micro Reflex dot sight installed.
Sight in
My first two shots were from 12 feet to ensure the pellets landed in the trap. After that I moved back to 10 meters and fired three more to refine the sight picture. It was mostly a question of how far the sight adjustments moved the pellet impact, which is farther than a typical scope's adjustments.
The test
I shot from 10 meters with the pistol rested on a sandbag. I shot 5 shots per pellet and target. That is the same as I did in Part 4, and I also shot the same pellets in the same order.
You may recall that none of my groups in Part 4 were very good. I said I was either having a bad day or the open sights on my P17 are a bit hinky. Today we find out.
Finale Match Light
First to be tested were the Finale Match Light pellets. In Part 4 five of them went into 0.712-inches at 10 meters. Today five went into 0.509-inches. I think that's a significant improvement, but we'll know more after seeing what the other pellets do.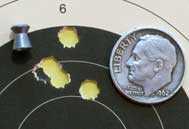 Five H&N Finale Match Light pellets made this 0.509-inch group at 10 meters.
Air Arms Falcon
Next to be tested were five Air Arms Falcon dome. Being domes they don't cut a round a hole so their groups appear smaller. but this is still a good one at just 0.547-inches between centers. In Part 4 five grouped in 0.906-inches, so this is a real improvement.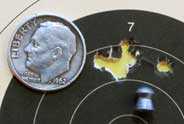 Five Falcon domed pellets went into 0.547-inches.
Meisterkugeln Rifle
The next pellet I tested was the RWS Meisterkugeln Rifle wadcutter. In Part 4 five of them went into 1.142-inches at 10 meters. In this test five are in 0.394 — about one-third the size of the Part 4 group! Gentlemen, I think we have discovered the secret!

Five RWS Meisterkugeln Rifle pellets made this 0.394-inch group at 10 meters.
Qiang Yuan Olympic pellets
Next to be tried were five Qiang Yuan Olympic pellets. They went into 0.769-inches at 10 meters. Last time with open sights five of them went into 0.983-inches, so we are still doing better.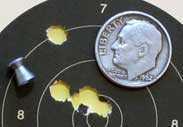 Five Qiang Yuan Olympic pellets went into 0.769-inches at 10 meters.
Sig Match Ballistic Alloy
The next pellet I tested was the Sig Match Ballistic Alloy wadcutter. In part 4 five went into 1.035-inches at 10 meters. This time five made a 0.572-inch group at 10 meters. That's almost half the size!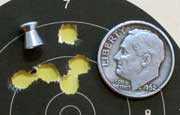 Five Sig Match Ballistic Alloy pellets went into a 0.572-inch group at 10 meters.
R10 Match Pistol
The last pellet I tried was the RWS R10 Match Pistol pellet. I had high hopes for this one in Part 4, and also that they would revive in this test! But, alas, the R10 didn't deliver. Five pellets went into 0.784-inches at 10 meters. In Part 4 five went into 0.966-inches, so the test with the dot sight is more accurate with all 6 pellets, which is what I wanted to find out.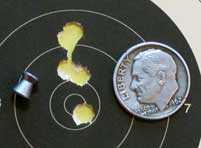 Five RWS R10 Match Pistol pellets went into 0.784-inches at 10 meters.
Clearly, the open sights caused the problems I had with accuracy in Part 4, because today all 6 pellets were considerably more accurate. Just as clearly, the UTG Micro Reflex dot sight is a wonderful addition to my stable of sights and a perfect solution for the P17!
Summary
I'm done testing the Beeman P17, but but I'm not finished with this series. The next step is to look at a Beeman P3 that costs $200 more, and compare it to the P17. I have always wanted to do this. Stay tuned!
Tags In
Tom Gaylord is known as The Godfather of Airguns™ and has been an airgunner for over a half-century, but it was the 
Beeman
 company in the 1970s that awoke a serious interest in airguns. Until then, all he knew were the inexpensive American airguns. Through the pages of the Beeman catalog, he learned about adult airguns for the first time. In 1994, Tom started
The Airgun Letter
 with his wife, Edith. This monthly newsletter was designed to bring serious reports about airguns to the American public. The newsletter and
Airgun Revue
, a sister magazine about collectible airguns, was published from 1994 until 2002, when Tom started
Airgun Illustrated
-- the first American newsstand magazine about airguns. Tom worked for three years as technical director at
AirForce Airguns
, the makers of the 
Talon, Condor, and Escape
 precharged air rifles. Today, he writes about airguns and firearms for various publications and websites. He also makes videos, and you'll find short clips embedded in some of his artices on Pyramyd Air's website. Tom is a consultant to Pyramyd Air and writes under the name of B.B. Pelletier.