by Tom Gaylord
Writing as B.B. Pelletier
This report covers:
The test
Sight-in
H&N Finale Match Light
Falcon
RWS Meisterkugeln Rifle
Qiang Yuan Olympic
Discussion 1
Sig Match Ballistic Alloy
Discussion 2
RWS R10
Discussion 3
H&N Finale Light again
What now?
Summary
Today we start looking at the accuracy of my Beeman P17 pistol. Remember — there's still a lot more to come in this series. We started by learning how to fix and reseal the pistol, thanks to reader 45Bravo, and now we are looking at the P17 in its own right.
The test
I shot off a rest at 10 meters. The pistol was rested directly on the sandbag, as a single-stroke pneumatic has very little recoil. I shot every target in this test with open sights, which I will discuss at the end of the report. I shot just 5 shots at each 10-meter pistol target.
Sight-in
It took eight shots to sight in, where I'm normally on in two or three. I thought the pistol would be pretty close to on, but it wasn't. And I discovered that the rear sight really moves the pellets around fast.
H&N Finale Match Light
First up were 5 Finale Match Light target pellets. They went into 0.712-inches at 10 meters. The group is a little to the right of the center, but I left the sights where they were because the pellets that follow will all shoot to different places.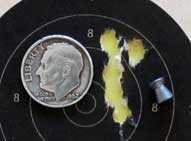 Five H&N Finale Match Light pellets went into a 0.712-inch group at 10 meters.
Falcon
Next up were Air Arms Falcon pellets. I knew some of you would want to see how a dome did, so this is for you. Five pellets went into 0.906-inches at 10 meters. I will have more to say about it at the end of this report.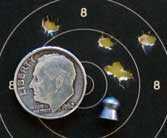 The P17 put 5 Falcons in 0.916-inches at 10 meters.
RWS Meisterkugeln Rifle
The next pellet I tried was the RWS Meisterkugeln Rifle. This 8.2-grain wadcutter is a little heavy for the power of the P17 but I thought at least one reader wanted me to try it. Five pellets made a group that measures 1.142-inches between centers at 10 meters. It's a little large but the pellet holes are nicely punched out.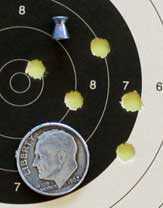 Five RWS Meisterkugeln went into 1.142-inches at 10 meters.
Qiang Yuan Olympic
Next I shot 5 Qiang Yuan Olympic pellets. These sometimes shoot surprisingly well and other times not so well. This was an "other" time, with 5 pellets going into a 0.983-inch group at 10 meters.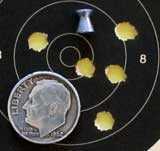 Five Qiang Yuan Olympic pellets went into 0.983-inches at 10 meters.
Discussion 1
At this point in the test I was starting to wonder if the larger groups were my fault and not that of the pellets. I found the P17's sights hard to align for some reason. The rear notch seems a bit too wide and not deep enough. I will say more about this at the end of the test.
Sig Match Ballistic Alloy
The next pellet was my great hope for the P17. I figured Sig Match Ballistic Alloy pellets would drill a tight little hole and I might have to bring out the trime for photography. But when I went downrange I saw an open groups that didn't look that good. It measures 1.035-inches between the centers of the two holes farthest apart. Bummer!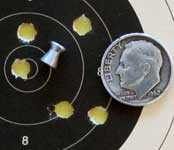 Five Sig Match Ballistic Alloy pellets made this 1.035-inch group at 10-meters.
Discussion 2
Now I was more certain that I was right about what was happening. All the groups except the first one are close to the same size. It looks to me like I am the problem and not the gun or the pellets. Apparently I am either having an off day or the P17 sights are not working for me. Maybe the last pellet will tell?
RWS R10
The last pellet I tried was the RWS R10 Match Pistol pellet. I really expected it to give me the tight group that was missing from the test. But it didn't. Instead, five pellets went into 0.966-inches at 10 meters — about the same as all the others!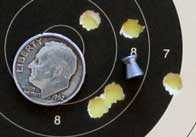 Five RWS R10 Pistol pellets went into 0.966-inches at 10 meters.
Discussion 3
Okay — it was time to test old BB! If I was the reason all these groups except the first one were so large, I would shoot a second group with the Finale Light pellets and it would look like the rest of the groups. If it was small like the first group, then BB was shooting well and the pellets were the problem. I did adjust the rear sight two clicks to the left for this one. The adjustment doesn't really click, but there are marks on the sight that I'm calling clicks.
H&N Finale Light again
This second group of H&N Finale Match pellets made a 0.976-inch group. It's a very round group, but also an open one.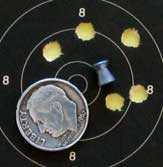 The second five H&N Finale Match pellets went into 0.976-inches at 10 meters.
What now?
Either I had a bad day or these sights are fighting me. Either way I can solve it if I shoot the pistol with a dot sight, using the exact same pellets. The UTG Reflex Micro dot sight seems like the ideal sight to try, so next time that's what I'll do. I fully expect adding that sight will reduce the size of these groups by a significant amount — similar to what we saw with the Buck BB gun that was scoped. If that doesn't happen, then old BB just had a bad day.
Summary
Even with today's groups the Beeman P17 is still an accurate air pistol. I just know that it can be more accurate and I hope to show that to you next time.
Only when editing this report to publish did I realize that I failed to test the difference in accuracy between flush-seated pellets and deep-seated pellets. So I will add that to the test with the dot sight.
Then we have the Beeman P3 pistol to consider. I've always wanted to compare these two air pistols that look so alike. But how close are they really? We shall see.