by Tom Gaylord
Writing as B.B. Pelletier
This report covers:
Why a crossbow?
Smoothbore accuracy
Rifling
So — how accurate are smoothbores?
But what about smoothbore airguns?
Dumbbell projectiles and the Balle Blondeau
And now the crossbow
Setting up and cocking
Surely that's not all?
Summary
Why a crossbow?
I'm glad you asked. Actually, nobody did. I used to get questions about remaining on topic from readers who threatened to walk if I wasn't sticking to the topic of airguns, but they aren't around anymore. You readers are easier on me for my forays off the topic of airguns.
So — why crossbows? Well here is an answer that only a few will get. Because when I mention obturation of the bore I do get questions. Huh? What I'm saying is the readership of this blog spans the spectrum of the shooting sports. Some are more knowledgeable than I am of nearly every topic I cover, and others just got into shooting and need to learn almost everything. So — does that answer the question of why I write about crossbows? Of course it doesn't!
Well how about this? The Crosman 160 introduced a marvelous trigger to us that is inexpensive to manufacture and yet extremely light, crisp and positive.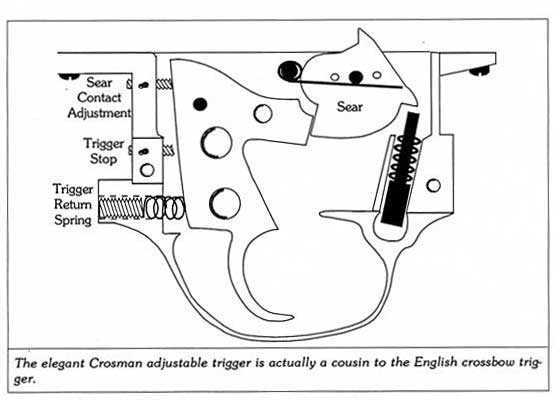 I showed you that trigger several times over the years, but nobody responded to the fact that it came from a crossbow from centuries past!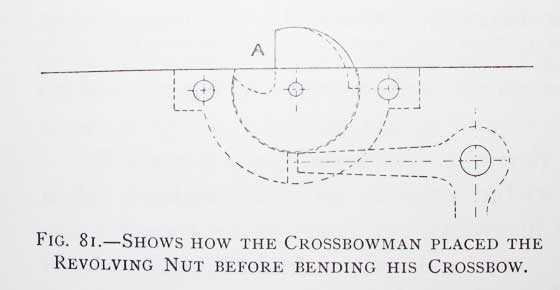 From Sir Ralph Payne-Gallwey's book, "The Crossbow," (published in 1903) this illustration of a 15th century crossbow nut shows how a great force can be overcome by a smaller one.
See? That is one reason I write about things that aren't airguns — so we all can learn new things. But that isn't the only reason. I also write to broaden your knowledge of the shooting sports, so when you relate it back to airgunning you can make comments that are backed with knowledge.
Smoothbore accuracy
Let's take smoothbore guns, for example. If they are long and look like rifles, people call them rifles without thinking — or knowing the difference. It's not a Red Ryder rifle — it's a Red Ryder BB GUN.
So how accurate are smoothbore airguns? It's best to first know how accurate smoothbore firearms are — and why they are the way that the are. The accuracy of smoothbore guns has been refined and studied by firearms enthusiasts since about the middle of the 19th century — around 1850, give or take. Can anyone tell me why that date was the point when people started to care about the accuracy of smoothbores? Well, the whole answer to just that question is a blog report by itself — if not an entire book! In fact my library has several books that are devoted to answering that question. But this is a daily blog that has to be brief, so I will give an abbreviated answer.
Rifling
Rifling was "invented" (discovered, stumbled upon etc.) around 1600, according to one of my sources. Mankind played around with it for more than two centuries before it became popular enough that nearly everybody had a rifle. But during that same time everyone had a "serious" gun that was used for gathering food and for defense. That one was smoothbore. Why? For several reasons. It was cheaper, it did what they needed, it was faster to load, it didn't require as much training to use/manage/care for. In short the smoothbore gun was to people what the breakbarrel springer is to airgunners today. And the rifle was the equivalent of the precharged pneumatic.
That changed when rifles became easier to use/manage/care for — just as PCPs are becoming more popular today for exactly the same reasons.
So — how accurate are smoothbores?
Well, a bunch of guys in the 1850s formed clubs to compete for accuracy with smoothbores — just to find out. This started in Ohio, according to one source I have read, but it was probably a thing that happened everywhere at the same time. I wish I had pictures to show the targets they shot, but I don't. These guys are responsible for inventing the "smoothbore rifle" an oxymoronic term that describes a smoothbore gun that has rifle sights and is used for accuracy competitions.
So — can a smoothbore get a five-shot one-inch group at 100 yards. Yes and absolutely not! Yes if the stars align and chance smiles. And no, if you sit down and try to do it. What you will get after a lot of trying and learning is 5 balls in 2-inches (or so) at 50 yards and 5 in 8-10 inches at 100. To do that well requires a lot of things being done right that I am not going into here, but I will say that the fascination with the accuracy of smoothbores began when rifles came into common use.
But what about smoothbore airguns?
That I can answer from practical experimentation. You see, I have done some testing. Read my blog series about the Diana model 25 smoothbore. Part 5 is interesting, but Part 4 is also worth a look.
What you will learn in those reports is that diabolo pellets (wasp-waisted and hollow-tailed) stabilize themselves in flight and are more accurate than round balls, when both are shot from the same smoothbore airgun. Both projectiles do far better at 10 meters than they do at 25 yards. So smoothbore accuracy falls off fast as the distance increases.
Dumbbell projectiles and the Balle Blondeau
I was so pleased when reader GunFun1 happened to mention the dumbbell projectile that he remembered doing well for accuracy in a big bore smoothbore I wrote about years ago. You can read about it here.
And now the crossbow
I guess I fooled you by the title of today's report. Or I fooled me. It reads more like one of those rants I sometimes go on than a report about the Onyx Tactical Crossbow. Well, let's switch gears right now.
Setting up and cocking
I talked about setting up the bow for shooting in Part 1. Today I would like to show that to you. I would also like to show you how the bow is cocked, since many of you marveled at the idea.
Surely that's not all?
That's all there is today. And don't call me Shirley!