Diana 25 smoothbore pellet gun: Part 5
by Tom Gaylord, a.k.a. B.B. Pelletier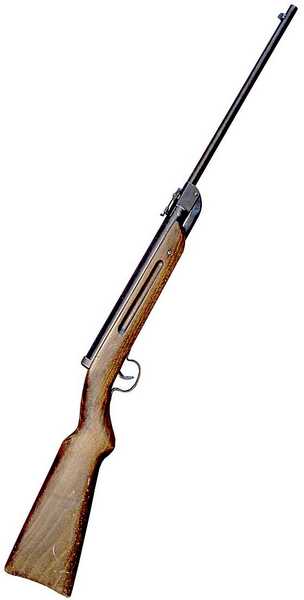 This Diana 25 smoothbore was made in World War II.
Today's blog falls under the heading, "It's not always a good idea to try everything." Back when we were exploring the Diana 25 smoothbore airgun, we saw how incredibly accurate it was with certain pellets at 10 meters.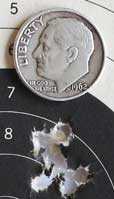 This 10-shot group of JSB Exact RS pellets was shot at 10 meters. The extreme spread measures just 0.337 inches between centers! It made us all wonder just how accurate a smoothbore pellet gun can be.
When I backed up to 25 yards, however, the groups opened up to between 2.5 and 3+ inches for the same pellet. Obviously, the pellet needs to be stabilized by both the high drag of its diabolo shape and by the spin introduced by rifling. Drag, alone, is not enough to stabilize the pellet.
One reader then asked me to try shooting round lead balls in the gun. Today, I'll conduct that test for you.
Beeman Perfect Rounds
I shot Beeman Perfect Rounds, which are H&N Rundkugel but under the Beeman label. They weigh 7.7 grains, which is the weight of a medium-weight diabolo pellet.
The balls fit the Diana's breech quite well, though one was slightly larger than the others. But the rest would not drop into the breech and had to be seated with the thumb — just as a pellet would. They did seat easily, however, and I noticed the gun's powerplant seemed harsher than it is with pellets. I suspect the balls had less resistance than a pellet since they only touched the bore at their circumference, and there's no rifling to engrave them.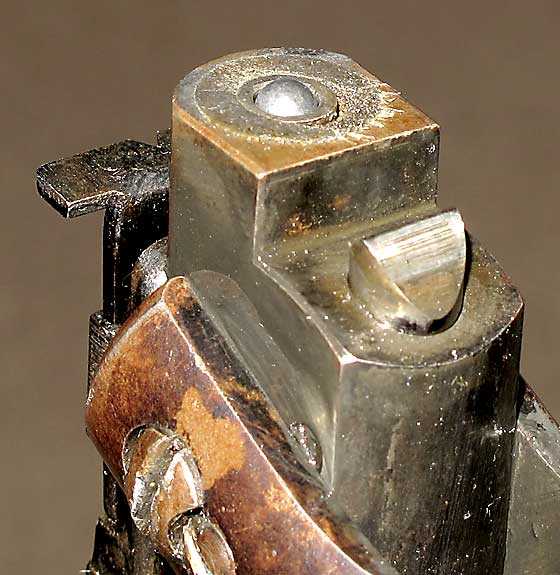 Except for one, each round ball fit the gun's breech very well. Most stopped like this and had to be gently pressed into the bore with the thumb.
Testing at 10 meters
I began the test at 10 meters, thinking the gun was accurate at that distance with diabolos, so it should be accurate with round balls. I'm sure the reader who asked me to test round balls must have thought the same thing. But when I fired the first shot and could not find the hole on the target paper, I stopped shooting. Fortunately there were no new holes in the wall!
I then moved up to 12 feet and shot again — this time standing and using the door jamb as a brace. The shots now went to the bull at which I was aiming. But the group is hardly worth celebrating. Ten shots went into 1.166 inches at this distance. I've shot many BB guns that could do so much better than this that it's embarrassing to consider.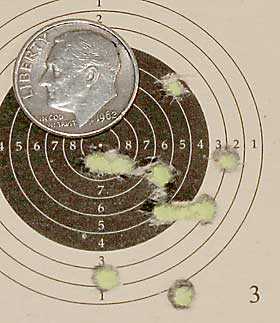 Ten shots from 12 feet did make a group on the target, but that's way too close for a gun like this! Group measures 1.166 inches between centers.
I guess the Diana 25 isn't made to shoot round balls. If there was any doubt before, I hope this clears it up. I didn't shoot any more groups because of how harsh the powerplant seemed to be. I didn't see any reason to strees the mechanism more than I already had.
Darts?
Shooting round balls got me thinking about other types of non-pellet projectiles, and of course darts came to mind. I decided not to try them in this gun,as the powerplant is too powerful for them. It would bury a dart deep in wood, causing its destruction upon extraction. But that did give me another idea.
I was recently asked to conduct a retest of a gun I tested some time ago. Apparently, a blog reader felt my results were not typical of the gun I tested, so he called the manufacturer and they contacted me. That gun in question is a smoothbore, as well, and it's a multi-pump, so the velocity can be controlled. I plan on testing darts when I test that gun for you.
Tom Gaylord is known as The Godfather of Airguns™ and has been an airgunner for over a half-century, but it was the 
Beeman
 company in the 1970s that awoke a serious interest in airguns. Until then, all he knew were the inexpensive American airguns. Through the pages of the Beeman catalog, he learned about adult airguns for the first time. In 1994, Tom started
The Airgun Letter
 with his wife, Edith. This monthly newsletter was designed to bring serious reports about airguns to the American public. The newsletter and
Airgun Revue
, a sister magazine about collectible airguns, was published from 1994 until 2002, when Tom started
Airgun Illustrated
-- the first American newsstand magazine about airguns. Tom worked for three years as technical director at
AirForce Airguns
, the makers of the 
Talon, Condor, and Escape
 precharged air rifles. Today, he writes about airguns and firearms for various publications and websites. He also makes videos, and you'll find short clips embedded in some of his artices on Pyramyd Air's website. Tom is a consultant to Pyramyd Air and writes under the name of B.B. Pelletier.