The Webley Hurricane: Part 5
by Tom Gaylord
Writing as B.B. Pelletier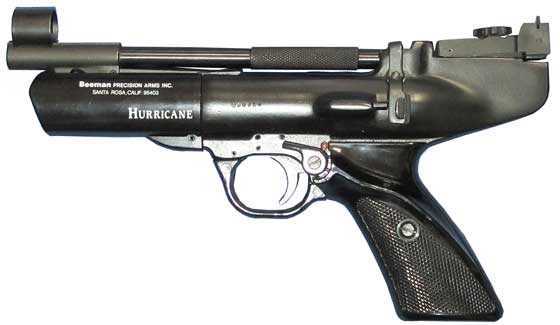 Webley Hurricane
This report covers:
Remember
The test
H&N Finale Match Light
Sig Match Ballistic Alloy 
Air Arms Falcon
Firing behavior
RWS R10 Match Pistol
Gamo Match
H&N Baracuda with 4.50mm head
Summary
Today we see the accuracy of the Webley Hurricane. I have to tell you, this has never been a particularly accurate airgun in the past, so I'm not looking for much today. I will do my best though.
Remember…
No — I am not carrying Mr. Spock's katra — Star Trek III, The Search for Spock. I want you to remember what I am trying to do with this report.
One thing I'm especially interested in with the Hurricane is how well the Extreme Weapons Grease performs. I used it on all the places where there was galling of the metal. You can read about that in Part 3. Normally I would have used moly grease, but I had a small tube of this stuff that was given to me at some SHOT Show and I decided to see if it was really up to the task. So I'm watching how smoothly the pistol cocks.
The test
For this test I shot from a rest at 10 meters. Many years ago I learned that the Hurricane likes a two-hand hold with the forearms resting on a sandbag for stability. That was the way I held the airgun throughout this entire test. I wore 1.25+ reading glasses that let me see the front sight sharp and still let me see the 10-meter pistol bull well enough from 10 meters. Let's get on with it.
H&N Finale Match Light
First up for no special reason were H&N Finale Match Light pellets. To my recollection I have never shot these pellets in this gun before. I pulled the first shot and marked it on the target. The next shot went into the bottom of the bull and then the final three dropped below the bull in a smaller group. It felt like I was getting accustomed to the pistol so I fired a second five shots, expecting to see a small group with the last three of the first group. Instead what I got was a splatter pattern. Ten Finale Match Light pellets went into 1.817-inches at 10 meters. It's not a great start, but at least we are shooting.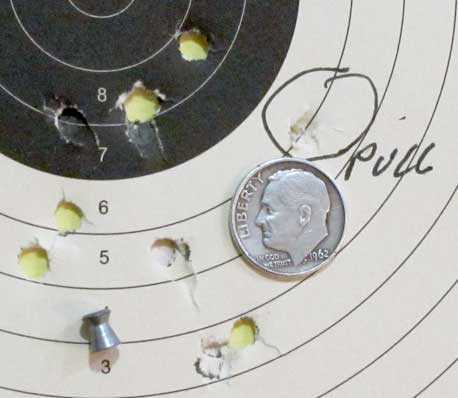 Ten H&N Finale Match Light pellets went into 1.817-inches at 10 meters. I circled the shot that was a called pull.
Sig Match Ballistic Alloy
The second pellet I tested was the all-tin Sig Match Ballistic Alloy pellet. From this point on I am only shooting 5 shots per target. Five of these went into 1.404-inches at 10 meters. As you can see they hit the target a lot higher and slightly to the left.

The Webley Hurricane put five Sig Match Ballistic Alloy pellets in 1.404-inches at 10 meters.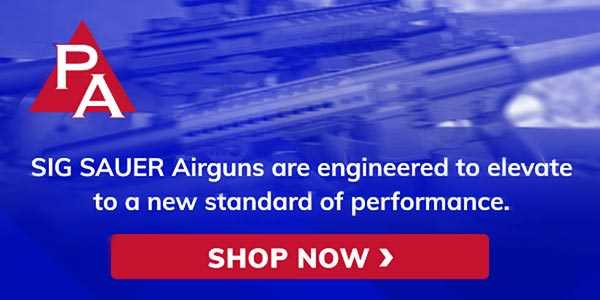 Air Arms Falcon
Next to be tried were five Air Arms Falcon pellets. They went into a vertical group that measured 1.815-inches between centers. It's almost as big as the 10-shot group of Finale Match Light pellets. This is not the pellet for the Hurricane.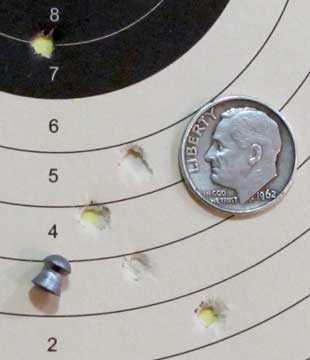 Five Air Arms Falcons went into a vertical 1.815-inch group at 10 meters.
Firing behavior
At this point I must note that the Hurricane fires smoother than before. Not a lot smoother because it never was that rough, but without any vibration whatsoever! That is new. It also cocks without the hint of galling. Cocking is very smooth, though no lighter than before — except when the galling became real pronounced right before I tuned it. I am very satisfied with the way it now performs.
The trigger feels a little lighter. I did lube it with moly when the gun was apart. Now there is just a hint of creep and then the trigger breaks cleanly. It was quite easy to get used to, and once I did I was shooting as well as I'm able.
RWS R10 Match Pistol
Next up were five RWS R10 Match Pistol pellets. They went into a group that measures 1.51-inches between centers. It's low on the paper but centered on the bull.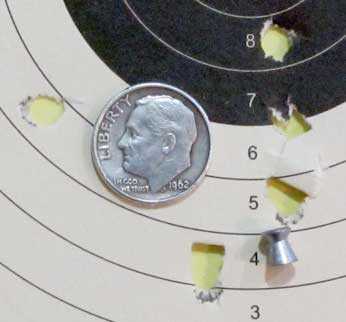 Five RWS R10 Match Pistol pellets went into 1.51-inches at 10 meters.
Gamo Match
I just got a tin of these Gamo Match pellets from Pyramyd Air, so let's see how they do in a Hurricane. Five went into 2.215-inches at 10 meters. That's the largest group of the test — even larger than the group of 10 H&N Match Light pellets I shot at the beginning! I guess Gamo Match pellets are out!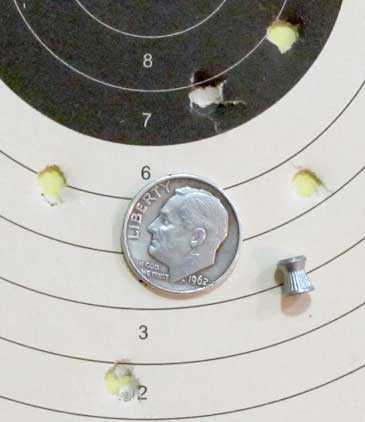 Wow! Gamo match are not so good. five in 2.215-inches at 10 meters.
Well, I was let down. Yes the best of these groups are as good as the groups I got before, but as sweet as this pistol is now shooting, I was hoping for something a little better. Because I shot mostly 5-shot groups in this test I was still fresh enough for one more, so I selected a pellet that is probably the wrong-est pellet for a pistol of this power that there is.
H&N Baracuda with 4.50mm head
The last pellet I tested was the H&N Baracuda with 4.50mm head. They are way too heavy for an air pistol of this power! What could the Hurricane do with them? Well, they landed an inch below the bullseye and in line with the center. Five are in a group that measures 1.346-inches between centers. It's the smallest group of the test!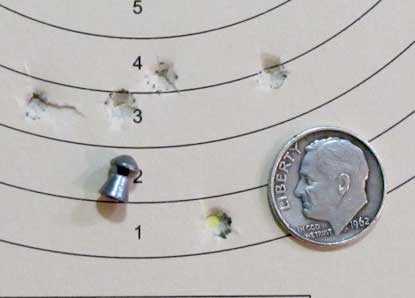 Five H&N Baracudas made this 1.346-inch group at 10 meters.
The Hurricane put 5 H&N Baracuda pellets into a 1.346-inch group at 10 meters. It's the smallest group of the test, and smaller than the best group I shot perviously with this pistol, though I don't have measurements for that group. It was a 10-shot group of RWS Hobbys and it looks like about a 2.2-inch group. Who is to say what happened years ago with a different pellet and a different number of shots, but today's results look better than that group that was formerly the best.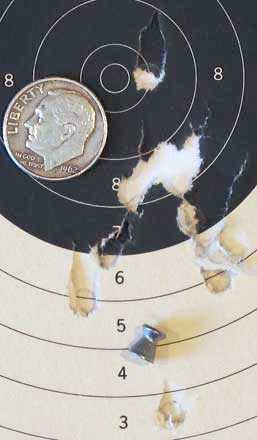 Years ago this 2.2-inch group of ten Hobbys was the best I could do with this Hurricane.
Summary
Well, this was a thorough test of the Webley Hurricane. And this one involved a teardown and lube tune. We learned that Tune in a Tube doesn't take that much velocity away when it is used lightly, but it does require something of a break-in afterward.
We also learned that the grease known as Extreme Weapons Grease is a tough product that stands up to pressure during operation. Or at least it has stood up so far.
All said and done, the Webley Hurricane is a fine air pistol. Now that I know how to take one apart, I may look for others to tune. Or perhaps a Tempest?
Tom Gaylord is known as The Godfather of Airguns™ and has been an airgunner for over a half-century, but it was the 
Beeman
 company in the 1970s that awoke a serious interest in airguns. Until then, all he knew were the inexpensive American airguns. Through the pages of the Beeman catalog, he learned about adult airguns for the first time. In 1994, Tom started
The Airgun Letter
 with his wife, Edith. This monthly newsletter was designed to bring serious reports about airguns to the American public. The newsletter and
Airgun Revue
, a sister magazine about collectible airguns, was published from 1994 until 2002, when Tom started
Airgun Illustrated
-- the first American newsstand magazine about airguns. Tom worked for three years as technical director at
AirForce Airguns
, the makers of the 
Talon, Condor, and Escape
 precharged air rifles. Today, he writes about airguns and firearms for various publications and websites. He also makes videos, and you'll find short clips embedded in some of his artices on Pyramyd Air's website. Tom is a consultant to Pyramyd Air and writes under the name of B.B. Pelletier.