by Tom Gaylord
Writing as B.B. Pelletier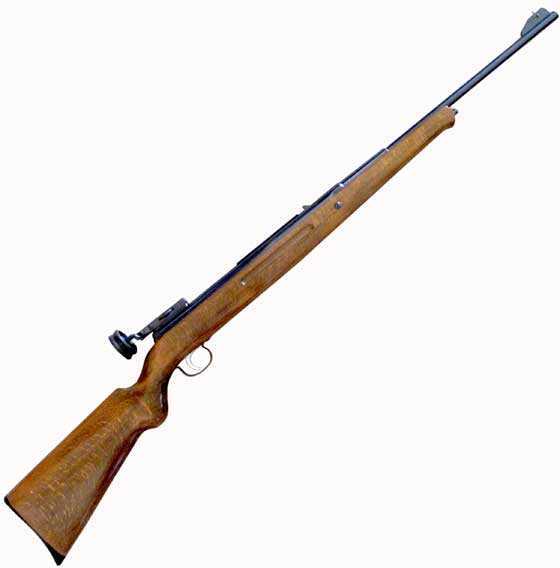 Diana model 50 underlever.
Part 1
Part 2
Part 3
Part 4
Part 5
This report covers:
The test
Sight in
RWS Superdomes
The trigger
RWS Supermags
Feel of firing|
RWS Hobbys
Why shoot only RWS pellets?
H&N Baracuda 4.50 mm head
Discussion
Summary
Today I shoot the Diana model 50 underlever with sporting sights from 25 yards. Let's see what she'll do!
The test
I shot indoors from 25 yards off a sandbag rest. I used the artillery hold with the rifle rested on my off hand, about 8-9 inches forward of the triggerguard. The Diana 50 is an underlever, and that steel cocking mechanism makes it heavy up front, so this is the most comfortable way to stabilize it. I shot 10-shot groups at 10-meter pistol targets. 
Sight in
Because I moved the rear sight forward for this test, I had to sight in the rifle again. The first shot was from 12 feet and impacted at the top of my front sight, so I called it good and backed up to 25 yards. I knew the shots would hit higher from back there, but since the first shot hit at 6 o'clock on the bull and this was a pistol target, I reckoned there was plenty of room.
RWS Superdomes
The first pellet I tested was also the sight-in pellet — the RWS Superdome. At 10 meters this pellet did quite well, though it opened up when I shot it at 25 yards with the peep sight. My group of ten from Part 4 measured 1.044-inches between centers.
This time with the sporting sights 10 Superdomes went into 1.994-inches at the same 25 yards. Throw out the pellet that hit to the left of the rest and 9 are in 1.166-inches. So — not much different but not as good as with the peep sight. There were no pulled shots in this test.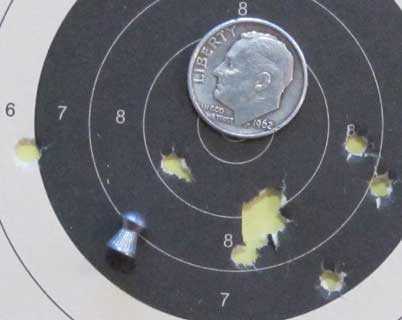 Ten RWS Superdomes made a 1.994-inch group at 25 yards, with 9 in 1.166-inches.
The trigger
I have to comment on the trigger. I never adjusted it like I said I might and I think I know why. It's breaking as a single-stage trigger with a light pull. I can feel the trigger blade move, but with those ball bearings there is absolutely no creep (an erratic start and stop in the blade as it is pulled).
I think this trigger is what reader RidgeRunner talks about when he says he likes single-stage triggers. The Webley Senior straight grip pistol I traded to him has the same sort of trigger, only its blade moves a lot farther. This one is almost a target trigger. It's just enough resistance to let the shooter know what he is doing.  I normally don't like single-stage triggers, but I do like this one! I'm glad I left it the way it was.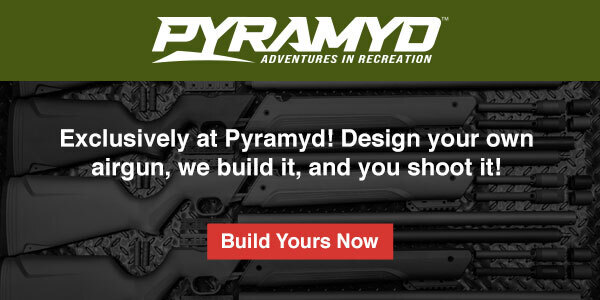 RWS Supermags
The 9.3-grain RWS Supermag wadcutter is a pellet I haven't tried in this rifle before. So I thought, "What the heck?"
Ten Supermags went into 1.61-inches at 25 yards. But the firing cycle became very loud and deep — much different than with the Superdomes. The shots also landed lower on the paper.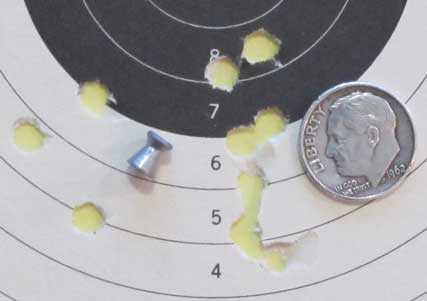 Ten RWS Supermags went into 1.61-inches at 25 yards.
Feel of firing
As it is now set up this Diana 50 does not vibrate at the shot. However, the piston must be heavy, because there is a pronounced forward lurch on every shot.
RWS Hobbys
The next pellet I tried was the 7-grain RWS Hobby wadcutter. What a marked difference in the shot cycle they made! Hobbys shot very quiet and smooth. I hoped for a miracle in the accuracy department but alas, 10 pellets went into 1.732-inches at 25 yards.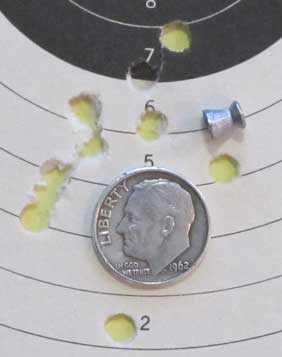 The Diana 50 put 10 RWS Hobby pellets into this 1.732-inch group at 25 yards.
Why shoot only RWS pellets?
I would normally run in some JSBs or pellets from some other manufacturer, so why have I shot three pellets from RWS? I did it because in my experience, Diana airguns — especially the vintage ones like this model 50 — really do well with RWS pellets. However, sometimes you have to step out of the ordinary and try something different.
H&N Baracuda 4.50 mm head
I thought I needed to do something drastic to turn things around. So the final group I shot was 10 H&N Baracudas with 4.50 mm heads. From what I saw with the 9.3-grain Supermags, these 10.65-grain domes are way too heavy for this powerplant, and when I shot the first one it was confirmed. The rifle made a loud sound that almost protested the use of this pellet. So, why did I do it?
I have done this with other vintage Dianas many times. Particularly the .22-caliber Diana 27 seems to love the heavy Baracuda against all odds. It makes no protest and tends to group quite well. But this model 50 is a different proposition altogether. But how did it group?
Ten Baracudas went into 1.451-inches at 25 yards. Five of them are in a very small cluster, but the other five are scattered. The group is nice and round, despite being on the large side. It is the smallest group of the test.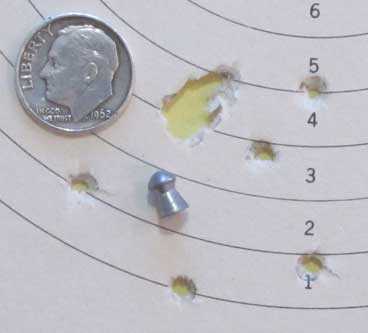 Ten H&N Baracuda domes with 4.50 mm heads went into 1.451-inches at 25 yards.
I think Baracudas have such thick skirts that they are not blowing out in the loading tap and sealing the bore as well as they could. Hobbys, in sharp contrast, seal the bore quite well.
Discussion
I was hoping this test would prove that the Diana 50 is a tackdriver, but I guess that is not to happen under my watch. She is a well-made springer that shows innovation in many places, but she's not a natural shooter like some other Dianas I have had.
I may not have found the right pellet for this rifle — that's a forgone conclusion. But I think I have given her a good test, nevertheless.
I will say that the little lube tune I gave the rifle in Part 5, while switching the rear sight, was the best thing I could have done besides leaving that trigger alone.
This underlever is solidly built, well finished and very smartly designed. Just looking at her and holding her makes me feel good.
Summary
That will be it for the Diana 50. I'm so glad to have had the opportunity to look this deeply into such a fine spring gun.