by Tom Gaylord
Writing as B.B. Pelletier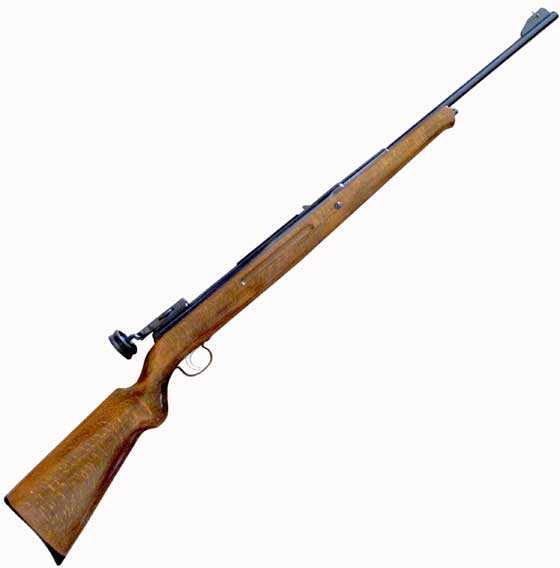 Diana model 50 underlever.
This report covers:
History
Findlay
Fortune smiles!
Not the first
Taploader — oh oh!
Description
Evaluation so far
Enough about straight razors and coin collections! Let's get back to vintage airguns. Today we begin a series that looks at the venerable Diana model 50 underlever air rifle.
History
According to the Blue Book of Airguns, Diana's model 50 was produced from 1952 until 1965, when the T01 variant took over. That one lasted until 1987, so in all the rifle had nearly a 4-decade run.
The model 50 is an underlever spring-piston air rifle that came in both .177 and .22 calibers. I think the .22 isn't as common, since the 50 was seen as a target gun and Europeans were already using .177 caliber for that. Maybe .22 was a nod toward marketing Americans, with whom the larger caliber was much more popular at the time.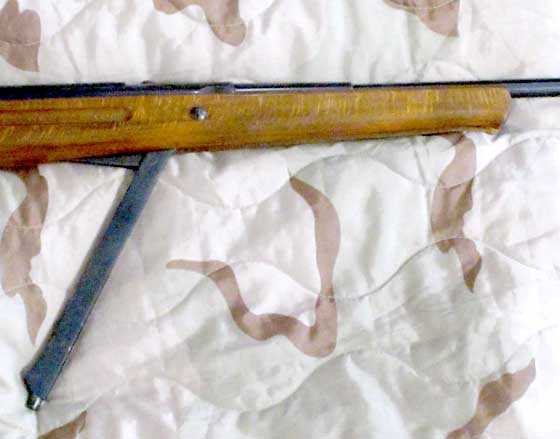 The underlever is short, but the rifle is still easy to cock.
Findlay
I acquired my rifle at this year's airgun show in Findlay, Ohio. That show is turning out to be one of the best airgun shows I ever attended! I was walking through the show and this rifle sort of jumped out at me from one of the tables near the center of the room. One thing that attracted me was the peep sight it was sporting. It is a type of Diana peep I have never seen, and it looked so good on the rifle. It reminds me of the Diana peep that was made out of a conventional rear sight, only this older one wasn't made that way. It is a dedicated peep.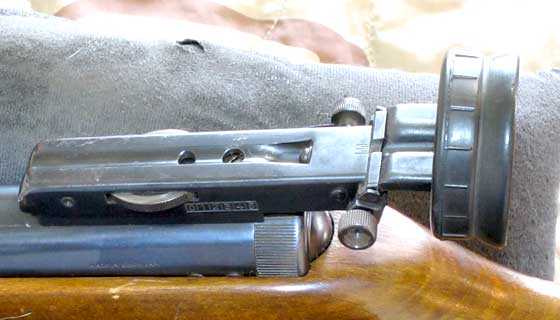 This Diana peep sight is one I haven't seen before. Naturally it's fully adjustable.
The other thing that caught my eye was the rifle's condition. At first glance it appeared to be 99 percent. With longer examination I'll knock that back to 92 percent, but it's still a pip! The bluing is 97 percent, but the wood has scratches, dents and finish loss that knocks it back to maybe 88 percent.
Fortune smiles!
Usually I'm the guy who buys the common airgun instead of the super-dooper one that's a rarer variation. This time was an exception. My rifle is what the Blue Book calls a Variant 3, which means it came with the rear peep and a 4-post front sight that the user adjusts with a dial to suit his taste. It has a thin perlkorn (a tapered post), a fat perlkorn, a squared-off target post and a post and bead. It's supposed to have a sheet metal hood over the sight, but that was missing on mine. This sight alone is enough to make me want this rifle! The only feature my rifle doesn't have is a larger target-style stock.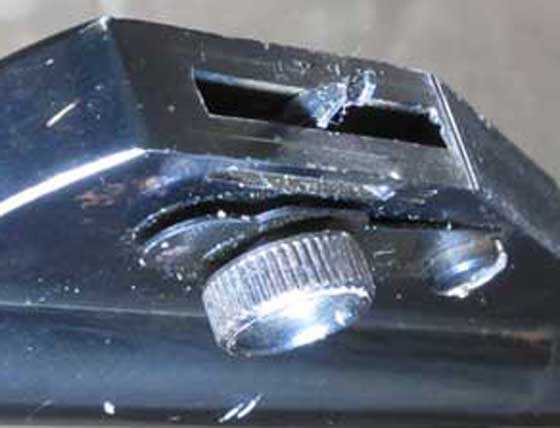 The bead on post. That dial selects which of the 4 posts you want.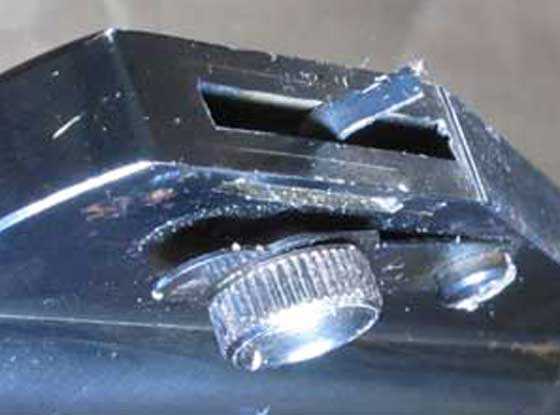 Target post.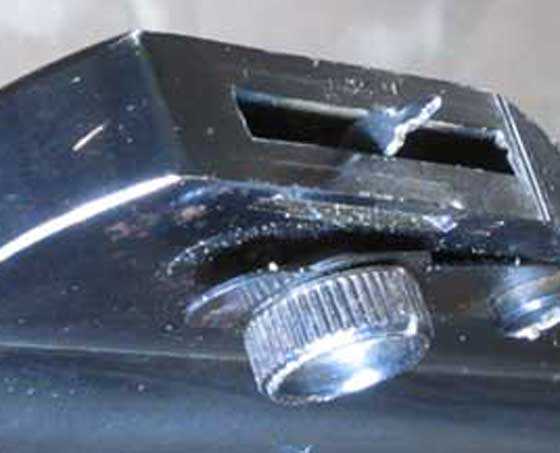 Narrow perlkorn.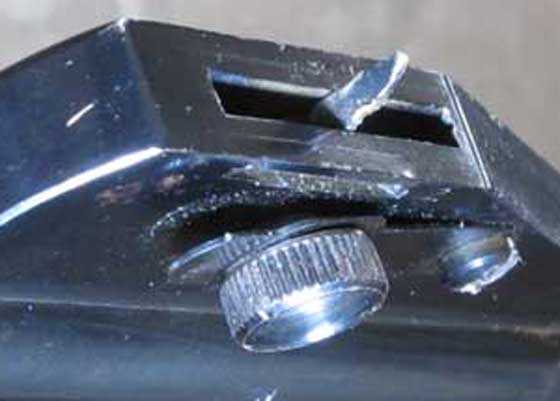 Wide perlkorn.
Not the first
This is not the first Diana model 50 I have owned. Back when I was writing The Airgun Letter in the 1990s I had a Diana 50 that I'm pretty sure must have been the later model with the T01 trigger. The stock was much thicker on that one and I didn't take to it. It was curious, but felt fat and clubby and was not something that grabbed me. This earlier model 50 is different. It's slimmer and just looks and feels right to me!
The rifle comes with an adjustable trigger, and for once I don't have to do much with it, if anything. It releases with very light pressure that I will measure for you in part 2. My guess is it releases at less than a pound. Since the T01 trigger didn't come about until 1965/66, I assume this one is Diana's ball-bearing trigger — a proven design that I love!

I'm pretty sure this is Diana's ball-bearing trigger!
There is no automatic safety. In fact, there is no safety at all! The loading tap keeps fingers safe during loading and I guess the rest will have to be left to the shooter.
Taploader — oh oh!
This rifle is an underlever that uses a loading tap to load the pellet. The tap is manual, so after you cock the rifle you must open it and drop in a pellet, nose-first. I never tried opening the tap until several weeks after returning home from Findlay. When I did try it for the first time I discovered it was very hard to move. So hard, in fact, that I thought the handle might break off.
I fixed that while writing this report with Kroil, a penetrating oil. First I filled the tap while it was closed, then I opened and closed it several times to distribute the oil. That helped a little. What really helped was when I did it a second time and tipped the rifle slightly to the right while opening and closing, to let the Kroil flow to the right side of the tap mechanism.
On the Diana 50 — at least on this older one — the loading tap does not go all the way through the spring tube. There is nothing visible on the right side of the spring tube. This is the first tap I have seen that didn't pass all the way through the tube. I am thinking that Kroil might have been the first oil to get to that side of the tap since the rifle was new, 60+ years ago.
The tap now moves much easier, though it is by no means loose. It still has resistance to turning, but that comes from the precision fit, not from sticky lubricants!
Description
The test rifle is 45 inches overall. The barrel is approximately 19.5 inches. The rifle weighs 8 lbs. 1 oz. on my balance beam scale. The stock is full-sized with a 13.5-inch pull.
The stock is beech wood with a medium brown finish and no checkering. Finger grooves run down both sides of the forearm, in classic European styling. The butt plate is hard black plastic with the Diana name inside a circle. It provides no slip resistance.
All the metal is well polished and deeply blued with black oxide. Even both sights are steel that has been blued. The only non-steel part that I can see is the aluminum trigger blade.
Evaluation so far
I'm excited about this rifle. It's well made and has several upgraded features — especially those target sights. I can't wait to try out that front sight. All things considered, I would say this is a classic!