by Tom Gaylord
Writing as B.B. Pelletier
Part 1
Part 2
Part 3
Part 4
Part 5
This report covers:
Daisy?
Daisy 599
Some history
NRA defines the youth target rifle
The deal
Back to the Edge
Specifications
Regulator
Barrel
Trigger
Stock adjustments
Weights
Velocity
Summary
I have already written a lot about the AirForce Edge recently. But now I'm writing about the target rifle. That is why this is Part 1. There are links to Parts 1 through 5, above, but they are the earlier report on the highly modified Edge.
I had been told that the only difference between the rifle I now own and a stock Edge target rifle was the large plenum that sat between the Edge reservoir and the rifle's action. But, as you can read in Part 5, that was not the case. The action had a heavier hammer and mainspring that I showed you.
As it turned out, virtually every part in my Edge had been changed — including an adjustment of the valve and regulator. I stopped trying to restore the rifle at that point and thought about what I was doing. I wanted a working Edge target rifle. This was not it. On the other hand, this rifle was performing beautifully in a completely different way. I did not want to ruin that, either.
What I did was buy the correct Edge striker and mainspring for the action and I bought a replacement reservoir from Air Force that was set up correctly. Now I have two very different air rifles. I have thoroughly tested for you the first Edge that was tricked out. Now I want to test the stock Edge that is the basis for what I am about to report, which is the two American 10-meter youth air rifles that dominate the world — the AirForce Edge and the Crosman Challenger PCP.
Daisy?
Yes, Daisy has had several different models of target rifles under the Avanti brand name, but they have never really caught on like the 853 once did. Currently they sell the model 887 target rifle, and I am sure it is a very nice rifle, but it has a CO2 powerplant that is not competitive at the highest levels, because of the temperature dependance problem with CO2. And, now that I've said that, some junior marksman is certain to win the national championship with one!
I tested the now-obsolete Daisy 888 back in the year 2000 for my Airgun Letter newsletter. It was a capable target rifle, but like the 887, it ran on CO2.
I competed for years in NRA national competition with a 10-meter pistol that ran on CO2. It was very good, but right when I was about to become Expert, my CO2 ran out in the middle of an important match and I threw a 6 when I was holding for a 10. The problem with CO2 is you can never tell how much liquid remains in the reservoir. And, because CO2 is regulated by evaporation, you don't know you're out until you are. A gauge is useless. So, those who shoot CO2 guns in competition must always be concerned with running out of gas. They have to rely on counting their shots. I laid out my 100-pellet tray for each match with that in mind. With air that's not the case.
Daisy 599
Daisy has figured it out and now produces a model 599 target rifle that is a PCP. It appears very BSA-like (read that as Gamo, who owns both BSA and Daisy), and it appears very ergonomic. I really should test one for you, because its retail price is just $600. For the purpose and scope of this series, however, I will have to ignore the 599 because I simply have no experience with it. Perhaps some readers can shed some light?
Some history
This section is why today's report is placed in the history section. The Edge is one of two rifles that were created in the United States for the NRA Junior Marksmanship program. It all started by a chance presentation at the SHOT Show, at the NRA-sponsored Airgun Breakfast. As they summarized what they were doing that year to promote shooting and marksmanship among American youth, the NRA told the airgunning world that over a million junior shooters compete each year in a multi-tiered competition that involves over 74,000 different teams around the nation.
When airgun manufacturers from around the world heard that there were more than a million kids in the NRA Youth Marksmanship Program, they perked up! Here was a market that, until this very moment, was being satisfied by just one single air rifle — the Daisy 853. I'm quite certain that Daisy was not happy that their very lucrative cat had just been let out of the bag.
Ah, but words and emotions come quick — real products take more time. The next year Air Arms showed up to the Airgun Breakfast with a gorgeous 10-meter rifle that had been scaled down for youth shooters. It had everything you could want, including some of the ergonomics we see on world-class 10-meter rifles. It also had a retail price tag of $995. Everyone admired it, but we all knew the NRA would never buy off on a youth target rifle that expensive. And they didn't. But neither could they say exactly what a youth target rifle should cost.
At this point all the manufacturers began talking to each other in smiles and meaningless words, which happens when they might be working on a product. Because I know the folks at AirForce I was aware that they were thinking of building a youth target rifle, but I didn't know for sure about anyone else. When I get into the testing of the Crosman Challenger PCP, I will tell you a little of what went on with them, but my perspective of that was from the outside, looking in.
NRA defines the youth target rifle
Up to this point in time the NRA knew exactly what a youth target rifle was. It was a Daisy 853. It was reasonably accurate and the price was affordable. And it already existed, so nobody had to do anything except use it.
Now that the can of worms was opened and dumped on the table, the NRA was tasked with defining what a youth target rifle should be — the size, the weight, the length, the sights, the trigger and, most importantly of all, the cost! They were delighted that the airgun manufacturers wanted to build youth target rifles, but until now nobody had really bothered to define what a youth target rifle was.
In one camp were the staid and stodgy old curmudgeons who thought youth target rifles should be dirt-basic and cost as little as possible. That way the greatest number of kids could compete. It sounds good until you coach a youth team and recognize you have one little girl who can out-shoot all the other kids and all of her coaches. She learned so quickly that she reached the limit of accuracy of the basic target rifles her team had to offer. Now she is blocked from advancing. Sure, her parents can buy her a better air rifle, but she will not be allowed to compete with it in NRA matches.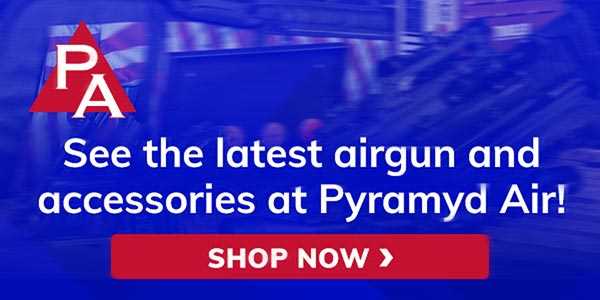 The deal
These conservative people will say that something like a youth marksmanship rifle needs to be accurate enough to hit an American dime every time from 10 meters. They really believe that is good enough, because they are not target shooters themselves. What is important, they will tell you, is to get rifles into the kids' hands so they can learn to stand properly and breathe properly and hit that dime every time. And — as far as that goes — they are right! For 95 percent of the kids who will ever shoot in youth marksmanship programs, that's good enough. But it isn't good enough for the boy or girl who wants to be able to hit Roosevelt's eye on that dime every time and knows that, with the right equipment, they can do it.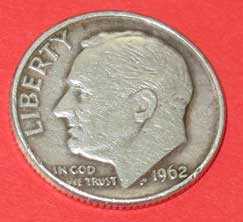 Our old friend the American dime. Hitting it with every shot from 10 meters is good — right?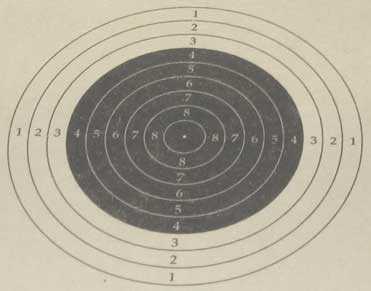 A 10-meter rifle target. The 10-ring is the dot in the center.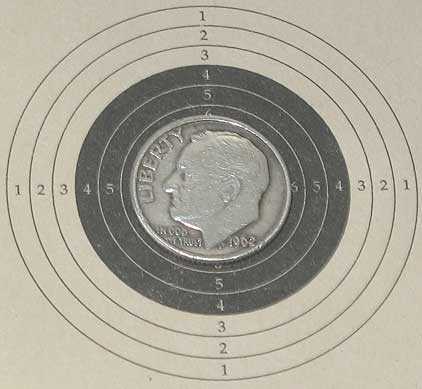 Here is the dime on the target. Hitting the dime every time from 10 meters is potentially good for a score of at least 6 on every shot — a score of 60 percent. Is that good enough?
In the beginning the NRA said that a youth target rifle had to cost $500 or less. That was about double what the Daisy 853 was selling for at the time, however it didn't give the designers a lot of wiggle room. Of course $500 was the price to clubs and individuals who could certify their child shot with an accredited NRA club. The cost to the public in general could be more, though not a lot more.
The target-shooting camp that is opposite from the ultra-conservatives appreciates the need for accuracy. At the same time they are aware that accuracy costs movey, and there has to be a cut off at some point, or there will be no youth marksmanship program.
This is where it gets tough. The Daisy 853 is not accurate enough to hit the 10-ring every time from 10 meters. But it is more accurate than something that can always hit a dime. An 853 shooting the right pellets is capable of hitting the 8-ring or better every time. That's probably okay for most shooters, or it was for several decades as far as Daisy and the NRA were concerned. But, with the world looking over their shoulder, what was the NRA supposed to ask for? They clearly were not sure and it took time to refine their specifications to the point that everybody was satisfied.
And — by the way — there is no accuracy specification for a target rifle, and there never has been! What I am presenting to you right now is the reality of the world in which all youth target rifles must live. Naturally everyone wants them to be perfectly accurate and just as naturally, none of them are. World-class target rifles that compete in the Olympics aren't perfectly accurate, so how could something that costs far less ever be?
Back to the Edge
From this point on I will talk about the development of the Edge. We will return to more of the history of this situation when I transition over to the Crosman Challenger PCP.
The Edge was three years in development, during the time that the NRA and CMP were refining their specifications for a junior marksmanship target rifle. Each person involved in the process of opening the competition to airguns other than Daisys was able to say, "No" but nobody wanted to say, "Yes" to what a junior marksmanship rifle had to be. For several years it seemed like Spanky and Our Gang had been asked to produce a Broadway show!
The Edge is the most ergonomic 10-meter junior target rifle ever created. It does it with AirForce's traditional aluminum extruded frame — a fact that turns off some shooters, though the approach presents boatloads of possibilities for personalization and fit. It has a trigger that was designed for dry-firing, and its American-made sights are the only target sights currently being produced in this country.

The graphic above the trigger details how to use the Edge's dry-fire capability.
In 2009 I was involved in testing the first Edge before production began. I told you a little about that experience in Part 7 of the 7-part Edge report I wrote in 2009-2010. My point in telling you that today is to tell you that, with the right pellet, the Edge will hit the 10-ring from 10 meters about 95-96 percent of the time. At least that has been my experience thus far. That level of accuracy is far and away better than an 853, and I mean no criticism of the 853 by saying that. I own an 853 that I enjoy thoroughly.
Specifications
The AirForce Edge is a precharged pneumatic (PCP) 10-meter target rifle that was designed specifically for the NRA and CMP youth marksmanship programs. It has a globe front sight with interchangeable clear plastic inserts that are used by all world class shooters today. The rifle comes with a single insert that has a 4.0mm aperture that is on the high side of the right diameter for me. I generally select a 3.8mm aperture.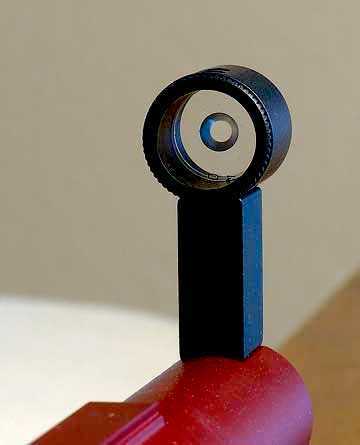 The Edge front sight is a globe with interchangeable clear plastic inserts. This one is 4.0mm.
The rear sight is the only 10-meter target sight that is currently made in the USA. It's not only fully adjustable, it's also mounted on a stalk and therefore has a broad range of adjustability for elevation.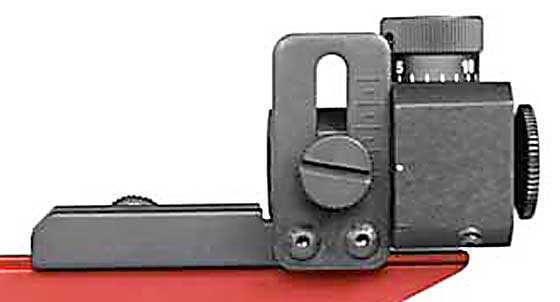 The Edge rear sight is fully adjustable, plus it's mounted on a stalk that gives it even more vertical adjustability.
Regulator
The Edge has a regulator that controls the amount of air that leaves the reservoir. It's not user-adjustable, but with a 10-meter rifle such things get set and never touched. This may bother airgunners who aren't used to 10-meter guns, but it is common in target rifles. I will naturally do a shot count when I report on the velocity.
Barrel
The Edge barrel is a 12-inch .177-caliber Lothar Walther barrel. Since target rifles only come in .177 caliber, there are no other calibers available. But, because the Edge is an AirForce modular rifle, it is possible for owners to install other barrel lengths and calibers if they wish. You will recall in Part 3 of this series that I installed an 18-inch barrel that got 100 f.p.s. faster velocity than the factory 12-inch barrel. Of course that was with the souped-up Edge I was testing — not this stock one.
Trigger
The trigger adjusts two ways. The weight of the let-off can be adjusted down to the NRA-specified minimum of 1.5 lbs. The position of the trigger shoe can also be adjusted up and down. Don't forget that if the shoe is down the trigger blade has been made longer, and since it is a lever it also affects the let-off weight.
This is one place where my test rifle will differ from the factory one. Someone has adjusted the 2-stage trigger on this rifle to a fine release of one pound, exactly. The first stage measures 0.7 ounces and will feel like nothing to most shooters who will think this is a single-stage trigger. It's a shame youth shooters can't use a trigger this fine. I have no intention of fiddling with it.
Stock adjustments
The length of pull is adjustable from 12.25 inches to 17.25 inches. The buttplate has three mounting holes for differing amounts of drop, plus the toe at the bottom can be swiveled to either side, but the plate does not cant in toward the shooter or out and away.
The ambidextrous cheekpiece slides up and down to suit the shooter. My advice is to first set the buttplate height (and I always set a slight toe-in) and the length of pull where you want them and then adjust the cheekpiece. If you keep the pull short and the buttplate down as far as it will go, the peep sight will come up to your eye easily in my experience.
The forearm slides along the bottom accessory rail of the rifle. I keep it adjusted in as close to the triggerguard as it will go.
Weights
The Edge has an optional weight set to balance the rifle for different shooters. NRA rules allow the rifle to weigh up to 7.5 lbs. For many juniors that weight is equivalent to the 10-13 lbs. that a world-class adult rifle weighs. Since the Edge weighs in at 6.15 lbs. the optional weight set gives you flexibility of not just the overall weight, but also of the rifle's balance. Along with the other adjustments, it allows the rifle to grow with the shooter.
Velocity
The rifle I tested back in 2010 averaged 525 f.p.s over the first 100 shots following a 3,000 psi fill. That was with 7.56-grain H&N Finale Match Pistol pellets that are no longer available. I will test the current rifle with several pellets you are likely to use, plus I will give you a shot count.
Rebuilt Edge powerplant and reservoir
Now it's time to reveal what I have waited since February 3rd to tell you. Back then, in Part 5, I showed you the parts that were in my Edge powerplant, but I didn't show you what is supposed to be there. I went to AirForce and bought the parts that are in the stock gun as it's built today. Let's look at the difference.


What came out of my Edge is on top. That's a TalonSS mainspring and a heavy steel striker. What is supposed to be in the Edge of today is below. The long plastic spacer on the left allows the lightweight mainspring to move the lightweight plastic striker on the right fast enough to open the Edge valve.
The Edge has changed over the years it has been produced and the heavier striker and more powerful spring shown here may indeed be the stock parts from 2010. But at some point AirForce discovered a way to set up the regulator and valve so the lighter spring and striker can do the same job. The current parts allow for better air conservation — a factor that will become important as this report that advances.
I also discovered in Part 5 that the regulator in my Edge reservoir had been adjusted to work with that enlarged plenum and the heavier powerplant parts. Instead of tuning that reg. back to factory standards, I purchased a new Edge butt complete with the new reservoir, regulator and valve. The rifle I'm now testing is completely stock except for the modified trigger. I have more to tell you about that when we get into the velocity test.
Summary
To summarize today's report, the AirForce Edge target rifle can be described by a single word — Value. The price has increased since 2010, but that is the nature of things. At the retail price of $760, it's still the lowest-priced competitive 10-meter target rifle in the Sporter class. I say that without experience with the Daisy 599 that may be competitive, but I don't know.
I know there are junior marksmen still shooting Daisy 887s and 888s. There are probably more than a few still shooting the 853. And, no doubt, we will soon hear about the newer Daisy Avanti 599 that I need to test.
The Edge is highly ergonomic, has a wonderful adjustable trigger with a convenient dry-fire capability, has American-made target sights that are world-class, gets lots of shots on a fill and is accurate. Of course we will test all of that and put quantitative numbers to whatever we can.
Remember what this series is about. It's about the AirForce Edge and the Crosman Challenger PCP — the only two target rifles that were created in the United States specifically to compete in the Sporter class of the NRA Junior Marksmanship Program within the NRA Marksmanship Qualification Program.