by Tom Gaylord
Writing as B.B. Pelletier
This report covers:
Start testing accuracy
Bug Buster 3-12X32
The test
Sight in
JSB Exact Jumbo
RWS Superdome
Beeman Kodiak
Sig Crux Pb
Air Arms 16-grain domes
Beeman Devastator
Sniper Magnum
Magazine — the final test
Summary
Seldom has a day like this happened in this blog — and I mean that in the best possible way! This is going to be a biggie!
Start testing accuracy
Today we start testing the accuracy of the Air Venturi Avenger that I'm testing. So far the Avenger has stood up very well and I have been hoping that it's as accurate as everyone seems to say. Well — it is! I have a lot to tell you, so let's get started.
Bug Buster 3-12X32
I have been thinking about this test for a long time and wondering which scope to mount. The Meopta Optika6 is the best scope I own and would do very well on this rifle, but the Avenger is a lightweight PCP. How about a scope that's suited to the concept of light weight? I mounted the UTG Bug Buster 3-12X32 on the rifle and it seems ideal to me.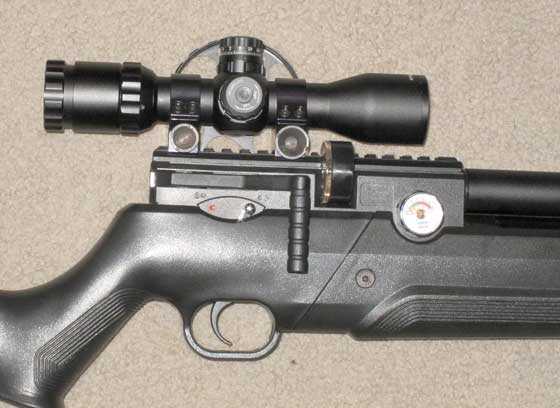 BB finds the UTG Bug Buster 3-12X32 scope ideal for his Avenger! It can be mounted far enough to the rear that the eye relief is perfect.
Bug Busters are great scopes but some rifles limit where they can be mounted and that creates an eye-relief problem. Not so the Avenger! Old BB would be proud to have designed this one!
The test
I want to give the Avenger a thorough test for accuracy because it is stacking up to be one of the finest PCPs on the market at any price — and I mean that! So today I am trying to find the one or two really accurate pellets to test at greater distances.
I am testing the rifle at 10 meters and shooting 5-shot groups so I can shoot more pellets. Ten meters is nothing for an accurate air rifle, but you have to start somewhere, and knowing the best pellets will help me in the next tests at greater distances. I shot with the rifle rested on a sandbag and I used the single-shot tray until the end of the test. I did test the magazine, as well, and I will tell you when I did that.
Sight in
I sighted-in at 12 feet, which this lightweight combo makes very possible. I dialed the scope magnification down to 3X and set the parallax as close as it would go. It took me six shots to get on target, and I will say right now that I purposely did not zero the rifle perfectly, in order to preserve my aim point. Once I was sighted in I only adjusted the scope once more. I will add that this scope adjusts on the first shot and seems to have no stiction (when the point of impact changes slowly, over many shots, after a scope adjustment). Let's go!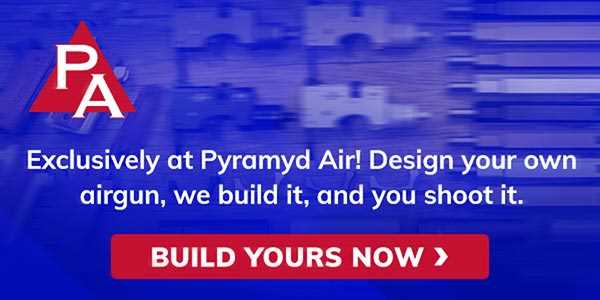 JSB Exact Jumbo
The first pellet tested was the JSB Exact Jumbo. After the first shot I watched the group grow slowly. I knew I had a winner right out of the bag! That's five shots in 0.136-inches, and folks, that earns the coveted gold dollar — my smallest comparison coin.
An American dime is 17.91mm in diameter. The trime (silver three-cent piece from the mid-1800s) that you will also see today is 14mm in diameter. The type 1 gold dollar (also from the mid-1800s) that I use is 13mm in diameter.
My group comparison standard is to use a dime for groups of 0.20-inches between centers and larger. For 0.15-inches to 0.199-inches I use the trime for comparison, and for groups smaller than 0.15-inches, the gold dollar is used.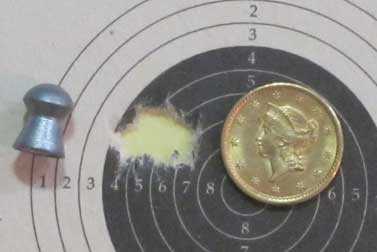 At 10 meters the Avenger put 5 JSB Exact Jumbo pellets into a group measuring 0.136-inches. Yes, I was shooting too close to say much more, but this is a splendid start!
This group was just a little too far to the left, so I adjusted the scope several clicks to the right. This was the last time I touched the scope!
RWS Superdome
The second pellet I tested was the .22-caliber RWS Superdome. Five of them went into 0.212-inches at 10 meters. With most other air rifles this group would have me jumping up and down, but today I can say it's okay but not special! Wow!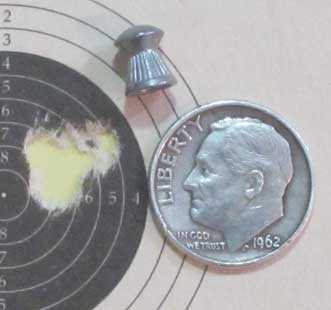 The Avenger put 5 RWS Superdomes in 0.212-inches at 10 meters. For this rifle, it's just okay!
Beeman Kodiak
I next shot 5 Beeman Kodiak pellets that are the same as the H&N Baracuda. I wish I could tell you the head size, but Beeman didn't put that on the tin. I could measure them with a Pelletgage, but that would not necessarily translate to a Baracuda head size that's printed on the tin.
This group took my breath away because it is as good as any 10-meter rifle I have tested! Five shots are in 0.082-inches at 10 meters. After the first shot I really could not see the group growing any larger. Robert Beeman used to tell us why .177 caliber was best for target shooting, but aside from the rules that mandate that caliber for matches, it really makes no difference.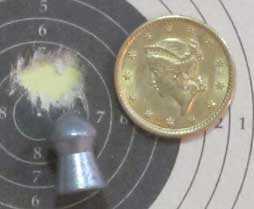 Five Beeman Kodiak pellets went into 0.082-inches at 10 meters. This is the smallest group of the test. As you can see I almost shot my aim point away.
At this point in the test I could see the way things were going. I wasn't necessarily looking for the most accurate pellets as much as I was looking for the ones that aren't accurate. That's a big difference and it only happens infrequently with special air rifles, so I'm enjoying it. It was time to try some pellets I seldom use in tests.
Sig Crux Pb
Next up were five Sig Crux Pb domed pellets. They went into a group that measures 0.314-inches center-to-center. On any other day that would be significant, but not today.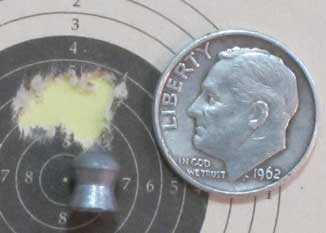 Five Sig Crux Pb pellets made this 0.314-inch group at 10 meters.
Air Arms 16-grain domes
The Air Arms 16-grain dome is a premium pellet that I don't often include in tests because it is so similar to the JSB Exact Jumbo that weighs 15.89-grains. But today I'm glad that I did because 5 pellets went into 0.125-inches at 10 meters. It's the second-smallest group of the test and deserving of another gold dollar!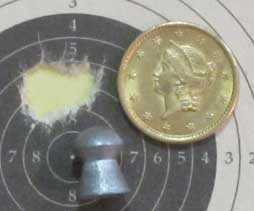 Five 16-grain Air Arms domes went into 0.125-inches at 10 meters. It's the second-smallest group of the day.
Beeman Devastator
Beeman Devastators are no longer made. They were a hollowpoint pellet with a special head that expanded rapidly. The Avenger put five of them into a group measuring 0.185-inches between centers. It earned the only trime in today's test.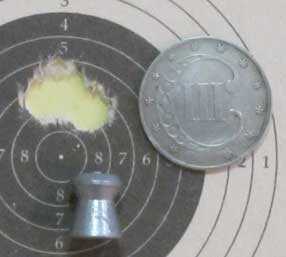 Five Beeman Devastators made a trimeworthy 0.185-inch group at 10 meters.
Sniper Magnum
Next to be tested were five H&N Sniper Magnum pellets. These odd-looking domes made a 0.228-inch 5-shot group at 10 meters. They also shot away my aim point on the third shot — or at least that's what it looked like before I saw the enlarged image. It's possible that this group might have been smaller if I had not had to guess where the center of the bull was on shots four and five. This is a pellet to try again.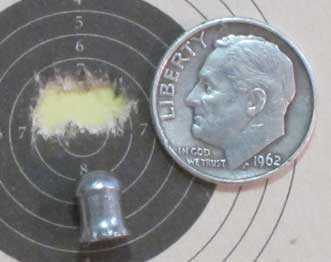 Five H&N Sniper Magnums went into 0.228-inches at 10 meters.
Magazine — the final test
Now I tested one of the two magazines supplied with the rifle. They are conventional rotary mags that we see on so many repeating PCPs today. I loaded all 10 JSB Exact Jumbo pellets into the mag, which turned out to be a very good thing when you see what happened.
The first shot went high and to the left of the center of the bull — very close to where the pellets had gone in the first group, but a little to the right of that one. Okay! Then the next 9 shots went into a group that measures 0.126-inches between centers. This group is high and slightly right of the center of the bull. Those 9 shots would earn the fourth gold dollar if not for that first shot. That shot opens the group to 0.449-inches. What happened? It's open for discussion. I watched shot two open the group and was heartbroken, except that the next 9 shots all went into the same little hole.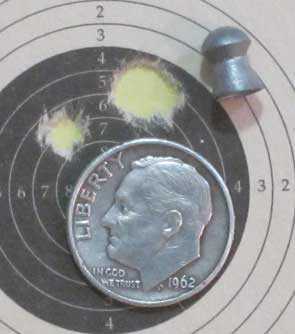 Yep — there are 9 pellets in the round hole above the dime. Only shot 1 was to the left. Ten JSB Exact Jumbos in 0.449-inches at 10 meters with 9 in 0.126-inches.
Summary
Do I even need to say it? Well, I will. This Avenger I am testing is the most accurate .22 pellet rifle I have tested this year and it's in contention for the best of all time! And this is a PRICE-POINT-PCP — one that's sporting a $125 scope! I tell you, guys, airguns like this don't come along that often.
Yes today was just at 10 meters, and no, that doesn't really constitute an accuracy test for a PCP like this. But it has my attention. This rifle may not be going back to Pyramyd Air after this test is complete.
The trigger isn't perfect, but it's really good. The shot count is off the charts. I'm shooting with the reg. turned all the way down and the hammer spring tension as low as it will go, but in Part 3 we learned that still gives us power in the 22-24 foot-pound region. I will take it!
Will every Avenger in all three calibers be just as good as this one? I don't know, but I certainly hope so.