by Tom Gaylord
Writing as B.B. Pelletier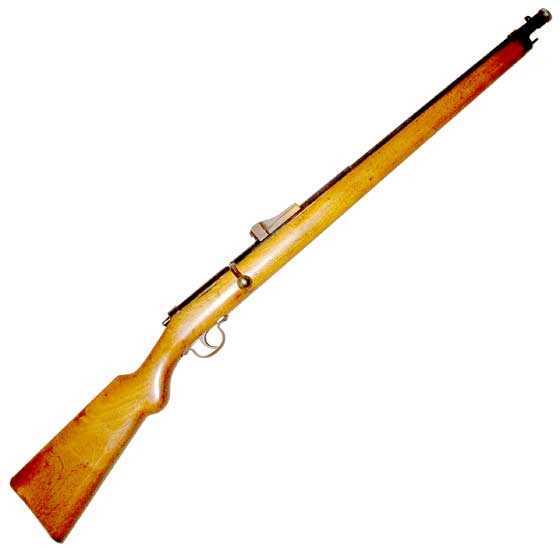 This military-looking BB gun is large and good-looking!
This report covers:
Lead balls only
The test
4.4mm copper-plated lead balls
Trigger pull
4.4mm Punktkugeln
H&N 4.45mm lead ball
What we know
The last step
Summary
Today we look at the accuracy of the Tell BB gun. I think this is going to be a very interesting report, so let's get started.
Lead balls only
I waited to do this test because I was considering what to do about the inaccuracy of steel BBs. At two feet they were spreading out to three inches apart. That would mean that at 5 meters (16 feet) the spread would be several FEET. I thought about shooting them closer to the target but what's the point? If they are that inaccurate I'm never going to shoot them anyway. So I decided to run this accuracy test at the standard 5-meter distance with larger lead balls.
The test
I shot from a seated position, 5 meters from the target. I used the UTG Monopod to rest the gun on. I used a 6-o'clock hold on the bull.
4.4mm copper-plated lead balls
The first balls I shot were the 4.4mm copper-plated lead balls that I bought to shoot in my Haenel 310. I measured a couple of them after the test and they measure 0.1715 to 0.172-inches in diameter. That's about the same as the Daisy Premium Grade steel BBs I tested in Part 2. I thought they were larger than that. According to my caliper 4.4mm is 0.1735-inches. My conversion software says 4.4mm is 0.1732-inches. Well, these balls don't measure that wide.
I shot just 4 times at the target and stopped when 4 balls went into 5.57-inches between centers. I could see these balls were not that accurate and I stopped before I had an accident.
Trigger pull
The Tell trigger is two-stage and works well some of the time. The rest of the time it fires before I am ready, so the hold has to be perfect. The trigger is light, but too vague for good work.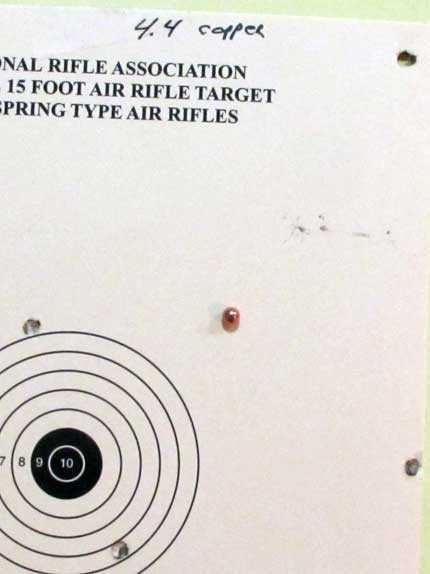 Four 4.4mm copper-plated balls went into 5.57-inches at 5 meters and I stopped shooting them. When I measured the balls they were smaller than advertised.
This is such a robust gun that I was hoping it would be as accurate as a Daisy 499. It sure is fun to shoot!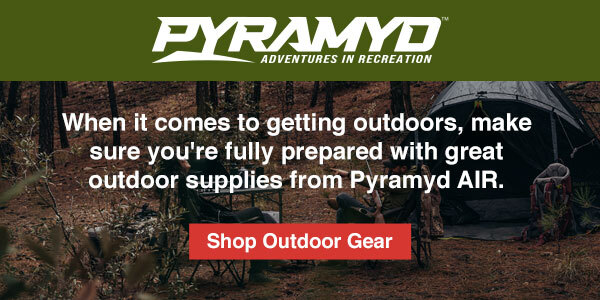 4.4mm Punktkugeln
The next ball I shot was another 4.4mm lead ball, but these measured a little larger than the others. They are a very uniform 4.4mm in diameter and my caliper says they measure 0.173-inches. The slight difference between these 4.4mm balls and when I just set the caliper at 4.4mm and pushed the button to convert from millimeters to inches confuses me, but that's what it is.
This time all 10 balls stayed on the paper target at 5 meters. They went high and to the right of the bull and I can't do anything about that because the gun's sight doesn't adjust very much. So, I just shot the group. Ten balls went into 3.7-inches, c-t-c at five meters. That's a big group, for sure, but it's ten shots instead of four.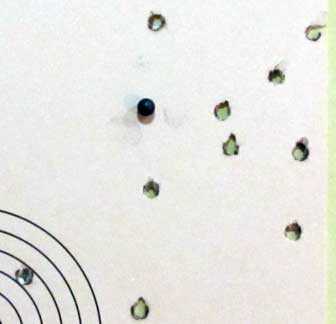 Ten 4.4mm lead balls made this 3.7-inch group at 5 meters. It's large but all 10 shots are on the paper. I didn't use the dime because why would I?
Okay, I was seeing an increase in accuracy as the size of the ball increased. So I went to a larger ball. I had a tin of H&N 4.45mm balls and had tested them in the Part 2 velocity test. Now I shot them at the target.
H&N 4.45mm lead ball
Ten 4.45mm lead balls went into a group that measures 3.06-inches between centers. As before a diameter increase in the ball produced a smaller group. There is something to be learned here.
This time 9 of 10 balls were on the paper and one was slightly off to the right. I photographed the target in situ for you.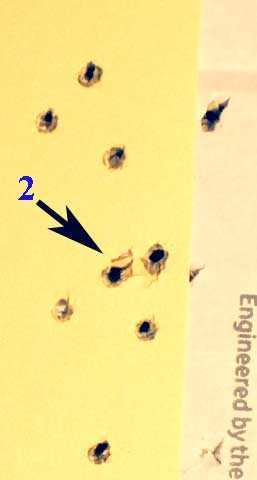 One ball at the high right just missed the target paper. And two balls went through the same hole. Ten 4.45mm lead balls measure 3.06-inches between centers at 5 meters.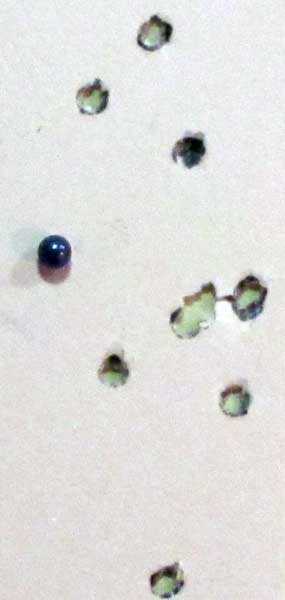 Same target with just the shots that hit the paper. Nine of 10 4.45mm balls are in this 3.06-inch group. The ball that missed the paper did not enlarge the group.
What we know
So far we have learned that the larger the ball, the more accurate this gun shoots. But what is larger than 4.45mm? Why 4.5mm, of course. I loaded 10 Beeman Perfect rounds into the gun and shot the next target. This was the first ball that did not fall into the barrel all the way to the breech. I used a .177 Dewey cleaning rod to press the ball all the way down. But after 5 shots the balls began to fall all the way down by themselves. I still used the rod to check that each ball was all the way down.
Ten Beeman Perfect Rounds went into a group measuring 1.96-inches between centers at 5 meters. Another group reduction with a larger ball!

Now we are getting somewhere. Ten 4.5mm Beeman perfect rounds made this 1.96-inch group at 5 meters.
The last step
Okay, have I gone as far as I can go? Not quite. Because I shoot and write about zimmerstutzens, I have acquired a small sample of different size lead balls over the years. One ball is a 4.55mm size. It's called a number 12 ball, which is the new size designation. The old size number was 9.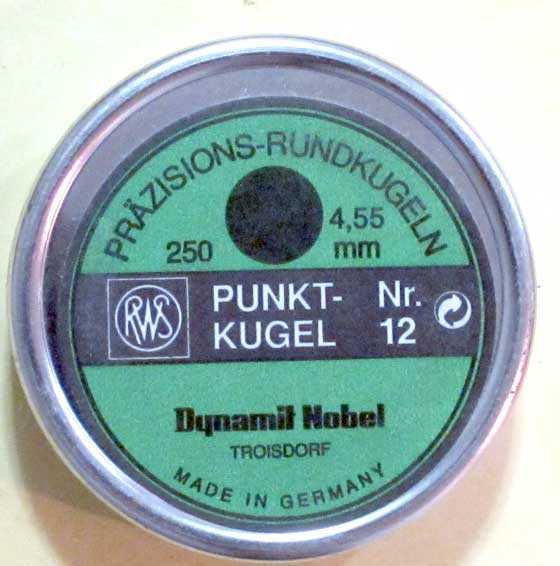 I had a tin of 4.55mm balls.
And, look what they did. Ten balls went into 0.877-inches at 5 meters.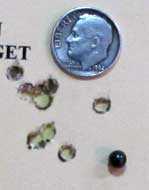 Ten 4.55mm balls in 0.877-inches at 5 meters.
I think the last group confirms what I suspected. The shot tube prefers larger balls. I can't do anything about the shot placement that is still high and right, but the grouping is a clear indication of what this BB gun wants.
Summary
This was an interesting test, because we got to watch as the tolerances shrunk, so did the groups. That is an important lesson for anyone who is involved in smoothbore shooting.