Benjamin's new Semiauto Marauder repeating PCP.
Part 1
Part 2
Part 3
Part 4
Part 5
This report covers:
The test
First group — JSB Exact RS
Air Arms 16-grain domes
H&N Baracuda 18
Crosman Premiers
Summary
Today I test the Benjamin Marauder Semi-Auto (SAM) air rifle at 50 yards. This test has been a long time coming, because Part 5 was written in January.
The test
I said in Part 5 that I was going to single-load the rifle. Well, that didn't happen and it was intentional. Single-loading this rifle requires tweezers. I had a 10-15 mph headwind at the range with the gusts increasing as time passed and I had several tests to conduct, so time was of the essence. I used the 10-shot magazine for today's test.
I knew the rifle wouldn't be on target at 50 yards because it was sighted for 25 yards from the last time I shot it , so I shot the first group as a sighter, but I shot all 10 shots and it counts as a group. Remember how I praised the scope in Part 4? Well, at 50 yards that UTG Accushot SWAT 4-16X44 proved its worth. I was able to see the etched glass crosshair in the middle of the black 10-meter bullseyes I was shooting at. That reticle is thin but distinctive.
First group — JSB Exact RS
I started with the JSB Exact RS pellets because they did really well in past tests. I waited until the wind died down and fired shot one. The first pellet struck the paper 1.5 inches to the right and 2 inches below the aim point. But the wind was moving my shots around until I remembered something. Target shooters wait for a lull in the wind and then shoot several shots as fas as they can. Since this rifle is semiautomatic, I was able to do that easily. My last 6 shots went into one hole that measures 0.437-inches between centers. The whole group measures 1.275-inches between centers.

The first group of JSB Exact RS pellets went into 1.275-inches at 50 yards, with 6 of them shot during a lull in the wind going into 0.437-inches.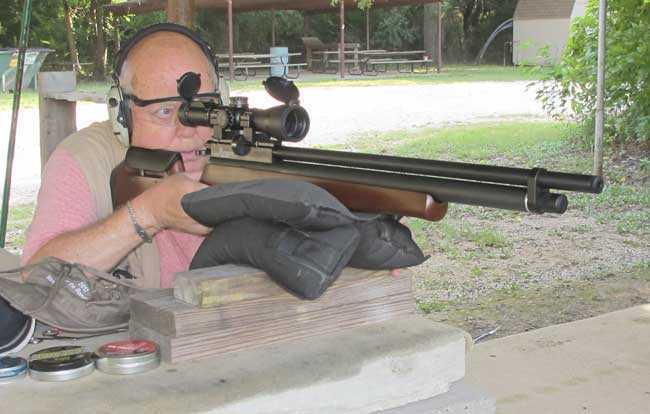 I include this picture because a new reader asked me to show him how I shoot.
I adjusted the scope up and to the left after the first group.
Well, that was a pretty good start. Now that I knew what to do I figured I could just wait out the wind the second time and do better. But that didn't happen. Though I did wait for lulls, the second group was larger and more open. Ten shots went into 1.928-inches at 50 yards. This time, even though I fired semiauto when there was no wind, I still got a lateral spread. I'm thinking there was wind down near the target that I wasn't aware of.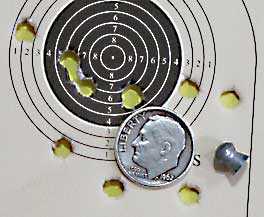 Group two of the JSB Exact RS pellets wasn't as good as the first group. Even though I waited out the wind, I got an open group with a lateral spread of 1.928-inches at 50 yards.
Air Arms 16-grain domes
Air Arms 16-grain domes had done poorly in the test when loaded into the magazine and very well when loaded singly — both at 25 yards. Unfortunately I looked at the single-shot group and therefore took them to the range to test. Wow — they were horrible! Ten shots landed in 3.864-inches at 50 yards!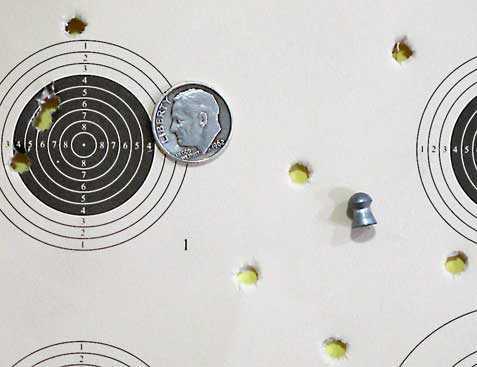 Ten Air Arms 16-grain domes went into 3.864-inches at 50 yards — yuck!
Well, that was a waste of time. Next I tried that new pellet I'm starting to test.
H&N Baracuda 18
Ten H&N Baracuda 18 pellets made a 1.624-inch group at 50 yards. I was still waiting out the wind, but it was no longer dying out completely. Now this sounds like a larger group, but look at it, the Marauder Semi-Auto was trying to stack pellets. It was just fighting the wind. And the Baracuda 18 is turning out to be a very good pellet.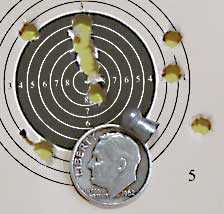 Ten Baracuda 18s made a 1.624-inch group at 50 yards despite the growing wind.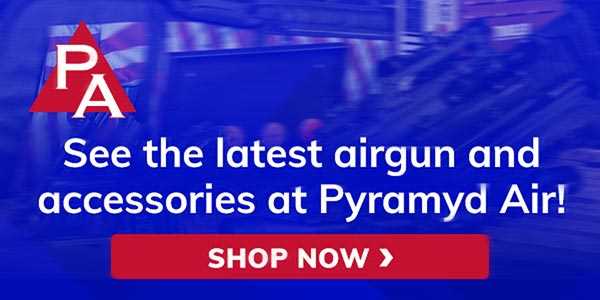 Crosman Premiers
The last pellet I tested was the Crosman Premier that did so well at 25 yards. But at 50 yards in the wind the SAM put 10 Premiers into a 4.849-inch group. It's the largest of the test, though only because of a single pellet. The other nine are in 2.304-inches at 50 yards. That's not a great group, but for this day its in the ballpark. That one pellet just didn't want to stay with the others and I don't know why.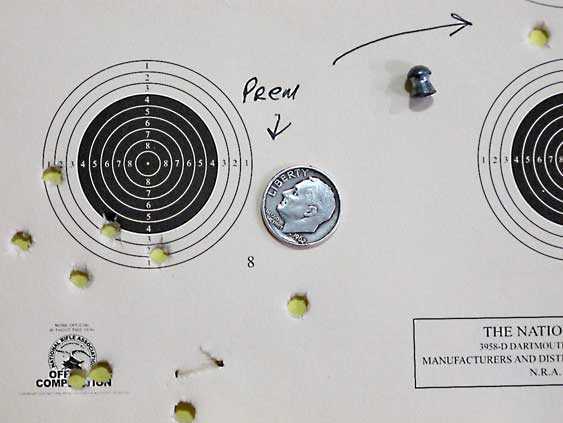 The SAM put 10 Crosman Premiers in 4.849-inches at 50 yards, with 9 in 2.304-inches.
Well, that was the test. I also tested another rifle at 50 yards that you'll be seeing later this week.
Summary
Was today's test a good one? From the standpoint of the absolute best this SAM will do, then no — this wasn't a good test. I already proved that the rifle does better when loaded singly in the 25-yard test in Part 5. However, this is a semiautomatic rifle, so single-loading defeats the whole purpose of the rifle.
Should I have tested in the wind? Again, no, but we have waited for 8 months to test this rifle at 50 yards and Texas is a windy state. I have gotten ready to go to the range many times only to be turned away by the wind. Arrrgh!
Am I going to test it again at 50 yards. No, once more. I think the group of JSB RS pellets at the start and the Baracuda 18s show that the SAM is an accurate rifle. In my opinion, though, a shooter trying to make small groups is better off with a single shot tray and shooting a standard bolt-action Marauder. The SAM is for hunters, which is where those extra shots come into play.
For the guy who wants to put a lot of pellets downrange in a hurry, the Benjamin Marauder Semi-Automatic is a good way to go.