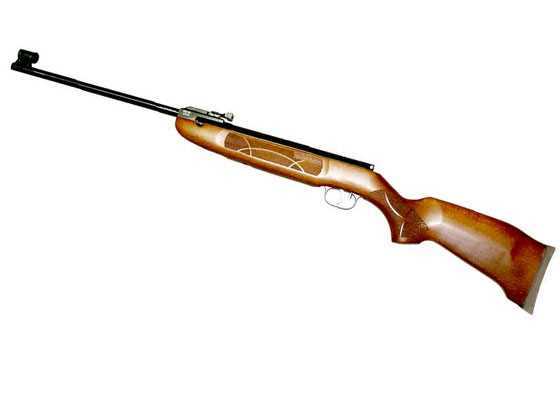 The HW 30S.
Part 1
Part 2
Part 3
Part 4 — Rekord trigger
Part 5 — lube tune
Part 6
Part 7
Part 8
Part 9
This report covers:
Cleaned the barrel
Mounted the Edge target sight
The test
Sight-in
JSB Exact 8.44-grain domes
JSB Exact Heavy
Adjusted the rear sight
RWS Meisterkugeln Rifle
Qiang Yuan Training pellets
RWS R10 Match Pistol
Shot cycle
Velocity
Summary
Today we look at the accuracy of the HW 30S, now that it has the Vortek PG3 SHO kit installed. I still need to test the velocity of this kit, as well, but I decided to test accuracy first, to give the parts a chance to settle in.
Cleaned the barrel
The first thing I did was clean the barrel with a bronze bore brush and JB Non-Embedding Bore Cleaning Compound. That took about a half hour, but when finished I knew the barrel was as good as it was going to get.
Mounted the Edge target sight
You may recall that sporting aperture sights that I tried were all too high to work with this rifle. So the first thing I did was remove the rear sight. Then I installed the Edge target aperture sight that has a huge range of adjustability. Pyramyd Air sells it at $142, making it without question the best bargain on today's target sight market. Nothing made by Walther, FWB or Anschütz has such adjustability.
I adjusted the sight as low as it will go. It has a gross height adjustment and a fine one. I put the gross one all the way to the bottom.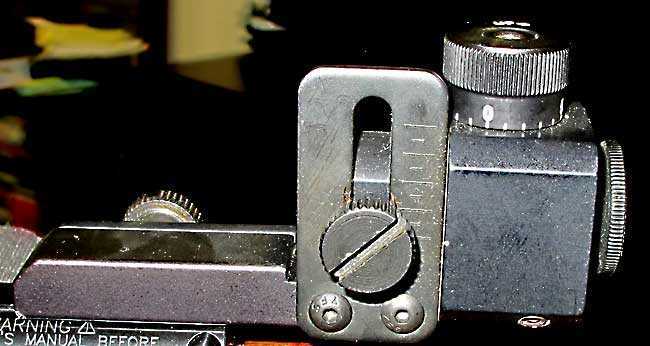 The whole sight unit slides up and down on that post. The knob on top is for fine elevation adjustments.
The test
I shot 5-shot groups from 10 meters off a sandbag rest. The rifle rested directly on the bag.
I shot with the post front sight. That was a mistake, because I do have front aperture sights for this rifle. So, today we'll see how well I do with a front post.
Sight-in
It took me 6 shots to get on target. The first two shots went wide because the rifle fired before I was ready. This hasn't happened to me in over 20 years, but that trigger is set so light that I goofed twice. Then I shot the first group.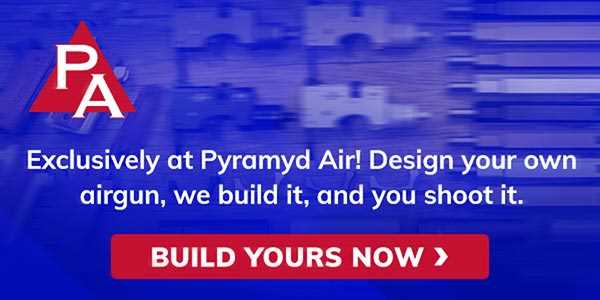 JSB Exact 8.44-grain domes
At ten meters five JSB Exact 8.44-grain domes went into a cloverleaf group that measures 0.254-inches between centers. That's a very nice group and in the same neighborhood of the best this rifle has done so far, which is 10 RWS Superdomes in 0.20-inches at 10 meters.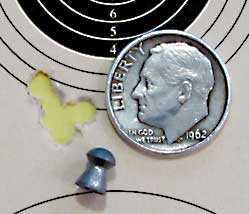 The HW 30S put five JSB Exact 8.44-grain domes into 0.254-inches at 10 meters.
This first group was low, but I didn't adjust the rear sight yet. I wanted to see if the impact point would shift a lot with other pellets. The next one was quite a bit heavier
JSB Exact Heavy
Next up were JSB Exact Heavys that have been very accurate in this rifle. The HW 30S put five into 0.174-inches, which is the smallest group this rifle has ever fired. Of course it is only 5 shots and I have shot other 10-shot groups, so we can't really make comparisons between them.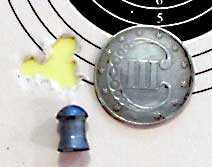 Five JSB Exact Heavys are in 0.174-inches at 10 meters. Now, that's a group!
Adjusted the rear sight
After this group I adjusted the rear sight up several clicks. While different pellets will land in different places, I felt they all needed to go up.
RWS Meisterkugeln Rifle
Next up were five RWS Meisterkugeln Rifle pellets. The HW 30S put them into 0.271-inches at 10 meters. This rifle really wants to shoot!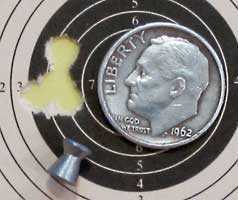 Five RWS Meisterkugeln wadcutters went into 0.271-inches at 10 meters.
I didn't adjust the rear sight again. But look where the next pellet went.
Qiang Yuan Training pellets
Next to be tested were five Qiang Yuan training pellets that have proven accurate in many airguns. The HW 30S put 5 into 0.326-inches at 10 meters. That turned out to be the largest group of the day, and it's still a good one.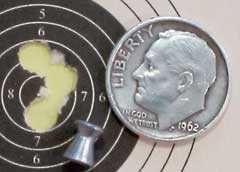 Five Qiang Yuan Training pellets went into this 0.326-inch group at 10 meters.
RWS R10 Match Pistol
The last pellet I tested was the 7-grain RWS R10 Match Pistol pellet. The HW 30S put five of them into a 0.178-inch group at 10 meters. It was so close to the best group of Heavy JSB Exacts.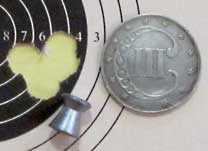 The RWS R10 Match Pistol pellet wins the second trime in today's test with a 0.178-inch 5-shot group at 10 meters.
Shot cycle
I held off on judging the shot cycle until the end of the test. The rifle is slightly more difficult to cock, though at 23 pounds of effort (it cocked at 22 pounds with the factory mainspring), it isn't that much.
But the shot cycle is very quick. Look at the clean holes punched by the domed pellets. You can tell that the velocity has increased, and that is the result of the Vortek kit.
The trigger is adjusted for me about as nice as a Rekord can be. As you can see, I am using it quite well.
I wish I had put an aperture in the front sight for today's test. Maybe next time I will do only that and run the exact same test as today. That sounds like a good idea to me.
Velocity
We are still waiting to see what sort of velocity this PG3 SHO kit gives, and if I run another accuracy test first, the kit will have plenty time to seat in.
Summary
This series has gone from taking a a brand new rifle out of the box and seeing mediocre accuracy and velocity with a buzzy shot cycle, to an accurate rifle that gives super groups. Instead of just borrowing a rifle from Pyramyd Air I bought this one so I could do a lot more to it. I am now glad that I did, for we have gone through a huge learning curve, and I have an accurate little plinker at the end. Stay tuned!