Dragonfly Mark 2.
Part 1
Part 2
Part 3
Part 4
Part 5
Part 6
Part 7
Part 8
This report covers:
The test
JSB Exact Jumbo Heavy
Trigger glitch
H&N Baracuda Match with 5.51mm heads
Air Arms 18-grain domes
Ten-shot group
Dot sight
Summary
Before we begin, I am aware that the links above to the previous articles and links to any products in this report don't work. This is a WordPress issue that I have reported to IT.
Today I shoot the Seneca Dragonfly Mark 2 multi-pump rifle for accuracy at 25 yards, Remember, I still have it mounted with a UTG Micro Reflex dot sight. Let's get started.
The test
Because this rifle is a multi-pump I shot 5-shot groups with each pellet. It was always my intention to take the pellet with the best showing and shoot a group of 10, and I did do that as well.
I pumped the rifle five times per shot for the entire test. Once I established that the sight was on at 25 yards, I never adjusted it. It was on from the first shot, so the sight remained where it was adjusted from the 10-meter test.
I shot with the rifle resting directly on a sandbag rest at 25 yards. There was an issue with the trigger that I adjusted in Part 8, but the issue was mine and not the rifle's. I was able to compensate for it as I shot, and there were no called pulls in today's test.
JSB Exact Jumbo Heavy
The first pellet tested was the JSB Exact Jumbo Heavy that has done so well in past tests. In Part 7 the Dragonfly Mark II put five in 0.078-inches at 10 meters. In today's test the Dragonfly Mark 2 put 5 pellets into a 0.931-inch group at 25 yards.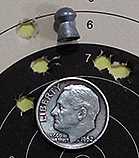 The Dragonfly Mark 2 put five JSB Exact Jumbo Heavys into 0.931-inches at 25 yards.
Trigger glitch
I discovered this while shooting the first group. The trigger didn't always fire the rifle. Apparently when I adjusted the setscrew in Part 8 I didn't move it out quite far enough. But I discovered that I could partially pull the trigger then relax and pull a second time and it broke as it should. Again — this is something that didn't do quite right. It's not the rifle's fault. I did this for the rest of the test and, once again, there were no called pulls.
H&N Baracuda Match with 5.51mm heads
This is another pellet that did well in earlier tests. At 25 yards five of them went into 0.863-inches. I think the fact that I was getting more careful about how I massaged the trigger accounted for this smaller group.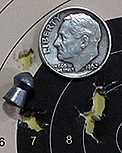 Five Baracuda Match pellets with 5.51mm heads went into 0.863-inches at 25 yards.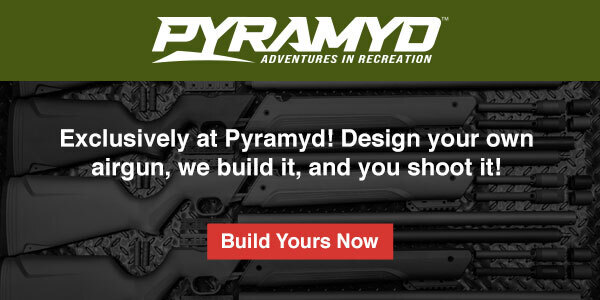 Air Arms 18-grain domes
The last pellet I test was the 18-grain dome from Air Arms. Five of them made a 0.743-inch group at 25 yards. And four of them are in 0.597-inches. This group impressed me. So, this is the pellet I selected to shoot a group of 10.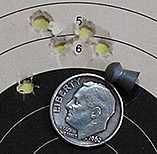 The best of the 5-shot groups measures 0.743-inches between centers.
Ten-shot group
Given these three groups I chose the Air Arms 18-grain dome for the 10-shot group. Ten pellets went into 1.545-inches with nine in 1.195-inches. I have no explanation for the size off this group but I assure you there were no called pulls.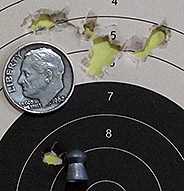 The Dragonfly Mark 2 put 10 Air Arms 18-grain domes into a 1.545-inch group at 25 yards, with nine in 1.195-inches.
Dot sight
At the end of this test I tried to turn off the UTG Reflex Micro Dot sight I had been using. When you hold in that button in the sight will cycle through the illumination levels and then turns off — almost. And then the lowest level of illumination turns back on and unless you hold the button in a few more seconds the sight stays on. It takes several seconds more to fully turn off.
Summary
The accuracy you see today is no surprise. It's not like we haven't seen it all along. But we aren't stopping here. The next step is to mount a scope on the rifle and see where that takes us.
Before I do that I will adjust the trigger again and put the sear release screw out further. I won't write a blog about that because Part 8 goes into it in such depth. I plan to read that report again before I got to work.
If you have one of these on order I think you will be pleased.