This report covers:
Scoping the Arrow
More about the scope
Leapers — HELP!
The test
Didn't happen
Zeroed the rifle
JSB Exact 8.44-grain dome
H&N Baracuda Match with 4.52 mm head
RWS Superdome
Discussion
Summary
Today I mount a scope on the Gamo Arrow and we take a first look at accuracy. I spent several weeks pondering which scope to mount, but in the end there was only one clear choice. The Arrow is a five-pound precharged pneumatic (PCP) rifle, so regardless of how potentially precise it might be, you don't want the scope to add a lot of weight. But you still want to see the target at some distance to take advantage of that accuracy.
Scoping the Arrow
The smaller Meoptas would be ideal for the Arrow but for their weight. The one clear choice for the Arrow has to be the UTG Bug Buster 3-12X32.


The Bug Buster 3-12X32 scope is ideal for the Gamo Arrow. I had to set it back almost as far as it will go to get enough eye relief when shooting off a rest.
More about the scope
Before we move on I want to say more about the scope I selected. It would be perfect if it had another 3/4-inches of eye relief. I'm going to address this in my next report on scope mounts, but here is what I'm talking about. The Bug Buster has such short scope tube sections for the rings to clamps to that it has to be mounted further forward than I would like. Now there is another third of an inch of rearward positioning that's possible but until I posted this report for publication I didn't see it.
Leapers — HELP!
Here is an idea for Leapers to consider. How about scope rings that allow some movement backward and forward for things like this? Sure, offset rings are the way to go but they usually only come with one of the two rings offset. The Arrow needs both rings offset to use the Bug Buster, so it can be slid backwards closer to the eye. Leapers, there is a freebie for you from BB Pelletier!
Of course it doesn't only have to be Leapers to make the rings but to date they are the only manufacturer who has listened to me.
The test
Today all I wanted to do was get the rifle shooting well with a scope. There will be at least one more accuracy test to come. This was the setup day.
So I shot 10-shot groups from 10 meters off a sandbag rest. Yes — 10-shot groups. In the last test, shooting 5-shot groups, I found the best pellets for the Arrow — or at least some good ones. Today I want to settle down and shoot a few good groups.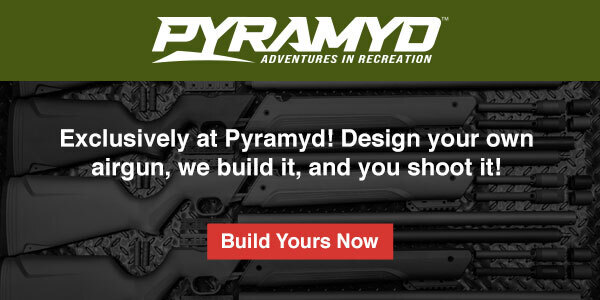 Didn't happen
Alas, things did not turn out that way for me today. The Arrow I'm testing shoots VERY low. The Bug Buster was shimmed in the rear but even that wasn't enough to correct for the droop. I know ways to solve this, but I also know workarounds and that's what I did today. You see, when I back up to 25 yards the pellets should rise somewhat and I don't intend to put this rifle into my personal arsenal. SportsMatch adjustable mounts are one sure fix, but they sell for a major portion of this rifle's purchase price, so for today I will just soldier on.
I adjusted the scope so that I aimed at one bullseye and hit the bull below. The pellets were hitting about two to two-and-one-half-inches below the aim point at ten meters.
Zeroed the rifle
I shot about 20 pellets trying to zero the rifle. That's when I discovered the pellet drop issue and set up the scope for that. Then I was ready to test.
JSB Exact 8.44-grain dome
First up were 10 JSB Exact 8.44-grain domes. They made a group that measures 0.393-inches. It's nice and round and in an amazing coincidence it's extremely close to the group of five the same pellet made in Part 4 at 10 meters. Actually that was a group of 4 in 0.378-inches. That group had a flier that I was sure was a fluke and I believe today's test proves it.


The Gamo Arrow put 10 JSB 8.44-grain domes into 0.393-inches at 10 meters.
At this point I was delighted. The Arrow is just as accurate as I remembered and I was shooting 10-shot groups this time. Next up was the most accurate pellet from the last test. Would it still be the best?
H&N Baracuda Match with 4.52 mm head
The Arrow put 10 Baracuda Match domes into 0.209-inches at 10 meters. In Part 4 five of the same pellets went into 0.175-inches. This rifle is incredibly consistent from test to test! The pellet did climb a little this time but I left the scope set as it was.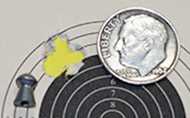 Ten Baracuda Match pellets with 4.52 mm heads passed through that 0.209-inch group at 10 meters.
This Arrow can shoot!
RWS Superdome
The last pellet I tested today was the RWS Superdome. These did well in the last test, too. I did also try Air Arms 8.44-grain pellets, but they didn't group as well and I'm not showing them.
Ten Baracudas made a group that measures 0.402-inches at 10 meters. It looks smaller than the first group to me but it doesn't measure that way.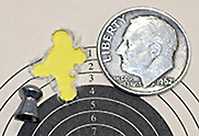 Ten RWS Superdomes went into 0.402-inches at 10 meters.
Discussion
The Gamo Arrow has turned out to be a super PCP, and at the price, it's going to compete with a lot of more expensive rifles. We still have a 25-yard test coming but I can tell from this one that we are on the right track.
The bolt blew open one time during this test. But it happened while I was shooting the best group and the pellet still went through without enlarging the group. I was keeping my eye on that bolt, and it is something I have to watch.
The trigger is still vague, but I can predict when it will fire. And the rifle is so light that I can hold it on target with no perceptible movement.
Today I tested right up to the 50-shot maximum per fill that I discovered in the velocity test. I won't do that at 25 yards and now that I'm sighted in I won't have to.
Summary
The Gamo Arrow is a winner! I know that already, but I'll still do the test at 25 yards. This is fun!