This report covers:
Today's marketplace
Who are we?
The good guys
Accuracy
Triggers
Sights
However
The stock — wood versus synthetic
The point
Today we consider how an airgun is designed. Several readers' comments have put this report together. Let's work together and see if we can design an airgun that has a chance in today's marketplace.
Today's marketplace
We first have to have some idea of the people we are selling to. Who are they and what do they want in an airgun? To simplify this discussion I will limit it to rifles. But even when we know the market, we aren't home. We must also know ourselves.
Who are we?
Are we honest people with good intentions? Are we pleased to make and sell airguns? If so we go down one path and I will explore that path with you today, but know there are other paths. We could be just people wanting jobs for which we get paid. If that's the case, as long as we do what we are told there is no problem. But if we should be promoted to a position where we can make decisions, our company is in trouble if we only came there for a paycheck. And know this — failing to make a decision is a decision itself!
The most dangerous path is that of the deceiver. I'm sure you are all aware of several scammers. These are people who sell products that don't work and intentionally sucker people into buying them. For example, the "guy" (there are a great many of them) who "invented" a device that plugs into your automobile's diagnostic port and "reprograms" your computer to get up to 30 percent greater mileage. The "guy" who "invented" this device was fired from Mercedes Benz, Ford, you pick the car company, for his "invention," because the petroleum producers didn't want it on the market. Yeah, sure. Big oil is struggling to get enough crude oil to make gasoline as it is. They sure don't care when cars use less of it.
The main body of airguns is safe from these scammers, but these guys lie around the fringes of all markets. Primer-powered "air" guns is possibly one example of this, though I'm not condemning all of them. But, if they promise things that can't happen, like inserts for your S&W 586/686 .357 Magnum revolver that turn it into an accurate target pellet pistol with the power of an air rifle — beware! I actually bought and tested one such device for The Airgun Letter and it was hard enough to just get the thing to work! "Accuracy" was about 12 inches for six shots at 7 feet — when I could get it to fire at all!
Have nothing to do with the deceivers. Now back to our primary path.
The good guys
We make airguns and we want to continue making them for a long time. What should we make? Again there are many paths, but now it is simpler, since all of them want to make a good product. I will avoid the high-end path because if that is where you are, you know more about making good airguns than anybody. Just keep on doing what you are doing.
I will follow the path of the guys who want to make affordable airguns that are good and also priced right. I will keep coming back to the price in different ways, so that's all I will say about it at this time. What are the things on which you need to focus?
Accuracy
Guns are made to hit their target when shot. So accuracy should be the number one consideration. But how much accuracy is the question. Or better still, how well can we do with the barrels we make in-house? I'll use the Crosman Corporation as an example of this. In 2006 when they decided to build the Benjamin Discovery they knew that barrels were expensive. So they decided to rifle their own. Crosman's Ed Schultz showed me their rifling machine when I visited to see how the Discovery was coming. They found that a simple machine that used a conventional button to rifle barrels was all that was needed to make excellent barrels. This was a new technology for them and it no doubt evolved over time, but by 2010 they were rifling all their .177- and .22-caliber barrels for their PCPs.
But Crosman didn't like the accuracy of the .25-caliber barrels they made, so for that caliber (for Marauders, only) they bought barrels from Green Mountain. But they stuck with perfecting their in-house rifling and discovered that by reaming the tube stock before rifling, the accuracy of all their barrels was improved. Eventually they took over the rifling of .25-caliber barrels as well.
When you make it yourself you always look for ways to make it less costly to produce. You do this without sacrificing quality.
The opposite to all of this is contracting with Village 13 in mainland China because they can make barrels cheaper than anybody else. Of course you don't do this — it's done by Happy Honorable Industries from whom you are able to purchase complete air rifles(in lots of 5,000 or greater) on which they laser-engrave your company name. Your job is to create the artwork they need to make the lithographed boxes for these treasures.
In the example above, Crosman did it right. The company that does it the other way is heading for extinction. Let's move on.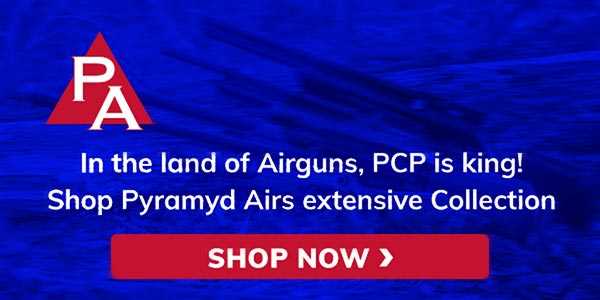 Triggers
We all know the the Rekord trigger is legendary! Air Arms, though the genius of Ivan Hancock, took the Rekord one step farther.
Crosman (again it was Crosman) took a well-known precharged pneumatic (PCP) trigger that was already in existence and made it better (easier to adjust, cheaper to manufacture?). The Marauder (once again, Ed Schultz) trigger is so good that, like the Rekord, it now has a place in airgun history.
But you can't put a hundred-dollar Rekord trigger or even a lower-priced Marauder trigger on a rifle you hope to sell for $150. What do you do? Well, a guy named Tom Gaylord was sent a youth breakbarrel rifle from Mendoza to evaluate. The stock was butt-ugly and disproportionately sized but the rifle was reasonably accurate, had decent adjustable sights, was easy to cock and had a nice trigger. It wasn't a Rekord, but it also wasn't a 12-pound lawyer special. So this Gaylord guy sends the barreled action to a stock maker in Houston and has him make a western-style wood stock for it. The result was the Air Venturi Bronco. Yes it has fiberoptic sights, but even Superman doesn't always win!
The opposite in this instance is not buying from Village 40, where the cheapest triggers in China are made. The opposite in this case is listening to your lawyer who insists that the trigger be harder to pull than the ones Village 40 makes. This is for safety reasons, which really means liability. Even the Village 40 elders argue against this heavier trigger, but your vice president of marketing who was hired last year from the Canadian vending machine company insists that we listen to the lawyer who was her roommate at Smith.
Sights
I won't cover the sights versus no sights question. There are valid reasons for building air rifles either way. That is a discussion topic — not a live or die decision.
Air rifle sights have to be adjustable. Even your lawyer knows that because, at the last shooting/pizza party your company held, she had to have the sights adjusted on her rifle before she could hit the gallon paint can in the field behind the plant. It was the first time she ever held a rifle, but she understood when she couldn't hit the can that was 30 feet away until the shop foreman adjusted the sights for her.
Now there are two schools on sights. Some want fiberoptics and others don't. It used to be possible to ask your employees with former military service which they prefer, but these days they may have only seen back up iron sights (BUIS) that are supposed to be used when the battery in the scope fails.
There is nothing wrong with fiberoptics, as long as they are adjustable and the adjustments work well. In most situations there won't be enough light to illuminate the optical tubes anyway, but your couch commandos who hunt in the forests of their mind won't care.
However
This is a biggie. YOU HAVE TO BE ABLE TO SEE BOTH SIGHTS WHEN YOU HOLD THE RIFLE THE WAY IT SHOULD BE HELD! And what do you suppose that leads us to? That's right, our last topic.
The stock — wood versus synthetic
I personally prefer wood for a stock. But that video of Kirsten Joy Weiss hitting an egg at 300 yards with an offhand shot was real. The video of Matthew Quigley hitting the bucket at whatever distance you prefer to imagine was Hollywood. There ain't no Matthew Quigley but there is a Kirsten Joy Weiss, and her rifle had a very adjustable synthetic stock. Tom Selleck, who played Quigley, is an actor. Kirsten Joy Weiss is a shooter. Both are very good at what they do but she is the one who can shoot. And she used A PLASTIC STOCK. What does that say?
There is nothing wrong with synthetics when they are used in stocks. As long as they are up to the task, synthetics are fine. But when manufacturers take license to make stocks they think their customers want because they look a certain way, then there is a problem. When the stock is designed to look cool without any shooter ever holding a mocked-up version of the stocked rifle, you have a problem.
I'm not going to step on my own toes by mentioning everything that's yet to go into the rifle stock series, but there are some basics that must be observed if you want to succeed.
Length of pull for sporting stocks should be between 13.5 and 14.5 inches for most adults. If the rifle is for kids consider strongly making this length adjustable between about 10 and 13 inches. For target rifle stocks that will be held offhand consider 11.5 to 12.5 inches as the optimum adult range.
The cheekpiece, if there is one, needs to be high enough to see the open sights, if they are there. Don't make it so high that the open sights can't be seen comfortably.
The last thing I'll say is don't make the stock feel like the big end of a baseball bat. You readers will probably not believe this but there are airgun manufacturers who don't have a range of air rifles available in their plant for their engineers to examine. In other words, they build them without seeing them until it's too late, because Happy Honorable Industries just does what they are told. And, although he is not a decision-maker, 34-year-old Jeffery, the company's foreign point of contact with Happy Honorable Industries, flies drones for a hobby. Gimbaled camera mounts he understands. He doesn't have a clue what shooters want.
The point
I have made a point in this report, and it isn't in any of the specific airgun details I've discussed. I have not written it one time. If manufacturers understand the point I have made, all of the rest of this stuff is gobbledygook (just for you, Michael).
So — what's my point?