This report covers:
Not inexpensive
Big supposition
Modify?
Carve my Russian T0Z-35 free pistol grips
Practice block
Experience with stockmakers
Whadda ya think?
Should I modify the wood stock of my HW 30S that I bought new in 2021? Or should I order a custom stock made that compliments my offhand shooting? I want to hear from you on this.
Not inexpensive
I went to Steve Corcoran's website, Woods and Water Outdoors, and looked into what he can do. First I would like to say that his prices seem very reasonable — especially with the price of wood these days. Of course until I hear back from him I don't know if his website has kept pace with those prices. Here is what his site says about spring gun stocks, "Base model pricing for a sporter design in a grade 2 Claro Walnut is $425.00 plus shipping. "
Big supposition
This assumes that I will select my HW 30S as my go-to pest rifle. Remember that I initially thought my vintage Diana 35 would be the rifle for me, but the narrow front sight post plus the too-hard trigger was a drawback. Yes, I can soften that ball bearing trigger, but what if there was a Weihrauch trigger in the wings?
This morning I picked up my HW-30S and shot one round into my pellet trap box of rubber mulch. I was pleasantly surprised by the easy cocking (22 pounds) the light trigger (stage one 6 ounces, stage two 12 ounces) and the virtually vibration-free shot cycle. And I know from reading the reports I've written about this air rifle that it's very accurate at pest-type distances that I define as 5 to 30 yards.
Modify?
Or I could modify the factory stock. But my woodworking skills are roughly equivalent to those of a rabid beaver with a toothache. I actually bought a flex shaft for my cordless Dremel tool, plus two Kutzall coarse rasps and a 1/4-inch flex shaft for my cordless electric drill. I have what I need to start making sawdust (man-glitter my neighbor Denny calls it) but is that a wise idea? In 10 years what will an HW 30S in the factory stock be worth, versus one with a stock that's been terminally destroyed by BB Pelletier?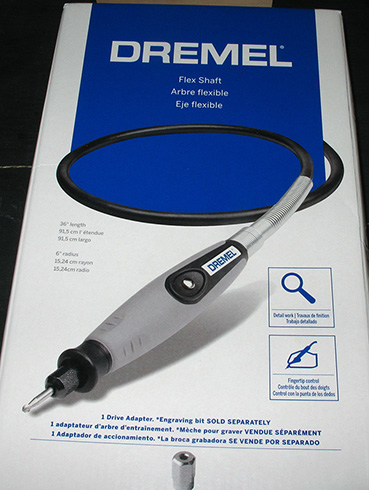 Flex shaft for Dremel tool.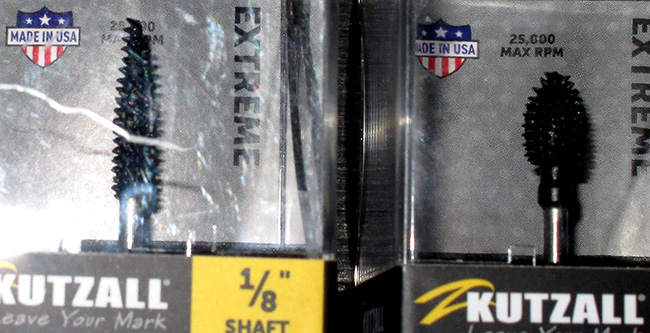 Coarse rasps for the Dremel tool.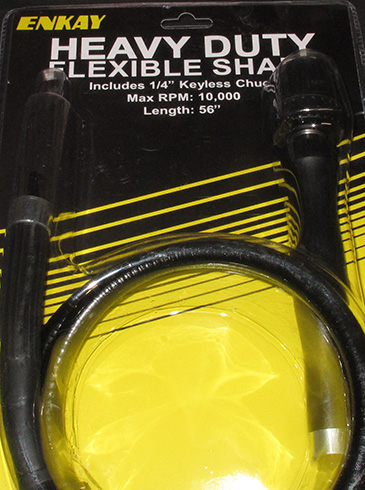 This flex cable for drill motors is for the heavy work.
Some of you guys would have no difficulty tackling a job like this. Reader Hank, In Canada, for instance, can turn firewood into beautiful rifle stocks. In contrast, BB Pelletier can turn a beautiful rifle stock into firewood. Each of us has our own special talents and without me in the world there would be no need for reader Hank!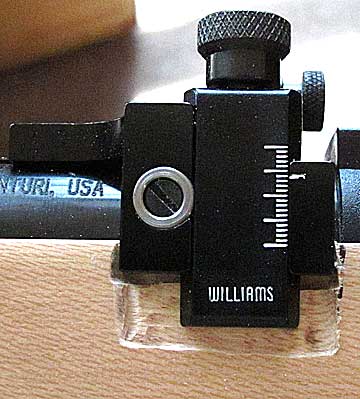 BB's careful inletting of the Williams peep sight into the Bronco stock earned him the title "Wood Butcher."
Carve my Russian T0Z-35 free pistol grips
There is more on the horizon than just one custom rifle stock. Several years ago I acquired a Russian T0Z-35 free pistol in .22 caliber. It came with DIY grips.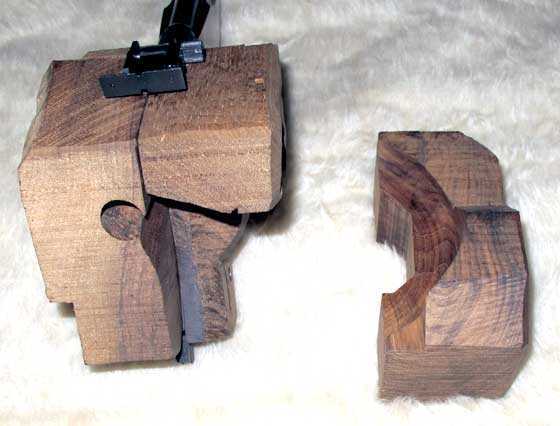 Here is the gun viewed from the rear. The palm shelf is to the right. Okay, BB, get to carvin'.
I got the flex shafts and rasps to carve this free pistol grip. Denny says I may need to practice on something else first.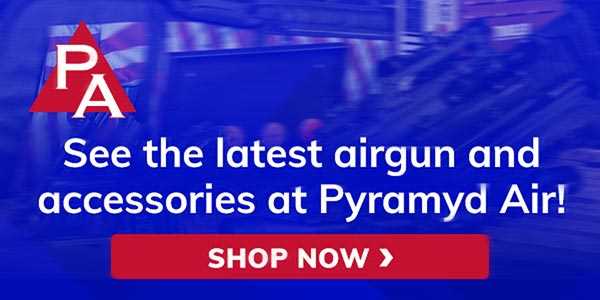 Practice block
He made me a block of cherry wood to practice on. He even put a handle on it. He says that cherry is approximately as difficult to work as walnut and he wants to see what I can do. I do, as well. If I don't carve the free pistol grips myself I may seek out a professional.
Before we leave this subject please remember that I also want to re-stock my TX200 Mark III. So there are several woodworking projects ahead.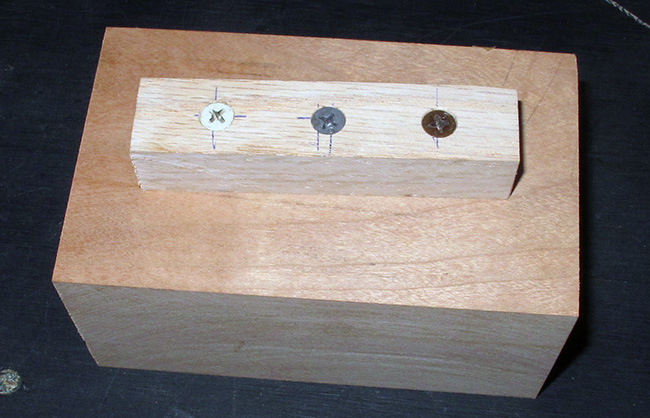 Denny made me this cherry practice block.
Experience with stockmakers
This wouldn't be the first time I went to a stockmaker to create or work on a stock. In 2008 I sent a Mendoza youth breakbarrel rifle down to a stockmaker in Houston (Doug Philips of Damaged Woodstocks) to create a western-style stock for what became the Air Venturi Bronco. That stock was gorgeous and, as far as I know, is still residing with Mendoza in Mexico, where it was sent as a sample.
Then in 2013 I used Philips again to restore the damaged stock on my Falke 90 underlever. As before the results were astounding!
Because of these experiences and also because I have seen Steve Corcoran's work in person at airgun shows, I know he is the best and safest way for me to go. Yes, the custom stock will cost more than the rifle but which one of you readers ever calculated how much the gasoline or diesel that you put into your vehicle costs? If you keep a car 20 years and if you put $100 dollars worth of gas in every month, in the end you will have spent $24,000 just on fuel. Add licensing, insurance, tires, batteries, tuneups and repairs and your car costs you more to own than it did to buy.
Whadda ya think?
Okay, it's a short one today. But I want to know. Which way should I go?