This report covers:
The test
Sight-in
Air Arms 8.44-grain domes
Discussion 1
RWS R10 Match Pistol pellet
Discussion 2
RWS Superdome
Discussion 3
Summary
Today we take a look at the accuracy of the Beeman R7 I recently purchased. Remember — an R7 is virtually identical to the HW 30S, and because of that I went to Part 3 of the HW 30S report to find out which pellets this rifle probably likes. This one has been tuned, but the sights and stock are factory items.
The test
Today I shot the rifle off a sandbag rest with the rifle resting directly on the bag. After sight-in I shot ten shots with each pellet. I shot at 10 meter targets while wearing my reading glasses that have +1.25 diopter correction.
Sight-in
The sight-in took seven shots. I was just looking for the groups to land somewhere inside the black bullseye.
Air Arms 8.44-grain domes
The first pellet I tested was the 8.44-grain dome from Air Arms. It was also the sight-in pellet. After ensuring that the first shot hit the bullseye I never looked at the target again until after I was finished. What I saw is a vertical group that measures 0.782-inches between centers. That's lousy for a quality rifle like an R7, but look how vertical it is. Something could be going on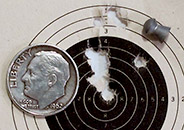 From 10 meters the Beeman R7 put 10 Air Arms 8.44-grain domes into 0.782-inches.
Discussion 1
This group is larger than I expected — much larger! And it is vertical. That generally means just one thing — the sight picture isn't consistent. We will see as the test proceeds.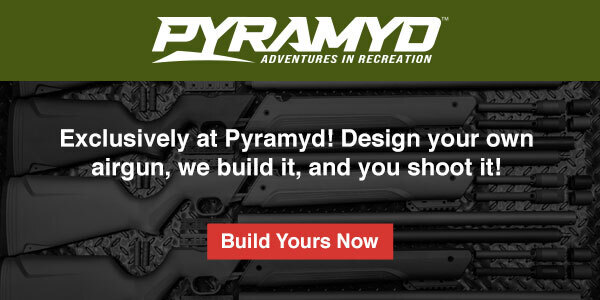 RWS R10 Match Pistol pellet
Next to be tried was the 7.0-grain RWS R10 Match Pistol wadcutter. Ten of them made a 0.677-inch group that's just as vertical as the previous group.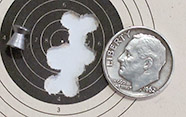 The R7 put 10 RWS R10 Match Pistol pellets into a 0.677-inch group at 10 meters.
Discussion 2
The trigger on this rifle is too light for me. It often discharges before I'm ready. That's something you don't notice until you shoot for accuracy. I need to increase the trigger pull by quite a bit before the next test. I didn't do that today but I'm going to before next time.
RWS Superdome
The last pellet I tried was the RWS Superdome. They did well in the HW 30S and I thought they would do so in the R7. However, if I got another vertical group I would be pretty sure it wasn't the rifle but the sights.
This time ten Superdomes made a 0.918-inch group and once again it was vertical. I don't think there is any doubt that the sights are causing the problem.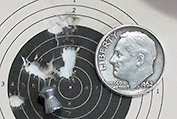 The R7 put ten RWS Superdomes into 0.918-inches at 10 meters. This time there were two called pulls in the five shots so that trigger definitely has to be adjusted heavier.
Discussion 3
This was an interesting test. The Beeman R7 that should have been just as accurate as the HW 30S actually is! Yep. If you compare these three groups to the three largest I shot with the 30S as it came from the box in Part 3, I got 0.608-inches, 0.739-inches and 0.994-inches and those were five-shot groups — not ten! So the two rifles perform similarly, as they should.
I have no intention of changing the tune on this R7, as it is a genius tune that I couldn't improve if I got lucky. I am, however, willing to mount a scope — just to prove a point — the point being that when you can't see the sights the rifle doesn't shoot at its full potential. Once I get better sights and increase that trigger pull this one should be a shooter.
Summary
The Beeman R7 is a classic that's still available new. How much longer we will be able to say that is unknown. This one will stay a tuned R7 as long as I have it.