Part 1
P8 prismatic optic P8-Part 1
Part 2
P8 prismatic optic P8-Part 2
Part 3
Part 4
Scoping the RAW MicroHunter was different
When things just don't work out
This report includes:
AirForce
Shame
The test
HOWEVER
Clean the barrel
Third group of JSB Jumbo Heavys
Discussion 1
JTS Dead Center
H&N Baracuda 18
H&N 23-grain 0.218-inch slug
Discussion 2
Next
Summary
Boy, do I have one for you today! Today we learn what went wrong when I last tested the RAW MicroHunter pellet rifle.
AirForce
I took the rifle to AirForce because if anything was fundamentally wrong with it they should know, or they should be among the first to find out. They thought the barrel was dirty — not loose like I said. When I picked the rifle up that was what they told me. It had a dirty barrel.
Shame
Oh, the shame! A dirty barrel. Why didn't I catch that? I put the same UTG 4-16X44 Mini SWAT scope that had been used in the previous test back on the rifle and sight-in was two shots. I then proceeded to shoot the rifle.
The test
I shot from 25 yards off a bag rest. I used the same JSB Exact Jumbo Heavy that's been used in the last two tests of this rifle — the first with the new Bug Buster Accushot Pro and the other with the scope I'm using today. The first five pellets went into 0.292-inches at 25 yards.


The first five JSB Exact Jumbo Heavys went into 0.292-inches at 25 yards.
HOWEVER
However, the second five shots went into a 0.233-inch group that was just to the left on the first group. The size for all ten shots is 0.656-inches at 25 yards. Huh? That's not a good 25-yard group — not for this level of rifle.


When I shot the second five shots the 25 yard group opened to 0.656-inches between center.
Okay, I thought. Maybe I wasn't concentrating enough. I'll try again This time 10 JSB Jumbo Heavys went into 0.741-inches at 25 yards.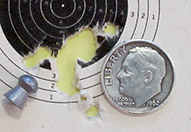 Group two measures 0.741-inches between centers at 25 yards.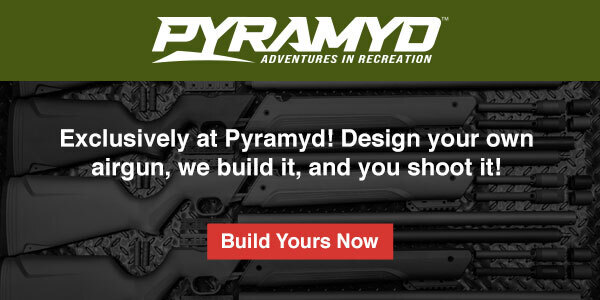 Clean the barrel
Did the barrel get dirty in the 22 shots fired since I brought the rifle home? I cleaned it with JB Non-Embedding Bore Cleaning Compound. Here's a chance to use that new cleaning kit I reviewed for you recently.
I scrubbed the bore very well this time. Then I ran dry patches through to remove all traces of JB paste.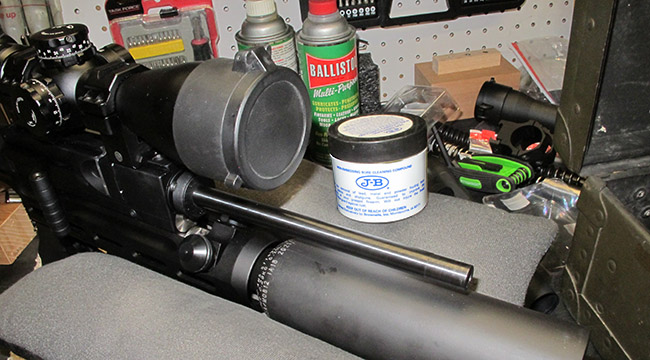 I removed the barrel shroud and cleaned the barrel with JB bore paste.
Third group of JSB Jumbo Heavys
With a clean barrel I shot group three with the JSB Jumbo Heavys. This time ten pellets went into a group measuring 0.685-inches between centers.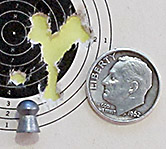 After cleaning the barrel with JB Bore Cleaning Compound the MicroHunter put ten JSB Jumbo Heavys into 0.685-inches at 25 yards.
Discussion 1
You know that doing the same thing repeatedly and hoping for better results is one definition of crazy — right? Sometimes when you focus in on the details it's easy to miss the big picture.
For those who haven't guessed yet — THIS MICROHUNTER DOES NOT LIKE JSB EXACT JUMBO HEAVY PELLETS!!!
Then why did I persist in shooting them for so long? That's the real question. I did so because I was told by Martin Rutterford that they were one of the best pellets for this rifle. When he said that I became fixated on that pellet
Just one problem with that. Martin didn't design the MicroHunter. John McCaslin designed it. No doubt Martin is thinking of the larger RAW HM-1000X that does quite well with this pellet. But the MicroHunter, at least this one I'm testing, doesn't seem to like them. I think I have proven that positively.
But — does it like other pellets? Let's see.
JTS Dead Center
The next pellet I shot was the JTS Dead Center dome. The first five shots went into a little hole, so I photographed it for you while it was still on the target box. I did that in case something crazy happened like with the JSB Jumbo Heavys, but it didn't. After all ten shots were fired the group of JTS pellets is still 0.345-inches between centers. Now we know that the MicroHunter can shoot!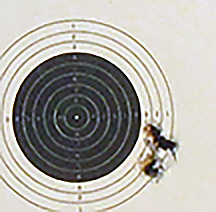 I didn't measure this group but my eyeball says it's around 0.30-inches at 25 yards.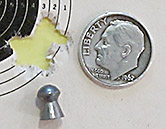 The MicroHunter put ten JTS Dead Center domes into 0.345-inches at 25 yards.
H&N Baracuda 18
I tried the H&N Baracuda 18 next. Ten went into 0.386-inches at 25 yards.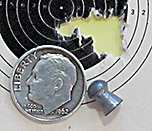 The MicroHunter put ten H&N Baracuda 18 pellets into a 0.386-inch group at 25 yards.
H&N 23-grain 0.218-inch slug
Next I tried the 23-grain 0.218-inch slug from H&N. I didn't expect them to do well, but ten went into 0.449-inches. That's better than I would have thought.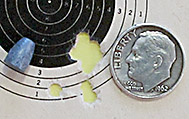 The MicroHunter put 10 23-grain slugs into 0.449-inches at 25 yards.
The last pellet I tested was the JSB Jumbo Monster. This was not the redesigned model. Ten made a 0.567-inch group at 25 yards.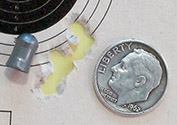 Ten JSB Exact Jumbo Monsters went into 0.567-inches at 25 yards.
Discussion 2
Today's test was not a real accuracy test. It was a test to discover what BB was doing wrong while testing the MicroHunter. The MicroHunter needs more testing but with pellets that are proven to shoot well — not just rumored to shoot well.
I was reminded that I have a methodology for testing airguns that I need to stick to. It's nice to take suggestions from others, but I need to follow the way that has proven to work.
Next
The very next step is to clean the barrel again with JB Bore Paste. I want to go into all testing with a barrel I can trust. I plan to rerun the tests at 25 yards with both the P8 reflex sight and the new Bug Buster Accushot Pro. After each test I will clean the barrel again.
I won't test all these pellets again. The JSBs are off the schedule, but the JTS, Baracuda 18 and H&N slugs will be tested.
I also want to adjust the power and also to adjust the air stripper to see what effects there are on accuracy. I want to do that while shooting the most accurate pellet so that's what I'll be looking for.
Summary
BB is back in line with today's test. The MicroHunter is indeed accurate, but it's also fussy about the pellet it likes. I'll watch that as the series proceeds.